The Big Brother Over The Top game kicked into high gear as the first Head of Household competition dragged along throughout the evening. Alliances grew, targets were discussed and a few HGs seem to still be figuring out what they've gotten themselves into.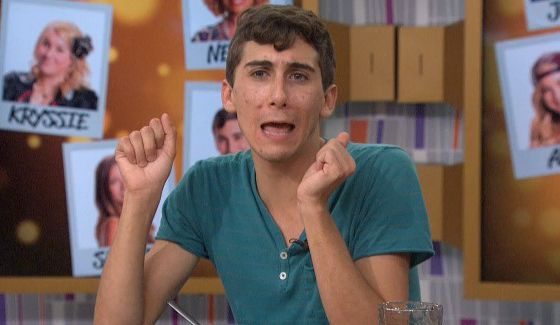 You can catch up on Thursday's daytime events with our earlier Highlights Report for the day's adventures so far before reading the overnight events.
If you've got the Live Feeds (Free Trial) then you can watch all of these moments with the Flashback feature to go back and watch those important conversations or funny scenes you may have missed.
Big Brother OTT Live Feed Highlights – Thursday, September 29, 2016:
4:15 PM BBT – Shelby was just infected by Justin so she left to get her t-shirt. Group of HGs still hanging out upstairs chatting.

4:40 PM BBT – Cornbread shared a story about a traumatic ATV injury and how he has plastic in his skull as a result from the surgeries.

5:15 PM BBT – Alarm goes off again and Shelby gives the bug to Scott.

5:20 PM BBT – Scott is back with his infection t-shirt. Neeley offers to receive the bug next from him.

5:40 PM BBT – And there goes Cornbread taking his second shower for the day.

5:41 PM BBT – Alex and Whitney discuss infection targets. Alex says she'll go after Jason or Neeley if she gets it.

5:50 PM BBT – Monte and Cornbread promise again to watch out for each other as they're both trying to get this HoH. Monte suggests he'd target Jason because he is worried about him even though he likes him.

6:05 PM BBT – Alex and Whitney tell Monte they think Shane got immunity this week since he was the one who drank the potion to start the comp.

6:10 PM BBT – Monte, Alex, and Whitney agree to target Jason since he has a fan base builtin and there's a lot of fan voting this season.

6:15 PM BBT – Alarm has sounded. Scott gives it to Neeley as previously discussed.

6:20 PM BBT – HGs trying to put up the awnings. Cornbread and Kryssie manage to hang their first attempt down and block the window.

6:35 PM BBT – Jason camtalks that he expects to get stuck with the bug soon.

6:40 PM BBT – HGs having dinner.

6:50 PM BBT – Neeley wants a volunteer for the infection bug. Kryssie offers to take it.

7:00 PM BBT – Weekday Replay recap takes over all the channels of the Feeds.

7:07 PM BBT – Recap is over. You can rewind to watch it.

7:25 PM BBT – Monte lets Shane know he was looking out for him earlier when Morgan, Alex, and Whitney were whispering worries about Shane.

7:30 PM BBT – Alarm goes off. Neeley gives the bug to Kryssie. The infection continues to spread.

8:14 PM BBT – Shane and Cornbread whispering about the game. Shane wants to bring people in so they have numbers on their side.

8:20 PM BBT – Alarm sounds. Kryssie gives the bug to Morgan.

8:22 PM BBT – Monte tells Shane, Alex and Cornbread if he's HOH they're safe.

8:23 PM BBT – Cornbread leaves and Alex tells Monte and Shane she can't get a good reason Cornbread because when she talks game he walks away. She asks them if they trust Cornbread. They say he's a nice guy but don't oversell him.

8:26 PM BBT – Morgan goes to the DR and Whitney has joined the talk. Whitney likes the four of them (Monte, Shane, Alex and herself). Monte tells Alex and Whitney they are safe if he is HOH. He agrees they make a good foursome.

8:27 PM BBT – Alex tells them that Jason has to go. Whitney says they can get Morgan to pass the bug to Jason. Shane thinks it's too early to pull Morgan into the mix.

8:30 PM BBT – Monte tells Alex and Whitney that he and Shane are alpha males. Shane tells him not to tell people that.

8:32 PM BBT – Monte pushing for Jason to be the target. He says he doesn't care if America gets mad. Monte says Jason has already played the game and is dangerous.

8:34 PM BBT – Monte tells Scott he's safe if he wins HOH.

8:39 PM BBT – Shane tells Cornbread the main targets are Kryssie, Neely and Jason. Shane is leaning toward Kryssie or Neely as the target over Jason.

8:45 PM BBT – Shane says he doesn't like Kryssie and wants her out before Neely.

9:30 PM BBT – Jason tells Scott he's worried Cornbread may target him with the bug for infection since they haven't connected. (Scott knows he likely will.)

9:45 PM BBT – Shelby says she wants to make this fun for the viewers since we have control over the entire show.

9:48 PM BBT – Jason tells Morgan he doesn't want the bug next. He says he doesn't want to go home first and he's starting to feel like that's where this is heading.

9:54 PM BBT – Morgan tells Shelby she doesn't know who she's going to give the bug to.

10:08 PM BBT – Scott and Alex are discussing their super fan statuses. Alex says she follows Jason on Twitter but hasn't told him that yet.

11:10 PM BBT – Jason warns Shelby it's clear that Monte and Shane are teaming up. Jason hopes he can get HoH this week and then persuade those guys to work with him.

11:15 PM BBT – Jason tells Kryssie that he does want to get this first HoH. He's nervous about being a Vet and targeted for that reason.

11:25 PM BBT – Morgan doesn't know what to do. Cornbread arrives and volunteers to take it. Group decision that Cornbread will give the bug to Jason next.

11:35 PM BBT – Danielle and Shane have changed up their sleeping arrangements and it looks like they'll be sharing a bed.

12:30 AM BBT – Shelby tells the group they have to be really entertaining and make this season fun so they aren't the only BBOTT season ever.

2:00 AM BBT – Justin is entertaining the remaining awake HGs with his stories.

4:40 AM BBT – Jason, Kryssie, Scott, Justin, and Shelby are together outside and agree to form an alliance, the OTT Jamboree.
Correction: Earlier version indicated the BB Bug transfer had already happened from Morgan to Cornbread. Only the decision for the transfer was made.
The HoH competition continues on with Cornbread holding the bug right now and Jason on his way to a likely infection. By midday on Friday we'll have our new HoH so watch for the final rounds of infection for any revealing strategy.
You can watch all of these Big Brother events using the archives Flashback, the DVR-like feature of this year's Live Feeds which means it's always live, even when you missed it! Sign-up now to get the free trial to watch it all live & uncensored.


click images to see full-size