The Big Brother Over The Top Final 3 came one step closer this afternoon when Jason Roy named one Houseguest to join him in the finale, a perk from his win in the first part of the final series of competitions.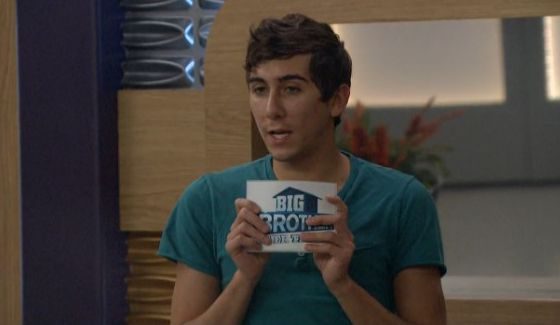 Julie had previously revealed to the Houseguests that things would be playing out a little differently on BBOTT than they're used to with the Big Brother finale and this was certainly a departure, but definitely an interesting one as well. So who did Jason decide to take with him?
No surprises here. Jason informed the Houseguests that he was trying to decide between "game long loyalties" versus "smart, end game decisions" and his decision is to take Kryssie Ridolfi on to the end. If you missed it, you can Flashback to 1:01 PM BBT to watch it again.
All hope is not lost for Justin Duncan and Morgan Willett though. They'll have one last chance to join the F3 with the final competition of the season during Tuesday night's episode (starting at 8PM ET / 5PM PT) and the winner there will move on to America's Vote for the winner of BBOTT. The loser heads home with no chance at the quarter million dollar prize.
This was a good pick by Jason for his best chances at the end. He may be afraid Justin is too popular with the viewers though he's been presenting a case of general dislike for Justin over the past few days, a departure from their season long friendship.
As for Morgan versus Justin, I don't think this is a sure thing for Morgan as that last Veto comp we saw Justin demolish Morgan's performance. If someone gets flustered this could swing things in either direction. We'll have to wait and see.
What do you think of Jason's choice of Kryssie? Was there a better option with either Justin or Morgan? Share your thoughts.