The Final Four Houseguests on Big Brother Over The Top enjoyed their Thanksgiving Day thanks to production pulling together a meal for them to cook, but that turkey wasn't the only thing being roasted in the house yesterday.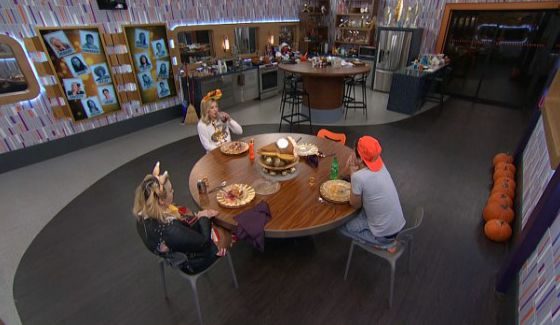 After Jason's win in the first part of the Final 3 competition we knew he had secured a spot in the finale for a chance at America's Vote. Over the past two days we've listened in on more conversations revealing what Jason is planning and so far that doesn't sound good for Justin.
It didn't take long after the first challenge was over for Jason to start talking about his reasons for not wanting Justin in the finale. After a season of working with Justin it looks like Jason is done with him. And not just done with him, but plenty of disparaging comments to go along with it. Kryssie, who would love a free ride to the finale, has joined the pile-on against Justin and Morgan wasn't far behind either.
If you Flashback to around 5PM BBT on Thursday (11/24) you'll find Jason, Morgan, and Kryssie holding a group discussion about their issues with Justin who is outside playing pool. There are complaints about his belief in his chances to win, his style of gameplay, and his down attitude that day. Overall it's not good for Justin's chances of Jason picking him for the F3 spot. We're expecting that decision to be revealed Saturday afternoon on the Feeds.
Justin isn't in the dark here either. Wednesday night after the competition ended Justin was spotted alone in the storage room where he announced to the camera that he was "f**ked." Maybe for Jason's pick, but Justin has had his own strong performances that could give Morgan a run for the money.
There will be just one more competition on Tuesday night to go along with the live show. If Jason picks Kryssie, as I expect, then it'll be Justin and Morgan facing off in this last comp to decide who makes it to the F3 and who goes home one step short.
Justin has beat Morgan before and if it's a physical comp then I'd expect him to have a strong chance. Morgan would likely outplay him in a mental comp if it's events focused. Speaking of, Kryssie has offered to help Morgan study in case of that situation. That should tell us all we need to know about how Kryssie and Jason want this F3 to end up. What a strange way to watch the LNJ end their season.
Things have slowed down considerably in the Big Brother house and with just one more competition to go there won't be much drama outside the waiting game. We'll keep watching and report on any major happenings, but for now keep your eyes on these last few events:
Saturday – Jason makes his F3 pick at 4PM ET (1PM PT)
Tuesday – Last recap episode 8PM ET (5PM PT) + F3 Part 2 comp
Wednesday – Viewer voting (exact days/times TBD)
Thursday – Season Finale 8PM ET (5PM PT)
Big Brother Over The Top is coming to a close along with a string of more than five months of Big Brother. Who do you hope to see crowned the winner?