The Veto Ceremony has arrived for Big Brother Over The Top this week as the house divisions set with the balance of power on one side and the complete lack of control on the other. The LNJ has gone from a position of vulnerability after Shelby's HoH win to being in complete control of the Veto, final noms, and even the eviction vote. But before we get to the vote we need those noms.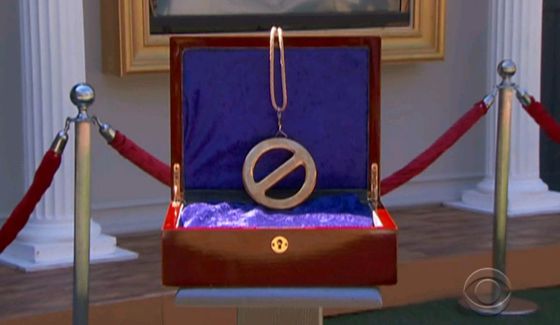 Jason won the Power of Veto on Monday and despite an entertaining game of deceit last night with the new "Non-Threat" alliance (Alex, Morgan, & Shelby) he is planning to use it to secure his target (Alex), along with any votes that could stop him, up on the Block.
You could watch the ceremony live as it happened but if you missed it then Flashback to 1PM PT (4PM ET) to see how this plays out on our Live Feeds (get the Free Trial now).
Power of Veto Ceremony Results – Week 6:
Jason used the Veto on Danielle
Jason (Co-HoH) renom'd Morgan in Danielle's place
Final noms of the week are: Alex, Morgan, & Whitney
Jump on your Live Feeds! NT (old Plastics minus Whitney) are pissed and the yelling has begun! Flashback to 1:02PM BBT for the meeting then move ahead ten minutes for when the yelling started in the backyard as the two sides faced off. A short bit after that the ladies retired to the bathroom for tears & anger at the other side.
At this point we have the bulk of the NT alliance on the Block while LNJ's votes control the outcome with a 3-vote majority control that can override whatever America decides to do with its vote this week.
Overnight Jason and Danielle toyed with NT that they were going to flip on Justin to renom him then coordinate their votes with Danielle's to get Justin out the door. That obviously didn't happen, but it was a bit of funny Big Brother blindsiding to watch while it lasted.
Alex remains the top target and the LNJ is ready to vote her out as the first of two during Wednesday night's Double Eviction. Don't forget that show starts two hours early at 8PM ET (5PM PT) instead of the regular, weekly showtime of 10PM ET.
What do you think of today's events at the meeting? Were the right choices made by everyone involved? Who do you think should be the most likely target for the week?
Eviction vote comes up Wednesday night and we'll see then how this all turns out but don't forget that America's Vote which will start at 5PM ET this afternoon. Who do you think will be voted out this week? Cast your eviction prediction vote in our poll below.