Nominations are underway for Week 3 of Big Brother OTT as Scott is getting things started for his plan this week to ultimately get Shane out the door if the pieces come together. But nothing is easy on BBOTT especially with all of these twists.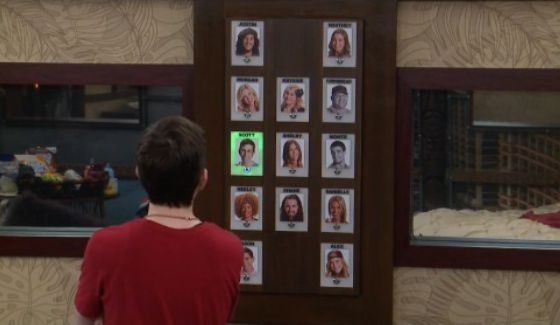 Since Scott has the ACP power he was able to decide which special Veto he'd have to work around and minimize potential for throwing things off course as he tries to break up the showmance. Now he's got his plan in motion, but Wednesday is still a long ways away.
Big Brother Over The Top Week 3 Safety Ceremony & Nominations:
Nominations – Week 3:
Scott talked with a few HGs on Friday night to let them know he'd be going with Neeley and Kryssie for his pawns but hopes both will be safe at the end of the week because he really wants to see at least Shane on the Block and out the Backdoor.
His plan includes using the Double Veto since that at least spreads out the chance to disrupt his BD plans and we'll have to wait to see how Monday's Veto Ceremony turns out.
Safety Ceremony – Round 1:
Scott selected the following HGs as safe this week from nominations:
Justin Duncan
Alex Willett
Whitney Hogg
Jason Roy
The house was completely divided as the Plastic Ball Smashers gathered in the kitchen while the Jamboree were waiting in the bedroom. No big surprises on these picks and Sunday's second round will probably work out just as we're expecting.
The second half of the Safety Ceremony will be held Sunday night at 7PM PT (10PM ET) and then we'll get the final decision on the starting noms.
Update: Scott's second round of decisions is now complete and we have our nominations.
Safety Ceremony – Round 2:
Scott selected the following HGs as safe this week from nominations:
Morgan Willett
Shane Chapman
Danielle Lickey
Shelby Stockton
Once the Safety Ceremony is complete the voting will begin for America's Nominee Sunday at 8PM PT but the vote is only open until Monday morning so you better act quick on that one and if you vote that first night you get another 20 votes again on Monday morning so stay busy! Ready to cast your vote now? Vote Here for 3rd Nominee!
What do you think of Scott's first round of Safety picks? Are these smart moves or just safe moves? Share your thoughts below.