Voting is now open for America's Nominee, the third seat on the Block, this week for Big Brother Over The Top and the pressure is on here as the past two week's have seen America's picks for the third nominee has ended up as the evicted HG.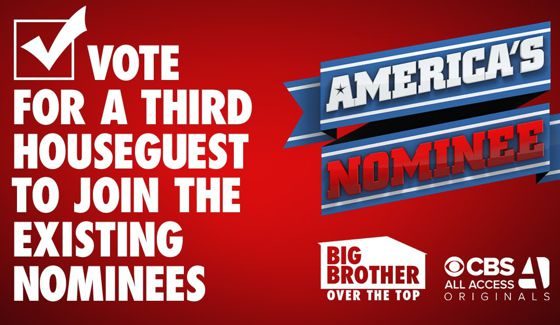 Scott has just wrapped his official nominations for the week with Neeley and Kryssie going to the Block, but those are his pawns in a move to get Shane or Danielle out the door with Shane as his top target. Will America's vote send one of them to the Block and upset his hopes of keeping them both out of the Veto comp?
Since Monte was last week's 3rd nominee and he left there's nothing stopping viewers from voting for any of the remaining eight Houseguests. You'll get 20 votes both tonight and again tomorrow so hurry up and get them in for each day as you try to decide who to target this time around.
Ready to cast your vote now? Vote Here for 3rd Nominee!
Remember the voting stops at 9AM PT (12PM ET) so don't want to vote. If you vote the night of then the next morning you get to vote another 20 votes so it's worth it to be on the ball with this one.
Results will be revealed Monday morning when the Veto players are picked. The PoV comp is held at 1PM PT live on the Big Brother Feeds and that could be very interesting especially if Scott is picking the Double Veto where two HGs would end up with the power to strike out one nomination each.
After you've done your official voting at cbs.com be sure to vote in our poll here as we await the official results on Monday.