Have-Nots and nomination plans filled the day on Saturday for the Big Brother Over The Top HGs along with an abundance of petty cheap shots at each other and more Krackle wars.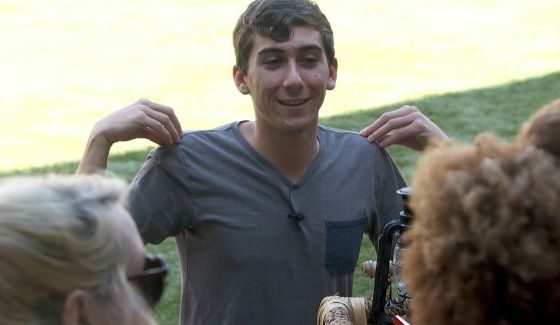 If you've got the Live Feeds (Free Trial) then you can watch all of these moments with the Flashback feature to go back and watch those important conversations or funny scenes you may have missed.
Big Brother OTT Live Feed Highlights – Saturday, October 15, 2016:
10:00 AM BBT – Wake-up call for the HGs.

10:20 AM BBT – Scott mentions to Jason he may be part of the first batch of Safe announcements that night.

11:10 AM BBT – Shane checks in with Scott and asks about his ACP plans. Scott tells him he plans to go with the Double Veto.

11:30 AM BBT – Shelby and Alex discuss possible HN situations. They wonder how much viewers dislike them and if it's related to Monte still.

12:15 PM BBT – Danielle is frustrated about the other side playing a traditional Big Brother game instead of adapting to this new style. Kryssie is annoyed with Scott and points out their side has the controlling majority.

12:45 PM BBT – Houseguests scrambling to shove as much food down as they can before Scott comes back from DR with the HN announcement.

1:00 PM BBT – Danielle was worrying about how her and Shane can share a HN bed and then suffering through the cold showers which she says worries her more than the Slop.

1:03 PM BBT – Scott announces Danielle, Shelby, and Alex are the HNs this week.

1:05 PM BBT – Danielle and Shane go to try out a HN bed. They make it work.

1:05 PM BBT – Justin is thrilled & overjoyed that he's not a HN this week. He's very grateful.

1:20 PM BBT – Shane promises Danielle he'll suffer through the HN beds with her so they can sleep together.

1:30 PM BBT – Justin putting in some friendly time with Scott and praises him for his strip dance he gave Whitney last night.

2:25 PM BBT – Whitney and Alex discuss Danielle having to be a HN this week and hoping she'll also be the 3rd nominee by America.

3:20 PM BBT – Shane and Justin wonder how Alex's HoH comp disadvantage will play out. (This was the punishment she selected during the last Veto comp.)

3:25 PM BBT – Krackle search resumes as Morgan, Shelby, and Alex try to find what happened to the stash that was moved again. Justin catches them hunting but they try to deny.

4:15 PM BBT – Housewide hunting as one side looks for Krackle candy bars and the other is trying to find the bottle of Coke.

4:35 PM BBT – Kryssie is very upset as someone has gone through her things while looking for the hidden items.

4:45 PM BBT – Kryssie is still getting upset even after the other women were sorry and promise not to look through her things anymore.

4:55 PM BBT – Guess who continues to be upset. Kryssie is now crying.

5:30 PM BBT – Kryssie crisis watch continues.

5:50 PM BBT – Neeley and Kryssie discuss getting rid of Danielle before Shane. They're confused as to why Shane is such a target for Scott.

6:15 PM BBT – Justin, Scott, and the Plastic Ball Smashers (PBS) are playing "What are the odds?" and giving each other dares.

6:55 PM BBT – Jason and Danielle wonder about her being made a HN. Danielle is worried that America may not like her as much anymore.

7:00 PM BBT – Safety Ceremony begins. Details & results here.

7:25 PM BBT – Scott tells PBS he knows the other side tried to get him nominated last week. He says he has a plan here.

7:30 PM BBT – Danielle is confident they'll get a good chance with America's Nom and then they'll vote out that HG.

9:15 PM BBT – Alex and Whitney are annoyed that Shane and Danielle didn't come out to join them for the Safety Ceremony. (Shane and Danielle were sitting with their group in the London bedroom.) They say that was being a poor sport.

10:00 PM BBT – Danielle is very worried about Shane being the one evicted this week. She doesn't want to be here without him.

10:30 PM BBT – PBS discuss Kryssie's huge reaction to the clothes searching earlier and they think she almost quit because of it.

11:00 PM BBT – PBS + Scott joke that Danielle would die if Shane left because he gets her food since she doesn't do it herself. They're upset about Danielle drinking much of the chocolate milk.

11:15 PM BBT – PBS tries to guess what Justin would do if he won the Veto and who he might save between either Danielle or Shane.

11:30 PM BBT – PBS settles in for bed but continues chatter. Justin is there with them and says the other side is worried he is being taken away by the girls.

12:00 AM BBT – Justin confirms with PBS that the other side really just doesn't like them.

12:05 AM BBT – Shelby suspects Danielle took the good blankets so she takes the biggest HN bed to make sleeping difficult for Shane & Danielle together. She takes Shane's comforter to the HN room but BB stops her.

12:15 AM BBT – Danielle finds out Shelby thinks she took the blankets and is very upset. She claims she's just washing the blankets and suggests these sorts of fights is why she doesn't have any girl friends.

12:20 AM BBT – Shane tells Scott he's not coming after him and Shelby is his main target because he really doesn't like her since she reminds him of his ex girlfriend.

12:30 AM BBT- Jamboree talk trash at length about how much they dislike Shelby.

12:55 AM BBT – Jason is confident America will target Shelby for them.

2:40 AM BBT – Scott calls it a night and heads upstairs to his room. He mentions being ready for it to be Monday already so they can get the rest of the events going. He says he didn't buy Shane's story earlier about Shelby and he won't be targeting her for Shane.

3:00 AM BBT – Danielle and Shane head to the HN room and for their nightly fooling around.

3:05 AM BBT – Kryssie and Jason agree that Danielle is annoying them with all of her stories.

3:20 AM BBT – Kryssie worries about Justin spending so much time with PBS, but Jason isn't worried about him flipping against them.

3:40 AM BBT – Jason and Kryssie get ready for bed as the last HGs awake.
Nominations are underway and Scott appears to be just as determined as ever to get Shane on the Block, but not just yet. Looks like he'll be using his pawns plan then going for the BD if Veto works out. Meanwhile talk across the house remains incredibly petty and catty on both sides.
You can watch all of these Big Brother events using the archives Flashback, the DVR-like feature of this year's Live Feeds which means it's always live, even when you missed it! Sign-up now to get the free trial to watch it all live & uncensored.


click images to see full-size views