The first Safety Ceremony of Big Brother Over The Top has arrived and with it come our spoilers and results for the first week's potential eviction, but unlike past seasons this one won't be over in one fell swoop. The fun kicks off Saturday at 10PM ET (7PM PT) on your Live Feeds.
Update: Round 2 of the ceremony is over and we have the final nomination results of the week. Well, final until we get that 3rd nominee. Ready to vote for who will be the 3rd nom? Go here at cbs.com to vote before it ends Monday at 12PM ET.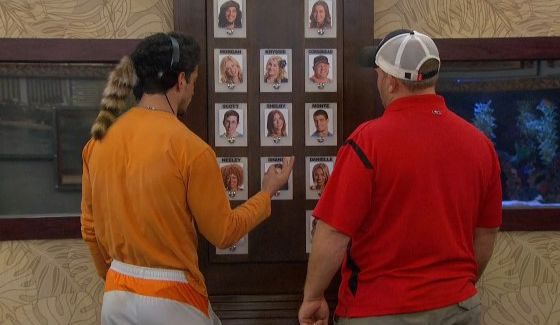 Kicking off the two or maybe even three day run of nominations here is the first Safety Ceremony for BBOTT this week where Monte, the current HoH, will name a set number of HGs to be moved in to the "Safe" column for the moment. At that point they can't end up nominated by Monte in this phase, but there are a few more opportunities for danger this week.
After Saturday night's meeting there will be one more on Sunday to set us up for the HoH's two nominees but then soon after that is over the viewers will get to send a third player to the Block in a bid to thwart the HoH's plans. And even then there's still the Veto comp looming in the near distance.
Here's how it works. Monte went upstairs in private. HGs were told to pick up their "Block Passes" from the Storage room. Then their block remotely turns green if they're one of the first five selected tonight. This will last 30 minutes each time apparently and it's being dragged out as Monte hangs around in his room. We can see him, but not hear him.
Big Brother Over The Top Week 1 Safety Ceremony & Nominations:
Nominations – Week 1:
Danielle Lickey
Jason Roy
Safety Ceremony – Round 1:
Monte selected the following HGs as safe this week from his nominations:
Neeley
Whitney
Cornbread
Morgan
Shane
Safety Ceremony – Round 2:
Monte selected the following HGs as safe this week from his nominations:
Justin
Alex
Kryssie
Shelby
Scott
If you missed the first round of this week's Safety Ceremony then rewind your Feeds to 7PM PT 10/1 and watch the action live. Or you can check the archives Video section for BBOTT on your CBS App to replay the segment. Use the Free Trial now to get started and watch along.
The viewer voting is now open to decide the 3rd nom. Remember you'll need to have an All Access account to vote in this season's decisions which includes who will be Have-Nots, who is the 3rd nominee, which nominee earns an extra eviction vote, and who will win Big Brother Over The Top!
At last discussion Monte was planning to target Jason this week and he has a lot of support through the house. They like Jason, but his Vet status makes his dangerous for a fan-vote centric season so they're making a move against him. He'll need a Block partner though and that's up in the air for Monte between Shelby and Kryssie. Watch out, OTT Jamboree alliance!