After days of planning for Jason to hit the Block Monte is ready to move ahead, but now there's a new plan for who will join him in the danger zone on Big Brother Over The Top.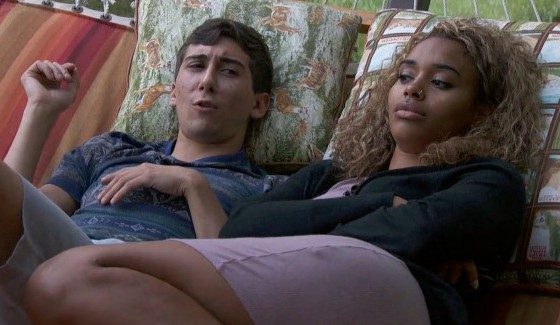 Despite Cornbread's repeated efforts to convince Monte to go after Shelby with this first round of noms Monte had instead planned to put Kryssie, Jason's secret F2 ally, up on the Block. This morning that plan shifted to a closer target.
Danielle has moved up Monte's list this morning after some talks with allies may have worried him about upsetting too many on Jason's side of things. The idea here is that Danielle and Shane are close so Monte hopes to use Danielle as a pawn and then get Shane to keep things going easy for him there. Shane told Monte he'd probably play dumb leading up to the BBOTT announcement which arrives at 7PM PT (10PM ET).
Earlier this afternoon Danielle spoke privately with Jason and told him that she'd use the Veto to save him if he was on the Block and she won Veto. That's unfortunate then for him that she'll likely be on there with him, but if Kryssie isn't on the Block then maybe she'll have the chance to try and save him too. With only one member of the OTT Jamboree on the Block that could help Jason's odds this week.
We'll get the rest of Big Brother's Safety Ceremony tonight at 7PM PT (10PM ET) when Monte makes five more picks for who won't be sent to the Block. That'll leave us with just 2 nominees before voting opens at 8PM PT (11PM ET) for All Access subscribers to pick from the other 10 "safe" HGs for one of them to become much less safe afterall.
What do you think of Monte's new plan? Would Kryssie or Danielle be a better option for going up against Jason if he wants Jason gone? Don't forget that several of the other women have talked about targeting Danielle so they could be tempted this week to go for her instead of Jason. Of course who knows with this third nominee what could end up happening.