Kryssie Ridolfi took over as the new Head of Household for this week on Big Brother Over The Top and now she's got some important work to do with her nominations, but if she's not careful America could make plans of their own.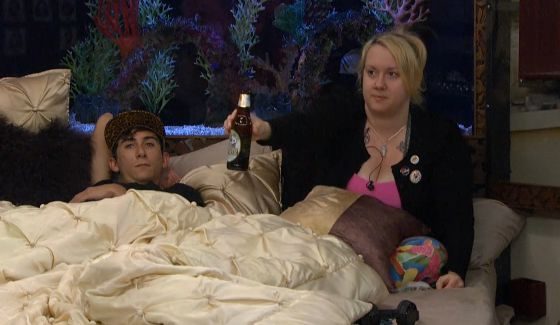 Later tonight the Safety Ceremony will kick off and we'll get our first installment of names safe this round. With plenty of talks between Kryssie and allies then Kryssie and opponents, there's no doubt who has become her target this week on BBOTT.
Originally Alex was going to be in definite danger this week but America swept in and yanked her to Safety Servant-land where she can't go anywhere near the Block or face eviction this week. With her out of the way the choice fell to Scott and that's where it's stayed.
Kryssie is definitely aiming for Scott but now she has to figure out the best way to make that happen this week. The PBS has already decided they'll gladly throw Scott under the bus to keep themselves safe but if they have an alternative we could see that HG go out the door instead.
That means Kryssie needs to carefully pick her nominations. Jason has warned her she should keep Scott to the side to become America's Nominee or one of their allies could end up in the hot seat instead. If that happens then the other side could have the votes to boot the 3rd nominee instead depending on where America follows with its Eviction Vote result.
It doesn't look like Kryssie is going to try for two pawns though as she told Whitney and Morgan she doesn't want to risk both of them going up and then Scott winning Veto and her having to pick between one of them to go instead.
When this week's nominees are revealed I'd expect Scott to be there with either Morgan or Whitney. Whitney expects that to be Morgan and it just might be.
Then as for the safety rollout, Kryssie has said she's not going to play mind games and will instead just go ahead and make her close allies safe in the first night's reveal. As usual we'll get half of those names tonight at 7PM PT and the other half Sunday night at 7PM PT as well.
What do you think of Kryssie's plans? Should she be going with two pawns or is it better to get Scott on up there on the Block? And what about the options for America's Nominees? Should Kryssie be better planning to work around that?