Safety Ceremony weekend kicked off on Saturday as Kryssie put her planning in to practice for Big Brother Over The Top. The day was spent finalizing her goal and just how she hoped to see it pulled off but behind the scenes cracks started to appear for her side's alliance.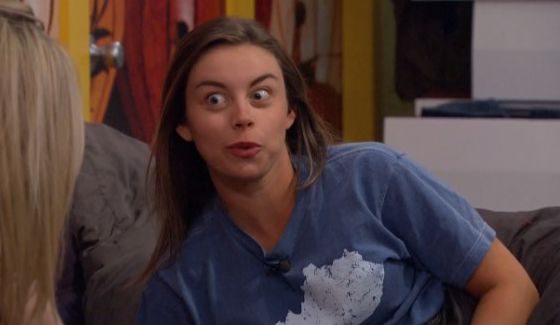 If you've got the Live Feeds (Free Trial) then you can watch all of these moments with the Flashback feature to go back and watch those important conversations or funny scenes you may have missed.
Big Brother OTT Live Feed Highlights – Saturday, October 22, 2016:
10:00 AM BBT – HGs getting their wake up call.

10:40 AM BBT – Jamboree starts to gather in the backyard while Alex is on assignment from BB to prepare fruit.

11:30 AM BBT – PBS wonders about the upcoming HN reveal and expects there will be at least one repeat in this group of three. They contemplate America's Nom working in their favor.

1:05 PM BBT – HN announcement from Kryssie reveals Scott, Jason, and Neeley are on Slop duty this week. Justin celebrates another week escaping that punishment.

1:15 PM BBT – Alex and Shelby discuss who on their side could be in danger. Shelby thinks Whitney is in trouble but Alex thinks it's Morgan. Alex hopes she can play for Veto to save one of them.

1:40 PM BBT – Morgan and Whitney with Scott discuss how Justin dodged being a HN again this week. They wonder if he is really loved by fans.

2:45 PM BBT – Jason and Kryssie discuss how production my have shifted around the names this week for the order of the HN reveal. Past weeks they thought the order of announcement was also the order they placed for votes.

2:50 PM BBT – Whitney tells Alex she heard that Morgan and Scott are Kryssie's targets this week.

3:15 PM BBT – Alex and Scott discuss their options for this week. Scott would get rid of Morgan to save Shelby, but Alex (obviously) wants to keep Morgan.

5:15 PM BBT – Jamboree crew has broken up from HoH room. Jason talks to Kryssie about how annoyed he's getting with Danielle and now telling her to her face that her stories aren't interesting.

5:30 PM BBT – Neeley talks with Jason about his personal life and growing up.

5:55 PM BBT – Morgan with Whitney as they discuss nomination expectations. They're pretty sure one of them will go up alongside Scott.

6:40 PM BBT – HGs playing "what are the odds" to set up silliness for the Safety Ceremony.

7:05 PM BBT – Safety Ceremony time. Kryssie picks Neeley, Justin, and Danielle for safety this week.

7:55 PM BBT – Jason talks with Justin and reveals he's been told that Danielle is coming after them. Justin isn't surprised and says he could see that happening. Jason fears both Neeley and Danielle think he might flip over to working with the girls.

8:30 PM BBT – Justin tells Scott they may need to target Neeley this week because he thinks she's coming after Jason. Scott says he thinks Neeley is coming after him too.

8:35 PM BBT – Justin warns Scott that if he doesn't win Veto then the girls alliance would vote him out this week.

8:45 PM BBT – Justin lets Alex know that Scott is definitely committed to helping her.

8:50 PM BBT – Alex talks with PBS to share that Justin is willing to work to save Scott for her, but she tells them she wants Justin trying to help save one of the girls, not Scott. Morgan and Whitney are suspicious about Justin telling Alex that info.

9:05 PM BBT – Alex promises Scott she's still wanting to keep him. Scott mentions Justin may be wanting them to go after Neeley.

10:00 PM BBT – Kryssie tells Morgan they need to make sure Scott stays on the Block and again promises Morgan she wants her to stay this week. Kryssie again worries about using two pawns then having Scott go up as America's Nom and then coming down with the Veto leaving her two pawns as the only eviction options.

10:05 PM BBT – Alex talking with Scott and says it'd be better for their game if Whitney goes home this week, but says she doesn't really want that to happen.

10:10 PM BBT – Alex with Morgan discussing that it's best for her own game if Whitney goes. Morgan agrees. Alex can't believe Kryssie would use a nom on Scott when he'd probably be America's Nom but that spot would now be open for one of Kryssie's allies.

10:15 PM BBT – Alex observes the other side is starting to split since Justin told Scott that they wanted to get rid of Neeley for possibly coming after Jason. Morgan says she wants to get Justin out if she wins HoH.

11:05 PM BBT – Kryssie and Neeley agree that they trust Morgan and would want to work with her. They want Alex gone. Neeley says she'd go after Alex if she got HoH.

11:10 PM BBT – Kryssie says she thinks Shelby probably expected her to be the target this week but she isn't wasting her HoH on her. Neeley likens Shelby to Victoria.

12:00 AM BBT – Jamboree hanging around in the HoH room watching the fish and chatting.

1:00 AM BBT – Everyone has settled in for sleep.
It'll be interesting to see which side pulls it off this week as both remain in potential danger of losing a number. Kryssie still wants Scott out but Jason and Justin's fear of Neeley could lead to a surprise eviction this week. Well, it'd be a surprise to Kryssie for sure if she ends up watching her close ally walk out the door under her watch.
You can watch all of these Big Brother events using the archives Flashback, the DVR-like feature of this year's Live Feeds which means it's always live, even when you missed it! Sign-up now to get the free trial to watch it all live & uncensored.

click images to see full-size views