Big Brother Over The Top has reached its Final 4 but that's about to become Final 3 as we go through two more competitions to help decide who will face off for America's Vote to become the winner of BBOTT.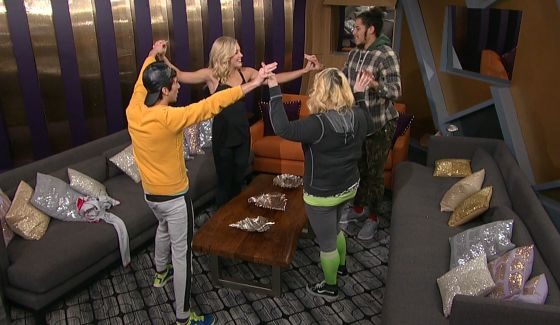 Round 1 starts tonight with the first of the two comps. Here the winner will get to pick one of the other three HGs for a guaranteed seat in the F3. The remaining two HGs will then face off on Tuesday night for the third and final seat in the F3. From there the viewer voting will be held and we'll find out who wins this season.
Want to watch with us? Get the Free Trial of Live Feeds and join the fun as it plays out live. CBS has a One Month Free Trial right now if you use promo code BBOTTNOW when you sign up.
We've got Jason, Justin, Kryssie, and Morgan left in the game after Shelby was voted out tonight. That should leave Kryssie with a sure thing spot in the F3 and Morgan with two chances to make sure she gets there. Should Morgan win either of these last two comps then the remaining LNJ will be broken up just shy of the end.
Who do you want to see win this comp? Get ready to watch it play out on your Big Brother Live Feeds.
BBOTT – Final 3 HoH Comp – Part 1 – "Uphill Battle":
HGs must use the pulley system to work answers up a huge wall to drop balls in the spots for correct answers. They simply have to identify who won HoH each week. Easy to know the answer, but hard to get the ball up there. First to finish wins a spot in the F3 plus the pick of who will join them in the F3.
6:50 PM BBT – Comp scheduled to begin soon.
7:02 PM BBT – Feeds return. Instructions are read.
7:06 PM BBT – Comp begins.
7:10 PM BBT – Total silence as the HGs race to finish.
7:13 PM BBT – Jason wins!
Well that went fast. Jason won this which doesn't surprise me. Now who do you think he'll take to F3? Well heck, does it even matter. Now that Jason got Shelby out, his fiercest competitor for the overall win, he'll win this whole thing, won't he?
Update: Overnight Jason confirmed his plans to take Kryssie to the F3 over Justin. Jason spoke with Kryssie and Morgan that they should be the F3. Jason does not want Justin reaching the end as he feels he has a better chance against the women than against Justin in the viewers' vote.
We now await the confirmation on who gets that bonus free ride to the F3. That should be part of Saturday's "Game Changing Ceremony" at 4PM ET (1PM PT) and we'll have the live results when it happens.
Who do you want to make it to the Final 3 on Big Brother Over The Top?