It was a tense and messy day in the Big Brother Over the Top house as Scott put his plan in motion that puts two pawns on the block and a special veto in play all to backdoor his main target of the house. The final nomination ceremony went down and the pawns were not too happy to be on the block next to each other.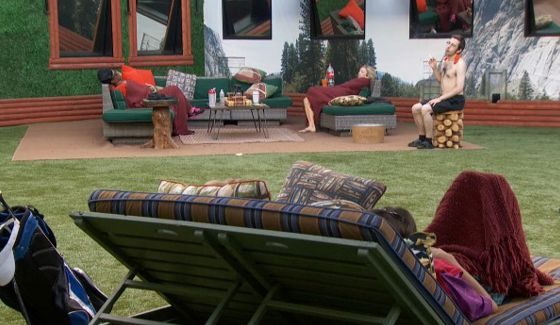 If you've got the Live Feeds (Free Trial) then you can watch all of these moments with the Flashback feature to go back and watch those important conversations or funny scenes you may have missed.
Big Brother OTT Live Feed Highlights – Sunday, October 16, 2016:
10:00 AM BBT – Wake-up call for the HGs.

10:30 AM BBT – Houseguests slowly working their way through the house and moving around.

11:00 AM BBT – HoH camera time.

11:25 AM BBT – Scott talks with Alex about the Jamboree's discussions last night and how much they were talking down Shelby.

11:40 AM BBT – More trash talk about Shelby as Justin, Shane, and Danielle say no one wanted to have a showmance with her.

11:45 AM BBT – Scott is practicing his nominations speech for after tonight's Safety Ceremony.

1:00 PM BBT – HGs hanging around, enjoying the afternoon.

2:15 PM BBT – Scott talking with Alex about setting up a 5-person alliance with Jason, Justin, and Neeley. They want to find a way to work with Jason or to at least stay positive with him.

2:45 PM BBT – Scott previews his speech for Alex.

3:35 PM BBT – Shelby worries she could be on Have-Not rotation for as long as she remains in the game.

4:15 PM BBT – Plastic Ball Smashers (PBS) are baking a cake for Whitney since they didn't get a cake mix on her actual birthday.

5:15 PM BBT – PBS discussing applying for Big Brother and life in sequester.

6:30 PM BBT – Scott tells Morgan, Alex and Whitney the Safety Ceremony order tonight. He says it'll be Morgan, Shane, Danielle and then Shelby.

7:01 PPM BBT – Safety Ceremony begins.

7:05 PM BBT – Morgan is safe.

7:06 PM BBT – Scott picks Shane for safety.

7:07 PM BBT – Danielle is safe.

7:08 PM BBT – Shelby is the final HG safe. Neeley and Kryssie are officially nominated for eviction.

7:10 PM BBT – Scott joins the HGs to explain his nominations. He tells Neeley he respects her and for her to do well in the veto competition. He tells Kryssie that they are both mental giants but they have two different approaches. He adds that she has problem with certain group situations and that's why he nominated her. She doesn't understand that (no one does).

7:13 PM BBT –  Justin acts as if he doesn't understand Scott's plan, so Shane explains it to him. He tells Justin that he is clearly a backdoor plan and just to tell Scott he'll vote Shane out but he can really vote out America's nominee.

7:15 PM BBT – Kryssie thinks she was nominated because of the way she acted about the girls going through her clothes looking for the candy bars.

7:29 PM BBT – Kryssie thinks Scott made a dig at her when he called her a mental "giant." She's offended.

7:32 PM BBT – Kryssie goes to check out the rule book for something.

7:44 PM BBT – Kryssie complaining about Scott's speech. She wants to talk to production about it. She thinks it was a personal attack.

7:47 PM BBT – Neeley is mad that PBS didn't tell her she was going up this week.

7:49 PM BBT – Shane and Danielle talking smack on Whitney. Danielle says she'll send Whitney home.

8:10 PM BBT – Scott tells Justin he feels bad about nominating Neeley but he doesn't care about nominating Kryssie. He tells Justin that Kryssie isn't the target and he wouldn't waste his HOH on her.

8:15 PM BBT – Justin tells Jason he really doesn't want to get picked to play veto this week. Justin tells Jason he's getting a bad vibe from Shane and Danielle and worries about them turning on them. Jason tells him they aren't turning on them.

9:36 PM BBT – Kryssie says she feels sorry for the DR people because she's been in there yelling (about Scott).

9:43 PM BBT – PBS and Scott talk about Kryssie not understanding what's going on this week and that she's not the target. Scott mentions Neeley and Kryssie wanting him up last week so he can't feel bad they're up this week.

10:25 PM BBT – Scott and the PBS talk about America's nominations and Veto possibilities. They're trying to figure out the different combinations and how to work around them.

10:40 PM BBT – Jason venting to Neeley and Kryssie about Danielle and how he's trying to get her to stop complaining so much since it might only make her a bigger target for viewer voting. They are banking on America's Nom being someone from the other side.

10:50 PM BBT – Scott reaffirms his plans to pick the Double Veto for his ACP. He wonders if viewers are getting annoyed with Danielle yet.

11:00 PM BBT – Jason hopes Alex or Shelby could go up as the 3rd nominee so the PBS has to stress for a change.

12:00 AM BBT – Alex and Shelby are sure they'll end up as America's Nom.

1:40 AM BBT – Shane and Danielle are making out in the Lounge. Camera goes between them and Paul's BB18 advice about showmances.

1:50 AM BBT – Shane and Danielle worry about becoming the 3rd nominee but know they'll have a shot with the Veto.
Nominations are settled for Scott and everyone is ready to move on to the next challenge as the week is about to speed up. Veto comp is coming up on Monday afternoon "but first" we'll get the 3rd nominee results the HGs are anxiously awaiting.
You can watch all of these Big Brother events using the archives Flashback, the DVR-like feature of this year's Live Feeds which means it's always live, even when you missed it! Sign-up now to get the free trial to watch it all live & uncensored.


click images to see full-size views