The Big Brother Over The Top houseguests are laughing and getting along like never before. Of course it's only the second day and the first Head of Household is currently under way, so things could change very fast. Read on to find out who could be the first targets of the game and how the HOH competition is shaking up so far.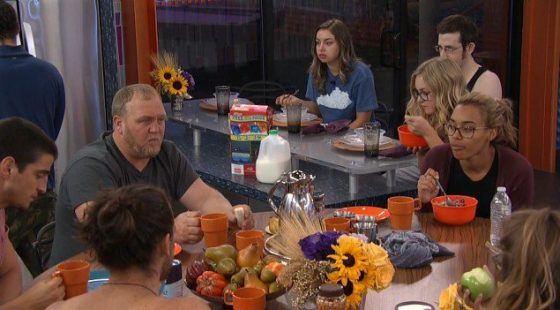 If you've got the Live Feeds (Free Trial) then you can watch all of these moments with the Flashback feature to go back and watch those important conversations or funny scenes you may have missed.
Big Brother OTT Live Feed Highlights – Thursday, September 29, 2016:
7:50 AM BBT – The sun is up and Jason is still awake. Wake-up call is coming at 10 AM!

8:00 AM BBT – Jason camtalks that he won't reveal he was voted in over Jozea. (Smart move.)

8:15 AM BBT – Monte and Shane woke up when Jason went to bed.

9:30 AM BBT – More HGs starting to wake up and start their day ahead of the wake-up call.

9:45 AM BBT – HGs gathering in the kitchen to make breakfast.

10:00 AM BBT – BB announces it's time to get up. No napping between now and 10 PM.

12:21 PM BBT – BB calls for an outdoor lockdown. All HGs outside awaiting the HOH competition.

12:30 PM BBT – HGs hanging out outside … general chit chat.

1:02 PM BBT – BB calls for HGs to head inside "immediately." It's HOH comp time.

1:03 PM BBT – HGs find a bottle in the living room. It contains a blue liquid and reads "Only one may drink." HGs aren't sure if Julie is going to pop up on the screen or if there will be an announcement what to do. They decide to sit around and wait for a bit.

1:06 PM BBT – When no messages or anything appears, Shane gets up and grabs the drink and downs it. An alarm sounds and a strange voice comes on informing Shane that he's been infected and he needs to immediately head to the Diary Room. He goes as the others sit and wait.

1:23 PM BBT – Shane comes out of the Diary Room wearing a bug T-shirt and a bug medallion. He informs the others that the first HOH competition is called BB Bug and that he was infected and therefore cannot be the first HOH. Shane goes on to explain that when the next alarm sounds, he will have to infect someone, knocking them out of the HOH running. Then that person will have to do the same when prompted and so on until only one person remains uninfected. That will be the new HOH. That last person standing won't be known until the following day at 1 PM. So this is a 24 hour competition.

1:50 PM BBT – Monte and Jason talk about how this HOH will force people to show their cards and possibly even early loyalties.

1:58 PM BBT – Jason is worried he might be targeted since he's the only vet in the house. He says he doesn't want first HOH but he may need it.

2:10 PM BBT – Alex and Morgan wonder if people are onto their sisterhood. Talk turns to who to target with the BB Bug. They decide Danielle would be a good option since they think she's working with the guys. They also think they should target Kryssie because she too would nominate girls for eviction.

2:14 PM BBT – Shane tells Monte he wants to give Kryssie the bug to make sure she's knocked out right away. Shane then wonders if he should give it to a sweet girl so he doesn't ruffle feathers. Monte and Shane commit to having each others' backs. Monte thinks if a girl does happen to win HOH they'd target Justin and Scott and not them.

2:44 PM BBT – Alarm sounds again. Shane decides to give the bug to Danielle. She is out of the HOH competition and heads off to the Diary Room.

3:03 PM BBT – Danielle is out of the DR in her bug T-shirt.

3:32 PM BBT – Alarm goes off again. Danielle asks anyone if they want the bug. Justin volunteers and is knocked out. He heads off to the DR to get his T-shirt.

4:12 PM BBT – Latest alarm sounds. Justin heads upstairs and lets Shelby know she's the new recipient. Shelby is out of the running to be HoH.
The HoH competition continues on until 1PM BBT on Friday then Nominations start up on Saturday. Keep in mind that we'll be voting on a third nominee so get ready for all that mess to hit the game. For now we'll keep watching to see what happens with the HoH comp and who gets infected next. We'll be posting continued updates in our HoH results post here.
You can watch all of these Big Brother events using the archives Flashback, the DVR-like feature of this year's Live Feeds which means it's always live, even when you missed it! Sign-up now to get the free trial to watch it all live & uncensored.

click images to see full-size