The Big Brother Over The Top houseguests made it to the final five Wednesday night and the first official member of the final four emerged when Morgan win the HOH competition. Jason and Kryssie were left scrambling, while Justin checked back in with the Jambalaya Gang to help ensure his safety for the week.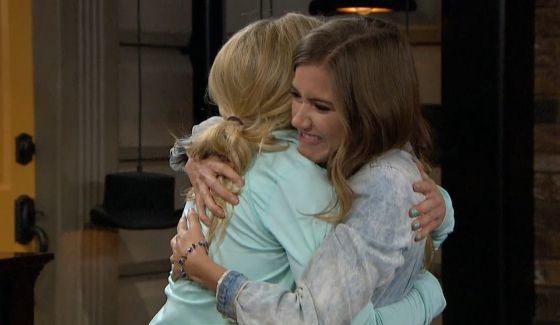 If you've got the Live Feeds (Free Trial) then you can watch all of these moments with the Flashback feature to go back and watch those important conversations or funny scenes you may have missed.
Big Brother OTT Live Feed Highlights – Wednesday, November 16, 2016:
8:20 PM BBT – HGs went back inside after the HoH comp. Morgan and Shelby head to the London room and celebrate. Shelby is excited for Morgan making the F4. They talk about how no one was throwing that competition.

8:25 PM BBT – Jason is talking to himself that whichever one of them doesn't go up needs to win the Veto to force a Shelby renom. Justin comes in and Jason tells him that he's screwed. Justin says the both are. Jason explains to him that the person not on the block has to win veto. That's the only way they can all stay, he says.

8:26 PM BBT – Justin asks Morgan if she's going to throw him under the bus. She says no and she's going to stick to the plan and she won't turn on their plan. Shelby says as long as Jason doesn't win the veto this week the Jambalaya Gang is good. Justin plays it off like he threw the competition for them. Justin says this is like their original plan and Morgan is happy and says that's exactly right.

8:27 PM BBT – Kryssie asks Jason if he's OK. He says no. She says it's not over and repeats his thoughts that the one not on the block has to win the veto. Jason says if they can't beat them in a 3 against one scenario then they probably can't win veto against them either. The agree that the competition was made for Morgan since she's a cheerleader and is an expert at balancing.

8:28 PM BBT – Jason says he hopes Justin uses the CP to help them and not play into Shelby and Morgan's hands. Kryssie says she's going to fight for him.

8:29 PM  BBT – Morgan and Shelby tell Justin that if he's presented with a Pandora's Box (so random) then always open it.

9:03 PM BBT – Jason is feeling pretty defeated. He's off in the bedroom alone and whispering to himself.

9:20 PM BBT – Shelby, Morgan, Kryssie and Justin hanging out in the kitchen while Jason is by himself in the bedroom.

9:50 PM BBT – Everyone is hanging out in the kitchen, snacking and chatting.

10:20 PM BBT – HGs all still in the kitchen talking about events in the game and people from YouTube, etc.

10:26 PM BBT – Justin talks to the cameras saying he can't believe he's still in the house since he sucks at competitions.

10:28 PM BBT – HGs talking about and laughing at their first impressions of Cornbread. Shelby was glad America didn't end up liking him like she thought.

11:25 PM BBT – Morgan and Justin discuss their situation and confirm their F2 (Terrible Twos). Morgan says it'll be Jason and Kryssie going up.

11:30 PM BBT – Shelby says she definitely won't be throwing the Veto comp and is there to win it. Justin says that's the best situation.

11:35 PM BBT – Jason and Kryssie discussing how Justin is a bigger target and a better notch on the belt for whoever gets him out.

11:40 PM BBT – Justin reports back to Jason and Kryssie that Shelby and Morgan seem to believe he's in with them. He says that's an advantage they have against them for now.

12:05 AM BBT – Jason admits either he wins Veto or he will be going home this week. Jason reiterates to Justin how if he's not on the Block but wins Veto then it'll force Shelby to be put up.

1:00 AM BBT – HGs all still awake but hanging out in their divided spaces.

2:00 AM BBT – Lights are out and HGs are asleep for the night.
It was a big night for the sides and LNJ lost out to the final two smashers as Morgan won HoH and secured herself a spot in the F4. America's role is over until we pick a winner which means we'll be watching and waiting for Monday's Veto comp with Noms revealed along the way.
You can watch all of these Big Brother events using the archives Flashback, the DVR-like feature of this year's Live Feeds which means it's always live, even when you missed it! Sign-up now to get the free trial to watch it all live & uncensored.

click images to see full-size views