Shelby's plan rolled right on through Saturday with the first round of Safety Ceremony and her nomination plans becoming clear for Danielle while Jason was clued in on what to expect. Aside from quiet frustrations the night went off as expected and HGs are anxious to get to the coming events.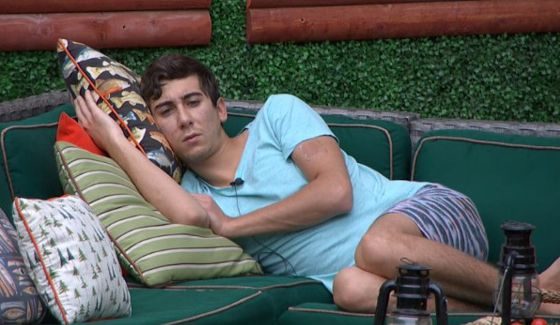 If you've got the Live Feeds (Free Trial) then you can watch all of these moments with the Flashback feature to go back and watch those important conversations or funny scenes you may have missed.
Big Brother OTT Live Feed Highlights – Saturday, November 12, 2016:
10:00 AM BBT – HGs get a wake up call.

10:15 AM BBT – HGs finally leaving bed.

10:35 AM BBT – Justin makes a trip to the HoH room and tells Shelby if Jason or Danielle tries to say he told them anything, he didn't. Justin warns Shelby they can be very manipulative.

11:15 AM BBT – Justin tells Shelby that he's made up his mind and he knows it's the other two or him and he doesn't care what they think.

11:30 AM BBT – Shelby tells Morgan she's considering making Justin and Kryssie safe tonight to make her plans clear.

11:35 AM BBT – Morgan worries that Jason has to believe that their deal with Justin and Kryssie is just for the one week.

12:35 PM BBT – Kryssie warns Justin not to say anything about their deal until the game is over. Justin promises he won't but warns Kryssie he knows they were trying to do the same thing to them. Kryssie says they'll deny this if anything comes out. Justin doesn't care if they find out, but Kryssie definitely does. Justin warns Kryssie that Jason and Danielle are not really their friends. Kryssie says Jason is propping up Danielle as his #1 to make the girls go after her instead of them.

12:40 PM BBT – Justin says his main goal is to get Danielle out this week. Kryssie tells Justin if he goes to the end with either of the girls then he'll lose. Justin says he knows but he can't trust Jason either.

1:50 PM BBT – Jason tells Kryssie he is starting to wonder if Danielle may actually be the target this week. Kryssie says she was having a similar thought. Kryssie promises Jason that if he's up against Danielle then she won't vote him out over Danielle. Jason tells Kryssie she is his pair but he's trying to convince the girls that Danielle is his pair while Kryssie is paired with Justin. Jason tells Kryssie he doesn't care who leaves this week as long as it's not him.

1:55 PM BBT – Jason is frustrated that he's invested so much time in Justin but he'll never pay it back because he doesn't win things. Kryssie is frustrated that Justin may trust the girls but they won't take him to the end.

2:00 PM BBT – Jason says their best case would be getting Justin out then one of the girls then Danielle. He thinks their best F3 chances are with one of the girls. Kryssie agrees.

2:15 PM BBT – Justin won't tell Jason what's going on but he suggests Jason isn't the target for the girls this week. Justin finally tells Jason the girls want Danielle gone. Jason is okay with that.

2:20 PM BBT – Justin warns Jason that even if he (Jason) is up on the Block and he (Justin) wins the Veto then he'll save Morgan then vote out Danielle. Justin warns Jason it'll be uncomfortable but for him to just hang on and get through it then after that it'll be Morgan against the three of them.

2:25 PM BBT – Jason says they should take out Shelby over Morgan given the chance.

2:25 PM BBT – Justin says he only agreed to this deal with the girls so he could get Danielle out, who he doesn't trust, and then he'll get the last ACP. He promises Jason and Kryssie that his true loyalty is to the two of them all the way to the end.

2:30 PM BBT – Jason warns Justin the girls will try to get him out but they're using him now while they're in power.

2:30 PM BBT – Justin says Danielle made a big mistake by keeping him and she should have taken him out because that's what he'll do to her. Justin promises Jason that although the girls want Jason out if Danielle comes down that's not what he's going to do. He doesn't want to get to the end with them and he is playing this game too.

2:40 PM BBT – Justin worries if he did the right thing by telling Jason. Kryssie says he did the right thing.

3:20 PM BBT – Justin again promises Morgan he'll save her with the Veto if she's America's Nominee.

3:25 PM BBT – Kryssie says she feels bad about doing this to Danielle. Justin doesn't.

3:25 PM BBT – Morgan says it's probably 50/50 between her and Kryssie going up as America's Nom.

3:30 PM BBT – Justin promises Jason he's his Day 1 ally and he doesn't care about Danielle.

3:35 PM BBT – Justin again warns Jason he'll use the Veto to save Morgan.

4:20 PM BBT – Justin lets the girls know Danielle is offering Shelby her son's stuffed animal as collateral for staying. Shelby really doesn't want that. He tells them Jason will help with the deal to get Danielle out this week.

4:30 PM BBT – Jason questioning Kryssie as to what did she know and when did she know it.

4:40 PM BBT – Danielle checks in with Shelby who says she still hasn't made up her mind. Danielle tells Shelby she's playing for her son and offers Shelby the stuffed animal, but Shelby won't take it.

4:45 PM BBT – Jason worries how America will vote and whether or not they'd target him or Danielle for VTE. Justin encourages Jason that he'll be okay.

5:10 PM BBT – Justin goes to Jason and Kryssie telling them everything will be okay. Jason lets him know Danielle hid one of the pool balls. Justin is less than pleased.

5:15 PM BBT – Shelby tells Morgan she thinks Danielle knows she's going up.

5:35 PM BBT – Justin talks with Shelby and she asks if they're good for next week too and he agrees. He tells Shelby that Jason knows Danielle is the target but he doesn't know about their F4 deal.

5:45 PM BBT – Morgan is worried Justin coming to them so much. Shelby says they can try to reel Justin in by revealing their secret if it looks like they need to next week.

6:15 PM BBT – HGs hanging out chatting and joking in the kitchen. Danielle is off in the Tokyo room.

7:00 PM BBT – Grab your Block Passes.

7:05 PM BBT – Shelby has given safety to Justin and Kryssie making it clear that her noms will be Jason and Danielle.

7:10 PM BBT – Danielle is upset and frustrated. She can't understand why Shelby didn't take the deal and thinks she's making a huge mistake. Danielle is hoping Morgan will be America's nom. Kryssie plays dumb about the situation and asks if Danielle had tried to make a deal.

7:25 PM BBT – Danielle expects Justin will not save her if he gets the Veto. She's upset that she saved him last round.

7:40 PM BBT – Morgan wonders if Kryssie and Justin will team back up with Jason. Shelby doesn't think so since they're not getting closer with those two themselves.

9:00 PM BBT – Shelby and Morgan discussing Whitney leaving. Shelby wasn't sad to see her go and realizes she shouldn't have trusted her.

9:20 PM BBT – Morgan hopes to get Danielle out now and then Jason next.

9:30 PM BBT – Shelby and Morgan wander the house counting objects in anticipation of it coming up in a comp.

9:50 PM BBT – Jason tells HGs about past HGs who were removed from the house and warns it's easy to get Chima'd if not careful.

10:30 PM BBT – Morgan hopes the next comp will be the comic book themed challenge. They discuss how the game was fun for the first few weeks before they started annoying each other.

12:00 AM BBT – Shelby and Morgan have gone to bed. Danielle is downstairs in bed. Kryssie, Jason, and Justin still up chatting.

1:00 AM BBT – LNJ going through past comps, events, and vote counts.

1:30 AM BBT – Lights out and HGs off to sleep.
Danielle can't believe the girls didn't take her deal to go for Justin but after the past several broken deals it's not hard to see what happened there. Now the house will get ready for Morgan's safety reveal on Sunday and then it'll be five against one in the Veto comp to secure Danielle's eviction.
You can watch all of these Big Brother events using the archives Flashback, the DVR-like feature of this year's Live Feeds which means it's always live, even when you missed it! Sign-up now to get the free trial to watch it all live & uncensored.


click images to see full-size views