It was care package day in the Big Brother Over the Top house and when Shelby earned the power to erase three eviction votes, it made the side in power a little nervous. And rightfully so. The rest of the day was spent strategizing and deals were being tossed around. Read on to find out how things are shaping up as we head into the nominations this weekend.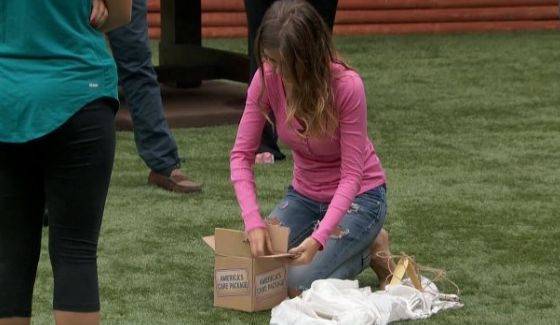 If you've got the Live Feeds (Free Trial) then you can watch all of these moments with the Flashback feature to go back and watch those important conversations or funny scenes you may have missed.
Big Brother OTT Live Feed Highlights – Friday, October 28, 2016:
10:05 AM BBT – HGs slow to start their day after the wake up call.

10:10 AM BBT – Plumbing downstairs doesn't work. Oops.

10:25 AM BBT – All is well with the water again.

10:30 AM BBT – Jason discusses being down to his last pack of cigarettes.

12:40 PM BBT – HGs excitedly discussing that they'll get takeout food for their Halloween party, per details given them by Big Brother.

1:05 PM BBT – HGs are out in the backyard for a special delivery. Shelby wins the ACP power and gets to eliminate 3 HG votes during the next live eviction.

1:10 PM BBT – LNJ is thoroughly down about the ACP while PBS celebrates their victory. Jason knows if one of them gets America's Nominee then that HG will be going home.

1:15 PM BBT – PBS works through worst case scenarios for the votes to see if they're protected in all directions with this power.

1:20 PM BBT – Justin is confused by America's vote but says he's going to stay positive and hope it can work again for them.

1:30 PM BBT – Alex advises Shelby to make a deal with Danielle but then be ready to break it.

1:35 PM BBT – Jason feels frustrated and doesn't know what it is their side is doing wrong now. Justin again encouraging Jason to stay positive.

2:05 PM BBT – Danielle mentions briefly feeling like she should give up and go home.

2:15 PM BBT – Justin giving more encouragement for everyone to stay positive instead of getting down about America's Vote.

2:20 PM BBT – Alex and Jason whispering that she'll help protect him should he get America's Nom if he'll help keep her off the Block. Jason says things are rough between him and Scott right now, but he's still good with Alex.

2:25 PM BBT – Scott camtalks that he feels good about his chances as long as he's not up against one of the girls.

2:40 PM BBT – Danielle says her targets are Morgan and Shelby for nominations and now that ACP has been revealed it's okay to start putting the talk out there. She's thinking about not putting up either Alex or Scott in case they'd be willing to flip. Jason tells Danielle to go ahead and nominate Shelby even if America did give her the ACP this week. They already nom'd Danielle so she shouldn't worry about going against their current fav, he suggests.

3:05 PM BBT – Scott worries if Morgan will stick with them for votes. Alex assures him she'd be with them.

3:10 PM BBT – Scott warns Alex to avoid campaigning too much for him and as long as she isn't on the Block then they should be good. He points out that if someone has to get renom'd then that means America's Nom is still on the Block which should give them the advantage in numbers they need to be safe this week.

3:45 PM BBT – Jason wonders if the other girls who haven't won an ACP are more popular and they've been passed over to save the better CPs for those girls.

3:55 PM BBT – Alex tells Shelby should either of them get nominated this week then they need to stick tight with Scott and get through the week. Alex says she'd sacrifice Whitney to make sure they don't get evicted. Shelby agrees with Whitney as their best option to ditch.

4:00 PM BBT – Danielle questions Justin over whether he voted out Neeley or not. He promises her didn't flip and it had to have been America.

4:05 PM BBT – Danielle is surprised that none of the girls have come to talk with her but she figures they're just digging their own graves if they don't want to play the game with her. She doesn't understand why no one has talked to her at all.

4:10 PM BBT – Justin says he'd vote out Morgan before he'd go after Shelby since he sees her as less of a threat. Danielle thinks they should take down America's nom no matter who it is, except maybe Alex. She might leave her up, but she'd take down Scott or Whitney.

4:15 PM BBT – Danielle points out the one thing they can control is comps and they need to start winning those.

4:30 PM BBT – Whitney notes they'll probably be the last people in the world to find out what happened with the election.

4:35 PM BBT – Scott says he'll agree to the deal that he and Alex won't vote out Jason if he's America's Nominee then they should be safe this week. His hope is that neither he nor Alex are the original nominees then they should be set.

5:55 PM BBT – Scott is acting super weird about the deal Jason offered. He keeps saying it's the deal of a lifetime and he and Alex will win the game now. He thanks America for giving Shelby the Care Package.

6:08 PM BBT – Jason and Kryssie discuss early seasons of The Real World.

6:33 PM BBT – The Jamboree joke that they might get told they're getting canceled at their Halloween party. Jason told the story of how the show Utopia got canceled in the middle of filming so they joked about that happening to them.

6:34 PM BBT – Now they're joking about BBOTT not being allowed at regular Big Brother events. They wonder if they're getting a lot of viewers.

7:30 PM BBT – Live Diary Rooms begin. Jason is up first. Read our DR highlights here.

9:10 PM BBT – Live Diary Rooms end. HGs hanging out on their separate sides of the house.

9:30 PM BBT – Jason, Justin, Kryssie and Danielle decide to play Hide and Seek. Jason is the seeker so he counts to 30 while Justin hides behind the washing machine, Kryssie in the toilet room and Danielle in bed next to Shelby (the last place you'd expect Danielle to hide – ha).

9:43 PM BBT – After easily finding Kryssie and Justin, he finally finds Danielle hiding next to Shelby. Everyone laughs and is getting along for a minute.

10:00 PM BBT – LNJ continues to have fun hanging out and relaxing.

11:20 PM BBT – PBS plans pranks around the house like putting honey on door handles.

12:00 AM BBT – Midnight arrives and the Have-Nots are back to being Have's. Everyone hangs out and eats in the kitchen.

12:55 AM BBT – Whitney put honey on the storage room door handle.

1:00 AM BBT – LNJ and Scott hanging around outside chatting.

2:00 AM BBT – Danielle discovers the honey handle.

2:20 AM BBT – LNJ running around throwing baby powder and spraying each other.

3:15 AM BBT – LNJ has turned in for the night.
The Care Package definitely throw Danielle and her HoH plans for a loop but the America's Nom could do even more damage when that arrives. PBS is feeling good about their chances while LNJ continues to get more and more discouraged, but we're not even halfway through BBOTT yet.
You can watch all of these Big Brother events using the archives Flashback, the DVR-like feature of this year's Live Feeds which means it's always live, even when you missed it! Sign-up now to get the free trial to watch it all live & uncensored.

click images to see full-size views