Kryssie made her final Safety Ceremony picks for Big Brother Over The Top, thus deciding the two HGs she has nominated for eviction. The rest of the house tried to figure out who America was going to nominate and how it will effect voting scenarios for the week.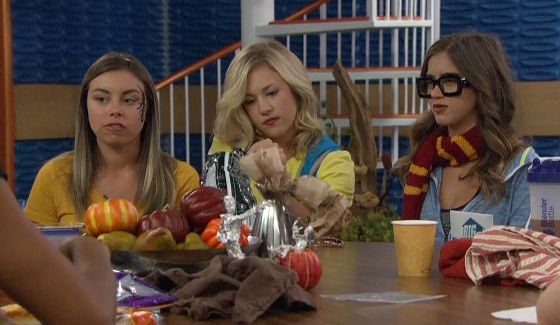 If you've got the Live Feeds (Free Trial) then you can watch all of these moments with the Flashback feature to go back and watch those important conversations or funny scenes you may have missed.
Big Brother OTT Live Feed Highlights – Sunday, October 23, 2016:
10:00 AM BBT – Houseguests getting their wake up call.

10:30 AM BBT – HGs starting to settle in to their day and sharing dreams and small talk.

11:20 AM BBT – HoH camera time for Kryssie.

11:55 AM BBT – Shelby and Alex game talk as Shelby tries to figure out who is the target and if she's safe. Alex thinks Shelby is in a great spot this week. Alex says Kryssie has told the other women that Scott is the target but told Scott the women are the target. Both agree it doesn't make sense for Kryssie to put Scott up since that'll open up one of her allies to be the 3rd nominee.

12:00 PM BBT – HGs sharing memories of past Halloween costumes.

12:20 PM BBT – Kryssie and Shelby sharing a little game talk and how Kryssie really wants Scott to go and he mustn't come down from the Block if she nominates him. Kryssie mentions she's received promises from Morgan and Whitney to vote out Scott and not whoever might become America's nominee.

12:30 PM BBT – Alex warns Morgan to keep her game strong because she'll try to help her but won't give up her game for her. Alex mentions that Scott is targeting Morgan but Alex will try and help her.

12:55 PM BBT – Alex tells Scott the other side likes Whitney and they'd keep her over either of them. Scott suggests Whitney should go. Alex agrees that Whitney is a danger for their chances and should go. Scott feels pretty good that he's not the target.

1:20 PM BBT – Alex, Morgan, and Shelby discuss what Kryssie has told them so far and think that Kryssie is telling them a lot of different lies. They're confused why Kryssie would nominate Scott instead of leaving him for America's Nominee.

1:30 PM BBT – PBS agrees their targets must be Jason and Justin.

1:55 PM BBT – Alex tells Morgan that Scott referred to her as a "basic blonde" and that doesn't sit well with Morgan.

2:55 PM BBT – Alex lets Shelby and Morgan know that Justin mentioned going after Neeley. They can't decide if it was true or just him saying whatever as he tends to do.

3:00 PM BBT – Shelby and Alex discuss how confident Scott feels that he'll be safe this week. Alex presses that if Morgan and Whitney end up on the Block then Whitney needs to go. Shelby agrees and says she trusts Morgan more than Whitney.

3:25 PM BBT – Justin is helping Alex make cookies per a command from Big Brother as the Safety Servant.

4:30 PM BBT – Houseguests relaxing and general chatter.

5:10 PM BBT – Kryssie promises Whitney she has nothing to worry about tonight with the nominations. Whitney tells Kryssie she will stick to her deal and won't nominate Kryssie if she's HOH next.

5:30 PM BBT – Neely says they need to get Alex out of of the house because she the leader of the other side and once she's gone the others will be easier to work with.

5:34 PM BBT – Whitney and Alex think the nominees will definitely be Morgan and Shelby.

7:01 PM BBT – It's time for the safety ceremony.

7:04 PM BBT – Jason is safe.

7:06 PM BBT – Whitney is safe.

7:07 PM BBT – Shelby is safe. That means Scott and Morgan are nominated.

7:14 PM BBT – Kryssie explains to Morgan that she went with her over Whitney because she wants someone strong to compete in the veto to lesser Scott's chances at winning. Morgan says she understands.

7:17 PM BBT – Morgan says she heard Scott was pushing for Morgan to go this week so she's glad she's nominated outright to at least get a shot to save herself.

7:35 PM BBT – Scott and the PBS talk about how if Neeley is America's nominee then Scott has a shot at staying and they can get Neely out.

7:42 PM BBT – Scott tells Jason and Neeley that he knew he was going up this week either by Kryssie or by America.

7:44 PM BBT – Alex is still shocked Kryssie went with Scott as one of her nominees. She thinks it makes no sense because now someone from her side will probably be America's nominee.

7:45 PM BBT – Alex and Shelby agree that they don't want to be put in the position to have to choose other or not they use the veto on Scott.

7:47 PM BBT – Morgan insinuates that she'd prefer Scott to go home over America's nominee. Alex is confused at her statement.

8:14 PM BBT – Scott talking about how if he doesn't win veto he's screwed. He knows America's nominee has to stay on the block for him to have enough votes to stay.

8:21 PM BBT – Alex tells Scott that she thinks America will nominate Neeley. She's excited that Kryssie's HOH could be a wash.

9:35 PM BBT – Alex and Scott talking about how much they did not like Zakiyah.

9:49 PM BBT – Scott talking about HGs' last names. Alex says hers is Walters (not Willett).

10:01 PM BBT – Whitney tells Alex and Morgan that Alex shouldn't be picked for veto because Alex really doesn't want to win another competition.

10:35 PM BBT – Alex, Shelby, and Whitney discuss targets on the other side. They think Justin is a very strategic player. Shelby suggests they keep Danielle since she's been America's target and could be easier to beat at the end.

11:05 PM BBT – Alex worries about having to play in the Veto comp and considers throwing it to avoid having to make a choice.

11:10 PM BBT – Justin, Jason, and Danielle agree that Neeley can't be 28 like she claims. They figure she's in her thirties instead.

11:20 PM BBT – Justin suggests Neeley has a side deal going on with the other side and she seems to be protecting Morgan.

11:25 PM BBT – Danielle is concerned that Neeley doesn't like her because of her reactions to her stories now. Justin and Kryssie agree with Danielle that Neeley might not like her.

11:35 PM BBT – Morgan is worried about Scott winning the Veto and her being in danger if he does. Shelby suggests Scott could win the game if he doesn't go soon.

12:15 AM BBT – Justin, Jason, and Danielle are hanging out in the backyard chatting. Most of the house has already gone to bed.

12:45 AM BBT – Everyone is turning in for the night.
Houseguests are trying to prepare for the third nominee and worrying about Scott's chances of dodging this week's eviction. Meanwhile cracks continue to grow in the Jamboree's alliance that could put Neeley in a bad spot with this coming eviction.
You can watch all of these Big Brother events using the archives Flashback, the DVR-like feature of this year's Live Feeds which means it's always live, even when you missed it! Sign-up now to get the free trial to watch it all live & uncensored.

click images to see full-size views