It's a new week in the Big Brother Over the Top house and the power has shifted, so a new side of the house is panicking this week and hoping America can help them out this week.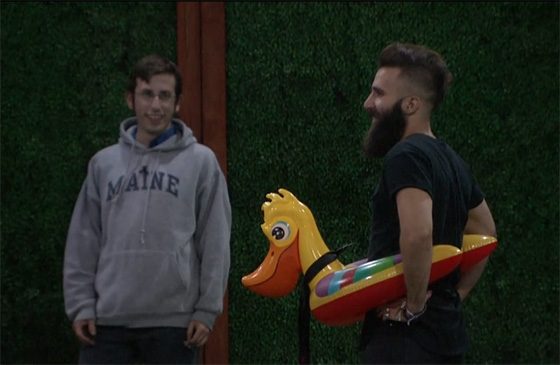 If you've got the Live Feeds (Free Trial) then you can watch all of these moments with the Flashback feature to go back and watch those important conversations or funny scenes you may have missed.
Big Brother OTT Live Feed Highlights – Wednesday, October 19, 2016:
9:40 PM BBT – HoH comp is over, Paul says goodbye, and the HGs head back inside.

9:41 PM BBT – Jamboree is celebrating Kryssie's HOH win. Neely and Jason twerking and everyone of them is very happy. They dedicate her HOH to Shane.

9:46 PM BBT – Alex tells her alliance that two of them are going on the block and one of them is going home. She knows Kryssie doesn't like her, she says. Shelby says they might be able to get the Care Package and that could help them.

9:48 PM BBT – Alex says she's not even mad that Kryssie won HOH because she's still mad at Shane's speech and him saying they were all fake to him. Whitney said she was upset because Neely kept rolling her eyes at her.

9:50 PM BBT – Kryssie says she's not going to gloat over her HOH win. Jason says that's a good idea because they all walked around with a smug look on their faces when they were in power.

9:51 PM BBT – Kryssie plans to nominate Morgan and Whitney and hopes America nominates Scott. Then the plan would be to backdoor Alex.

9:54 PM BBT – Shelby makes fun of Kryssie's boyfriend and says they'll get to see a photo of him now.

9:56 PM BBT – Everyone thinks Paul's vibe was that he did not win BB18.

10:00 PM BBT – Shelby trashes Paul and says she couldn't stand being around him 24/7.

10:03 PM BBT – Alex and Shelby beg America for this week's Care Package.

10:24 PM BBT – Jason and Justin still seem to want to protect Alex. They say they'll act like they want her to go this week.

10:38 PM BBT – Shelby wants Frankie Grande to host a competition.

10:47 PM BBT – Kryssie tells Justin that Alex has got to go this week. He plays along.

12:30 AM BBT – Alex says it is 100 percent fact that someone from their side will go home this week. Scott says that the Care Package could still be something amazing that saves them.

12:43 AM BBT – Morgan is talking about throwing Scott under the bus to Kryssie. The girls seem to be leaning toward selling Scott out to save themselves.

12:53 AM BBT – Kryssie gets her HOH room.

1:30 AM BBT – Scott and Shelby discuss how Kryssie was more emotional about Shane's eviction than Danielle was.

1:35 AM BBT – Scott planning a few points to tell Kryssie that she can BD him instead so she shouldn't put him up on the Block from the start. He thinks maybe he could also sway her saying he could be America's Nom so she should save her nom.

1:45 AM BBT – Shelby talks with Scott about trying to save some money to take community college courses. (Shelby has completed her law degree but is obviously trying to hide that.)

2:00 AM BBT – Alex warns Shelby that Scott will likely blame them to get Kryssie focused on the girls this week instead of him. She's afraid Kryssie will come after her this week.

3:00 AM BBT – Jamboree plotting to tell Shelby her side is suggesting her as a target.

3:15 AM BBT – Jamboree talks continues over targets. They identify Alex as the brains of the other side and sounds like she's still their main target.
You can watch all of these Big Brother events using the archives Flashback, the DVR-like feature of this year's Live Feeds which means it's always live, even when you missed it! Sign-up now to get the free trial to watch it all live & uncensored.


click images to see full-size views