Your boy Paul Abrahamian stopped by the Big Brother Over the Top house to host Wednesday night's HOH competition, and we got the chance to talk to the BB18 runner-up while he was at the CBS studio waiting to enter the house.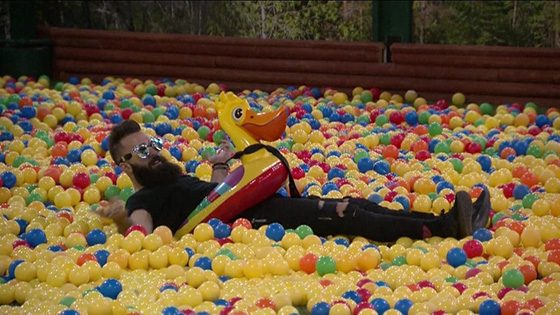 Paul filled us in on his thoughts on BBOTT, life after Big Brother and that jury vote that landed him in second place at the end of Big Brother 18.
Big Brother Network: What do you think of BBOTT? Are you able to watch much?
Paul Abrahamian: Between travels and going around and doing all this crazy madness, I have been watching a little bit. I'm still putting my foot in the water with the season, though. I'm not sure if I like certain things or dislike certain things. America has a lot of say in the game and I'm not sure how I'd feel about that. I'm definitely on the fence about that. I'm still warming up to it.
BBN: Do you think you would you team up with the Jamboree or the Ball Smashers?
Paul: (Laughs) I don't know. Because they're all so adamantly stoked on their alliance, but they all oddly make these weird decisions where they're like 'OK one of you guys will go this week and one of us will go this week' … it's just a little strange for me. They both have their positives and negatives but the Ball Smashers is a funny name so you know your boy has to go with the funny name.
BBN: What do you think about them letting a returning player stay in the game?
Paul: There's only one returning player. It's a little bit different than four. The fact that he's not gone yet is pretty impressive. He seems to be doing better this season than he did his last season. I don't necessarily mind it.
BBN: Have you talked to the Big Brother 18 HGs who voted for you and against you at the finale? What are those relationships like?
Paul: I actually haven't asked anybody why they voted for me or why not … I don't care to know. It is what it is. We were playing a game. There's no need to explain yourself or apologize. I think I've let them all know that. I've kept it pretty civil. I try to keep in touch with whoever I can, but some reciprocate that better than others. I concentrate on really keeping in touch with the people who want to keep in touch with me.
BBN: A lot of people were surprised that you didn't win. Have you heard that a lot?
Paul: I've been hearing that at least a thousand times a day. It's funny because people seem to be more passionate about my loss that I am. I thought I wasn't even going to get past week two. I just find it funny. It's awesome.
BBN: At one point, you were convinced America hated you. Were you surprised that you and Victor were so popular?
Paul: I legitimately thought everyone hated me. That was one of the first questions I asked my family when I got out of the house. I was like 'OK I lost but how bad does America hate me?' It was definitely super overwhelming to find out how much people supported me inside the house. It's nice. It's nice to see all that positivity. I'm glad Victor [won America's Favorite Player] because he did work his ass off. I'm glad that all of our hard work at least got us something.
BBN: How is Victor? You guys have been meeting with fans I've seen on social media.
Paul: Yeah, man. We've been trying to set up these free and convenient meet and greets with the fans. For some reason people want to hang out with me. I'll make it happen. I might not understand it but let's do it.
BBN: Would you do BB again?
Paul: Absolutely. Why not? I had fun the first time so I can see not having fun the second time. I would definitely do it again,
BBN: What's next for you?
Paul: I don't know, man. I don't really make plans. I go with the flow. I let life take me where it wants to take me. I am focusing on my artwork and my music. I've got my clothing line.
BBN: So how is the band (Strange Faces)?
Paul: It's going really good. I like reading the comments because people check out the music because they're like 'Oh it's Paul from Big Brother' and then they're like 'oh, it's actually really good.' That's really humbling and sweet to hear as a musician.
BBN: Anything else you'd like for your fans to know?
Paul: Everybody who was following along and supporting me: Thank you for watching. Thank you for all the positivity and kindness you're sending now. It means a lot to me. I like answering fan mail. I like meeting you guys. I like hearing what you have to say. It's just a really cool experience.
BBN: Thanks, Paul.
Paul also let me know that he was not going to tell the BBOTT Houseguests who won BB18 and he stuck to his word. When he entered the house, wearing Pablo the Pelican, one of the first questions asked was who won. He told them Pablo won and the tie Pablo was sporting cost $500,000.
Check out what Paul has been up to in photographs below. (Photos from Paul's Twitter and Instagram)
Click images to view larger