It was Care Package and Live Diary Room day in the Big Brother Over the Top house, so the HGs had quite the busy day and evening. And it was also Whitney's birthday, so the HGs were treated to some booze. Read on to find out what the latest game plans and drama are.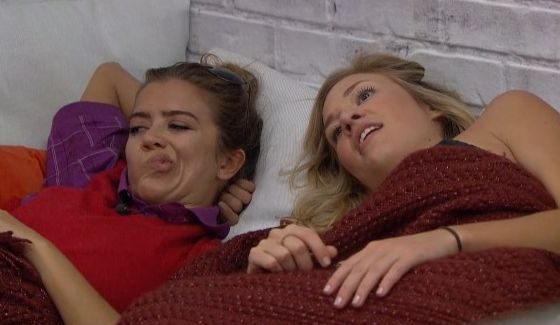 If you've got the Live Feeds (Free Trial) then you can watch all of these moments with the Flashback feature to go back and watch those important conversations or funny scenes you may have missed.
Big Brother OTT Live Feed Highlights – Friday, October 14, 2016:
10:00 AM BBT – Wake up, Houseguests!

11:10 AM BBT – Kryssie and Justin discuss noms. Justin thinks they can trust Scott more than Shane or Danielle. He'll vote out Shane if that situation happens.

12:00 PM BBT – Houseguests are hanging out. General chatter.

12:30 PM BBT – HGs have moved to waiting inside for the Care Package delivery.

1:00 PM BBT – Special delivery time. Jason was in the shower and has to run out grabbing his towel.

1:05 PM BBT – Scott was awarded the ACP this week.

1:10 PM BBT – Kryssie feels good about Scott getting this ACP and thinks it wasn't a very good one for him.

1:20 PM BBT – Scott camtalks thanks to viewers for giving this to him so he can make the best pick for his HoH.

1:40 PM BBT – Jamboree discussing that Scott will end up having to nominate his own allies to keep his targets from having a shot at winning Veto with this ACP twist.

2:00 PM BBT – Scott has decided he can't pick the Diamond Veto. He admits this twist will have to change up his nomination plans. He's considering Kryssie and Neeley now instead of Shane and Danielle.

2:05 PM BBT – Scott discusses the new plan with Alex. He is sure either Kryssie or Neeley would save themselves if they won the Veto so he can then BD Shane.

2:30 PM BBT – Scott still talking with Alex and now Shelby about his plans and the other side of the house.

3:15 PM BBT – Justin checks in with Scott and learns again he'll be safe this week with the noms. Scott asks Justin if he'll use the Veto to save one of the noms if he wins it. Justin doesn't especially want to get involved.

3:20 PM BBT – Scott tells Justin he'll be picking the Double Veto power with his ACP.

3:30 PM BBT – Justin passes along to Jason that Scott is planning to use the Double Veto option. He tells him about the plan to use pawns then go after his target with the Veto.

4:15 PM BBT – Houseguests hanging around chatting in the backyard and snacking in the kitchen. General talk.

5:00 PM BBT – Justin continues his trend of spending more time with the other side. He's joking around with Shelby, Alex, Whitney, Morgan and Scott in the lounge.

5:40 PM BBT – Jason discovers the Krackle bars stash has been taken. He reports back to his team. They go searching.

5:45 PM BBT – The candy stash has been discovered. There is much celebration. Time to hide the bag of candy again. They put it under Shelby's bed thinking she'd never look so close to home.

6:30 PM BBT – Danielle is upset about food and thinks the other side is eating all the good food she wants.

6:31 PM BBT – Jason and Shane rub their armpits on the Plastics' pillows.

6:53 PM BBT – The Jamboree, still annoyed with the other side's eating habits, hide the Coke since Scott drinks it all.

7:01 PM BBT – Recap show starts.

7:33 PM BBT – Live Diary Rooms under way.

7:58 PM BBT – Scott and Jason talk game. Scott lets Jason know that he wants Shane out over Danielle. Jason wonders if the girls will go along with it since they really want Danielle out of the game. Justin joins them and Scott tells them both that they are going to be safe this week. Scott explains his plan with the Double Veto (without naming noms). Jason says his plan makes sense.

9:20 PM BBT – Jason is upset that they're stuck inside because of some outdoor party nearby and because they didn't give them any cake mix for Whitney's birthday.

9:33 PM BBT – Jason finds beers and wine in the storage room for Whitney's birthday.

9:40 PM BBT – The HGs toast for Whitney's birthday.

10:30 PM BBT – Houseguests still having fun celebrating Whitney's birthday but hoping for more alcohol. They still never got cake mix and so they decide to make her birthday cookies instead.

10:45 PM BBT – The men are putting a on strip dance for Whitney.

11:30 PM BBT – HGs are finally released from lockdown and discover the infamous BB Grill has arrived.

11:45 PM BBT – Whitney has a bit of an incident possibly getting sick after having a cigarette.

11:55 PM BBT – Danielle discusses her nighttime intimacy with Shane.

12:00 AM BBT – Morgan's HN duties are over. She's thrilled and immediately starts eating.

12:15 AM BBT – Jamboree is discussing what they know of Scott's plan to put Neeley and Kryssie up so he can BD Shane. Danielle is getting very upset.

12:25 AM BBT – Jason promises Neeley and Kryssie he'd keep them over the Danielle & Shane showmance. Jason lets them know about Shane's first night deal with the other three guys.

1:00 AM BBT – Danielle lets Shane know he's the BD target.

1:20 AM BBT – Justin and Jason discuss Shane and Danielle. Justin thinks Shane is being fake and doesn't really like him especially after his argument the night before with Danielle about child support.

1:30 AM BBT – Scott tells Neeley his previous offer is no more and that she won't like his new noms plan. He lets her know he'll be doing a BD move this week.

1:45 AM BBT – Danielle expresses a lot of worry over being put on Slop this week.

2:00 AM BBT – Kryssie is very worried about this new plan to use her as a pawn. Jason assures her she'll be okay and will get through it.

2:30 AM BBT – Jamboree still awake and telling stories.

3:30 AM BBT – Everyone is off to bed.
Scott's plan has managed to spread across the house so there's no chance of a surprise, but maybe putting them in panic mode early will help in the long run. We'll see if there are any more changes to the strategy over the next two days with the Safety Ceremony and nominations reveal.
You can watch all of these Big Brother events using the archives Flashback, the DVR-like feature of this year's Live Feeds which means it's always live, even when you missed it! Sign-up now to get the free trial to watch it all live & uncensored.


click images to see full-size views