Tensions were tight in the Big Brother Over the Top house Thursday as the houseguests wondered what Scott has in store for them during the looming safety ceremonies. Talk later in the night focused a lot on just how divided the house is and how that split occurred.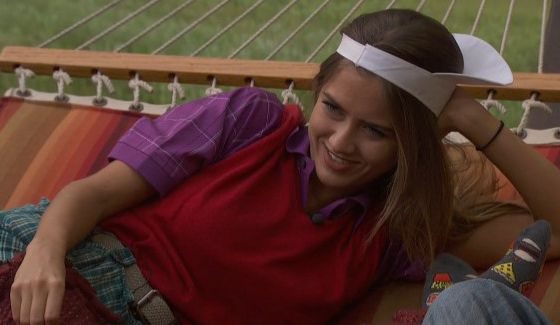 If you've got the Live Feeds (Free Trial) then you can watch all of these moments with the Flashback feature to go back and watch those important conversations or funny scenes you may have missed.
Big Brother OTT Live Feed Highlights – Thursday, October 13, 2016:
10:00 AM BBT – Houseguests getting their wake up call this morning.

11:25 AM BBT – Chatter among the women over who to target and who they can get to join their side.

11:50 AM BBT – Kryssie and Neeley discuss who could end up as the noms. Neeley suggests it could be Danielle and Shane again.

12:30 PM BBT – General chatter continues through the house. Whitney mentioned she was going to be on BB18 but had to turn it down and was glad she got another chance with BBOTT.

2:15 PM BBT – Houseguests wondering about alcohol and what they'll get for Whitney's birthday. Jason is sure production will do something for them. Morgan is crying and feeling frustrated about being a Have-Not, the only one left on it this week.

2:55 PM BBT – Neeley promises Kryssie she won't vote her out if she's on the Block on Wednesday night. She says she'll vote Danielle out before she votes Kryssie out. Kryssie wants them two and Jason in the F3.

3:00 PM BBT – Kryssie fears they can't trust either Scott or Alex since both have gone back on their word.

3:05 PM BBT – Scott camtalks that he'll be spilling secrets and revealing games during the nomination ceremony on Sunday. (If he's planning to simply redo Alex's noms as he's said then I don't see how he's breaking new ground here.)

3:40 PM BBT – Jason expects Justin to be safe this week from Scott. Jason tells Danielle and Shane their side will eventually fracture and split from within, but he thinks they have a long road before that. He thinks it'd be Neeley & Kryssie vs Shane & Danielle then him and Justin in the middle.

3:50 PM BBT – Danielle observes how the other side is trying to play as though America isn't involved instead of trying to work with that part of the season.

4:00 PM BBT – Julie Chen visits HGs via the screen for the weekly live Q&A.

4:12 PM BBT – The talk session ends and Julie is gone. HGs wander off.

4:15 PM BBT – Shelby and Morgan discuss if they can get Justin's vote now that he's been hanging out with them more.

4:50 PM BBT – Scott and Shelby agree they'll want to keep Alex as a strong ally. Scott gives Shelby a heads up that he'll be putting Shane's game on blast at the nominations. He could be planning to reveal his first night alliance that has been abandoned.

5:30 PM BBT – Feeds return after about 30 minutes of downtime due to loud music playing nearby while HGs were on a lockdown in the backyard.

5:32 PM BT BBT – Alex thinks the other side of the house is being fake happy about Whitney's birthday.

6:30 PM BBT – HGs are still locked down. They're getting bored and hungry.

6:52 PM BBT – Lockdown is finally over.

7:00 PM BBT – Morgan heard Danielle spatting a bit with Neely and Jason. She thinks that's a good sign that people are wearing thin with her.

7:01 PM BBT – Daily recap starts.

7:12 PM BBT – Scott and Neely discuss trust. It seems we may have missed him asking for safety next week in exchange for Neely's and Kryssie's safety this week.

7:28 PM BBT – Morgan and Whitney found the Krackle candy bars that Jason has been hiding from Shelby. They give them to Shelby and she puts them in her golf bag.

8:10 PM BBT – Shelby is upset with the other side and talks about how hypocritical they are.

8:12 PM BBT – Whitney thinks America could nominate Danielle but Alex says they can't risk that. She thinks Scott needs to just put her up.

8:14 PM BBT – Morgan wondering if they're all disliked and guilty by association with Monte and Cornbread. The girls agree they hope America is judging them separately.

8:25 PM BBT – Justin tells Morgan and her girls that he thinks America went after Monte because of his talk of killing squirrels with his truck.

8:28 PM BBT – Whitney mentions that if this were plain Big Brother they'd be ruling because they've won all the HOHs  and would have the majority now.

8:40 PM BBT – Morgan talks to herself about slop. She says whoever came up with that recipe is a psycho.

10:14 PM BBT – Justin tells Alex and Shelby that he was so relieved when Monte left because he was his only stresser in the game.

10:15 PM BBT – Justin tells the girls that the house is divided but he's not a part of that. He reminds them that he hangs out with them and the other group pretty equally. Shelby says it wasn't an intentional divide because some of them just didn't want to be outside in the cold around smokers all the time.

10:18 PM BBT – Kryssie tells Shane that Alex told her that Shane confirmed that their plan the whole time was to vote out Monte and not Scott. Alex knows they were trying to trick her into putting up Scott. They realize that it was Scott who told them. Kryssie can't believe Alex told her all this information.

10:35 PM BBT – Kryssie, Shane, and Danielle all hope they can get a good target up with America's Vote and send that HG out instead like they did last week with Monte.

10:50 PM BBT – Scott talking with Alex about who to put up. He's considering Kryssie and Shane to help with their Veto chances but Alex suggests it's better to go right on in with Shane and Danielle. Scott wonders if Danielle could end up as America's Nominee so maybe he shouldn't put her up from the start. Either way, Scott says Shane is definitely going up.

11:45 PM BBT – Alex tells Scott she wants to work with him to the very end. Smart. Scott tells Alex he feels the same way and wants to bring Shelby along too.

12:00 AM BBT – HGs surprise Whitney with a rendition of Happy Birthday.

12:15 AM BBT – Whitney's birthday celebrations include condom balloon art.

12:50 AM BBT – Jason tells Justin the girls are hanging all over him now for his vote and are kissing up to him. Justin disagrees and says there was no game talk, just being social, which he couldn't do before because Monte was always around them.

1:10 AM BBT – Justin talks with Scott and lets him know the other side was warning him the Plastic Ball Smashers were trying to kiss his butt. He doesn't like being told that and says he doesn't trust Shane and Danielle. Scott promises Justin he'll be safe this week.

1:15 AM BBT – Justin lets Kryssie know she should be safe this week.

1:40 AM BBT – There was an off-camera dust up between Danielle and Justin possibly over parenting or having children. He's apologizing and saying he wasn't attacking her.

1:55 AM BBT – Justin and Danielle again sharing apologies over their argument.

2:10 AM BBT – Justin talking with Neeley now about what happened and was said. He was worried she was mad at him over his comments. Neeley says she's not.

2:30 AM BBT – Late night crew hanging out and chatting.

4:00 AM BBT – Jamboree is hanging out in the London bedroom chatting now.

4:15 AM BBT – Lights out and talk is slowly quieting.
Scott continues to work on his plans this week for nominations and it sounds like Shane is the main target over his betrayal of their first night group. We'll have to see how the new ACP power plays out when it arrives on Friday afternoon. Nominations coming up Saturday and Sunday with Veto events on Monday and Tuesday.
You can watch all of these Big Brother events using the archives Flashback, the DVR-like feature of this year's Live Feeds which means it's always live, even when you missed it! Sign-up now to get the free trial to watch it all live & uncensored.


click images to see full-size views