Veto Day for the Big Brother Over The Top Houseguests along with a special visit from Jeff Schroeder gave the HGs plenty to talk about with mounting pressure on Alex to secure her nominations for the week. Now with Veto over it's time to prepare for Tuesday's Ceremony and the final noms of the week.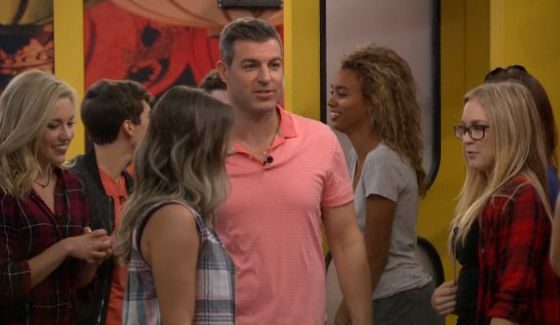 If you've got the Live Feeds (Free Trial) then you can watch all of these moments with the Flashback feature to go back and watch those important conversations or funny scenes you may have missed.
Big Brother OTT Live Feed Highlights – Monday, October 10, 2016:
9:30 AM BBT – HGs getting up to start their day.

10:00 AM BBT – Time for 3rd nominee announcement. Monte has been added to the Block.

10:05 AM BBT – Extra players picked. Scott and Shelby will join the Veto comp today.

10:10 AM BBT – Jason and Shelby exchange words after the meeting. Jason isn't holding back that he's annoyed with her.

10:15 AM BBT – Morgan and Alex worry about who Alex could renom if Monte wins the Veto. They've forgotten there is no renom for the 3rd nom.

10:25 AM BBT – Alex, Shelby, Scott, and Monte move upstairs. Monte expresses frustration that he's been labeled as prejudiced because he goes to bed early.

10:40 AM BBT – HoH group debating renom options to keep Monte safe. Group wonders if America will use their vote against Danielle again. (Alex has them believing it was viewers, not her, who voted against Danielle last week.)

11:15 AM BBT – Scott again promises Monte he'll have his vote to stay if he's not on the Block.

11:45 AM BBT – Alex defends Monte saying he's not a bad guy, but he's very southern so viewers don't understand him.

12:25 PM BBT – Jeff Schroeder arrives and the HGs are happy to have a visitor. He'll be hosting today's comp.

1:05 PM BBT – Veto comp is starting. Full details of how of the competition went.

1:55 PM BBT – Competition is over. Shane has the Veto medallion this week and won't be going home.

2:15 PM BBT – Monte and Morgan discuss using Scott as the renom instead of Kryssie like Monte originally suggested. Elsewhere Alex is promising Scott that she won't put him up.

2:25 PM BBT – Danielle and Monte arguing openly in the kitchen. She's upset at him over what he said about Justin stealing and Monte says America will decide between them this week.

2:35 PM BBT – Alex doesn't want to put up Kryssie. She's worried that Monte will be America's target with their vote.

2:40 PM BBT – Alex explains she took the HoH disadvantage punishment so she doesn't win too many comps and appear to be a threat.

2:50 PM BBT – Alex considers her options to threaten either Justin or Neeley to vote their way or face renom. The group considers how to get Kryssie evicted this week instead of Monte.

2:55 PM BBT – Monte announces Danielle is racist and that's why she doesn't like him.

3:05 PM BBT – Jason feels good that America will vote against Monte. Jason wonders if they can convince Alex to nominate Scott to protect Monte but decides she wouldn't be willing to do that.

3:10 PM BBT – HoH group hopes they can force a tie even with three noms and then get Alex to break it against Danielle.

3:25 PM BBT – Jason, Danielle, and Shane agree to talk with Alex to see if they can get Scott as the renom but agree they'll still vote together as four votes.

3:45 PM BBT – Alex updates Whitney on what she missed earlier and how they'll renom Kryssie and hope for the tie if Shane will vote against Kryssie instead of either Monte or Danielle.

3:55 PM BBT – Monte worries that if America puts their vote against him then that's it and he'll be gone. Monte considers throwing in the towel. Morgan tells him not to give up and even possibly go apologize to Justin and see if he could change things.

4:05 PM BBT – Morgan promises Monte she'll go talk with Neeley and see if she can flip her vote.

4:16 PM BBT – Morgan really pushing Monte to work on Justin. Scott says Monte would have better luck with Shane. Scott says put up Kryssie and make them think she's the target so Shane could vote for Monte to stay then they all vote Danielle out anyway.

4:20 PM BBT – Morgan seems to think they could get both Shane and Justin to flip. She says Justin really likes Whitney so maybe she can convince him to save Monte.

4:25 PM BBT – Alex goes to talk to Monte about Justin. She wants to convince him to vote out Danielle then blame it on America. Scott is getting annoyed saying it won't work. He knows Justin won't vote for Monte to stay especially against Danielle.

5:35 PM BBT – The house is divided up as usual. Both groups are in two different spots hanging out, talking, etc.

7:17 PM BBT – Monte tells Shane about Kryssie being the replacement nominee. He wasn't supposed to tell anyone.

7:30 PM BBT – Shane tells Kryssie and Neeley about his talk with Monte about Kryssie likely going on the block. Shane says Monte thinks he could get his vote but he's definitely voting Monte out. Kryssie tells the others about Alex shaking her hand and promising she wouldn't put her up.

7:35 PM BBT – Shane and company discuss all going to Alex and asking her to put up Scott. Danielle says they can tell Alex if she puts up Scott they will vote him out instead of Monte. But they'd still vote out Monte.
Feed Highlights continue on the next page…