This week's Big Brother Over The Top Power of Veto competition kicks off on the Live Feeds at 1PM PT (4PM ET) as the HGs are ready to see who can win the opportunity to break up Alex's HoH plans to send half of the showmance out the door.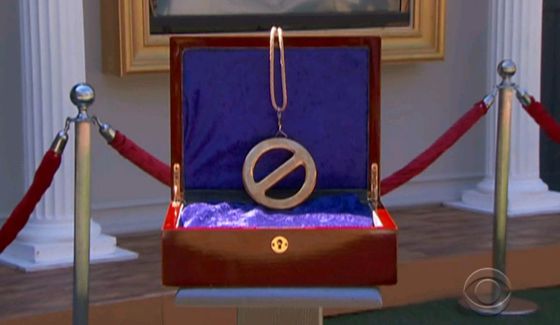 America's Vote earlier gave us the week's third nominee before two more players were picked to join in the competition. Now after days of watching the HGs putt around in the back yard it was time to put their skills to the test. Remember these Veto competitions are live online each week at 1PM PT on Mondays so you can always turn on your Live Feeds and watch how things turn out.
Big Brother Over The Top Spoilers: Week 2 Veto Competition:
Want to watch? Sign-up NOW for the Live Feeds Free Trial & check out the action as it happens!

Monte was added as the third nominee then Alex draw Scott and got a HG Choice for Shelby. They'll join Shane and Danielle, the original nominees of the week while Justin is hosting. Or at least he was going to host until Jeff Schroeder arrived to take over those duties.
The comp is "Veto For Sale" and it's a golf theme. HGs earn tickets by making the shots on a small putting green but using oversized clubs and golf balls. There are four holes each with different point values (5, 10, 15, 30). They'll need 60 points to buy the PoV.
"Veto For Sale" – Live Recap results:
12:30 PM BBT – Jeff Schroeder has arrived as Veto host.
12:50 PM BBT – Waiting on the comp to get started.
1:03 PM BBT – Feeds are back. Jeff is reading the rules.
1:09 PM BBT – Danielle makes the first shot for 10 points.
1:12 PM BBT – Shane is second to score with the big 30 points.
1:20 PM BBT – Danielle scores another 10 points.
1:23 PM BBT – Danielle scores 10 more points. She's tied w/ Alex & Shane.
1:31 PM BBT – Shelby gets 10 points. Only Scott & Monte have 0 points.
1:38 PM BBT – Danielle gets another 10 points & takes the lead at 40.
1:44 PM BBT – Shelby gets another 10 points. She buys caddy punishment & is out.
1:47 PM BBT – Shane gets 30 more points & wins the Veto!
1:48 PM BBT – Veto is now taken, but the comp continues
1:52 PM BBT – Danielle buys the "Water Hazard" punishment
1:55 PM BBT – Alex buys the "19th Hole" punishment
1:56 PM BBT – Scott gets 5 points. Takes Sand Trap punishment.
1:57 PM BBT – Monte left with "Missed Cut" punishment. Veto is over.
Shane won this week's Power of Veto.
Punishment assignments:
Missed The Cut – Monte – Can't compete in next Veto comp
Water Hazard – Daneille – Fish golfballs from pool when BB calls for 1 week
19th Hole – Alex – Disadvantage at her next HoH comp
Sand Trapped – Scott – 24 hours in the sand trap
Caddy Costume – Shelby – Costume & carry clubs for 1 week
If you missed the action then rewind your Feeds to 1PM BBT and watch it again. CBS should also have the clip posted before too long that you can watch if Rewind isn't available for you.
What do you think of the PoV Comp playing out live? What should happen at the ceremony? The Veto Ceremony will be coming up Tuesday at 1PM PT (4PM ET) and we'll post live spoilers then.
Turn on your Live Feeds and enjoy the latest drama. Watch it all now live & uncensored.