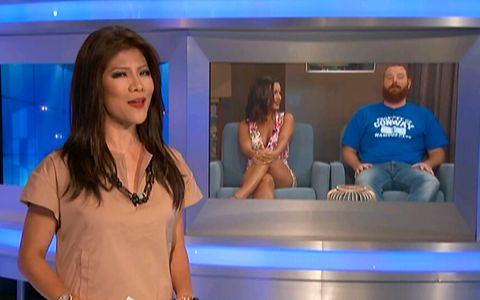 Thursday night's episode of Big Brother 15 might not have had any shocking moments, but Julie did drop a bombshell on us. Of course we've already speculated this, but Julie confirmed that next week, Candice, Judd, now Jessie and the person evicted next week will compete for a chance to return to the game.
Yes, I just revealed Jessie was evicted tonight. But we all saw that coming a mile away. Right? Right.
The episode picks up right after Andy chose not to use the Power of Veto, leaving Jessie and Spencer on the block. Andy reminds us, via Diary Room, that Jessie is the target this week, but she's still in the dark about that.
Jessie checks in with everyone to make sure she's still the pawn. Everyone tells her yes. But Jessie is getting pretty nervous that Andy is lying to her. And she gets even more paranoid because Helen and Elissa are acting odd around her. So she has reason to believe that she's not really the pawn, but the target.
So Jessie again checks with Jessie to make sure she should be prepared for something. He maintains the lie and goes to tell Helen and Elissa to get better "poker faces" before she finds out what's going on.
Helen and Jessie start a pool game and Jessie calls her out for throwing her under the bus about targeting Amanda last week. Helen says that was common knowledge and so a Jessie vs. Helen battle begins. Helen pretends like Jessie was the one targeting Amanda when it was all Helen's idea. So Jessie goes to Amanda to tell her that Helen started it.
Amanda calls Helen and Elissa to go downstairs to talk this thing out. Helen gets fired up and tells Jessie she's leaving Thursday. So they keep going around and around and basically the only thing that happens is a bunch of lies from Helen. Jessie is still going home but at least now Amanda has a better feeling that Helen isn't quite on her side.
But Jessie isn't done yet. Feeling betrayed and backstabbed, she launches "Operation Bring The House Down." She tells Andy that she overheard everyone talking about her being the actual target. Andy is upset because he's trying to keep the jury happy and now Jessie knows her blood will be on Andy's hands.
As a part of bringing the house down, Jessie tells GinaMarie that Aaryn talks about her all the time. GM says she's aware, but it doesn't stop GM and Aaryn from fighting over it. And it's hilarious. I think watching Aaryn and GM argue is my new favorite thing in life. Jessie's first mission is accomplished.
Julie checks in with the houseguests. Julie lets the houseguests know that Twitter is bored with them and that's my second favorite thing in life. Just after watching GM and Aaryn fight.
The Votes
Amanda votes to evict Jessie.
McCrae votes to evict Jessie.
Aaryn votes to evict Jessie.
Helen votes to evict Jessie.
Elissa votes to evict Jessie.
GinaMarie votes to evict Jessie.
By a vote of 6-0, Jessie is evicted from the Big Brother house.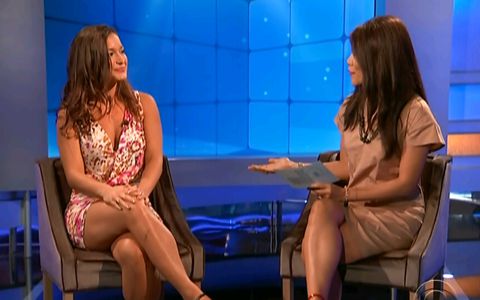 It's time for the Head of Household and it's Big Brother knockout. Here's how it plays out.
GinaMarie vs. Helen: Helen is out.
Spencer vs. Elissa: Elissa is out.
GinaMarie vs. McCrae: GinaMarie is out.
Spencer vs. Aaryn: Spencer is out.
Amanda vs. McCrae: McCrae is out.
Aaryn vs. Amanda: Amanda is out.
Aaryn is Head of Household. Again. This is her fourth time.
And just before the end of the show, Julie tells us that during next Thursday's live show, Candice, Judd, Jessie and whomever is evicted next week will get the chance to compete to return to the game.