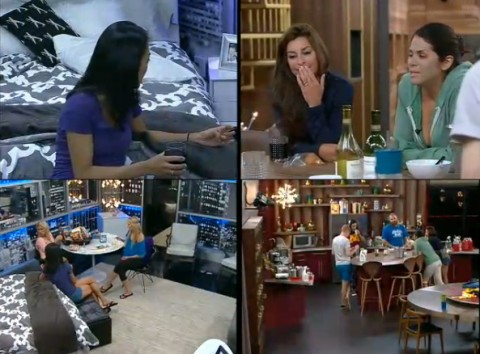 It was eviction day in the Big Brother 15 house and things went as planned. Jessie is gone and there's a new Head of Household. It didn't take us long after Aaryn won to start hearing what Amanda's plan for the week is.
Read about those moments and others on our Live Feed highlights below. And remember to sign-up now for the Big Brother Feeds so you can watch any of these moments by using the Flashback archive feature.
Big Brother 15 Live Feed Highlights –  Thursday, Aug. 15, 2013
9:48 AM BBT – Wake-up time.

10:46 AM BBT – Aaryn tells Jessie she knows she'll be backdoored next week.

11:13 AM BBT – Aaryn asks Jessie to not let Candice slander her even more in the jury house.

11:45 AM BBT – Trivia. Live show set-up.

1:10 PM BBT – Feeds return.

1:14 PM BBT – Helen is annoyed by Jessie saying she would not vote for Helen to win Big Brother.

3:14 PM BBT – Feeds cut for Live Show prep and actual live show.

7:03 PM BBT – Feeds return. As we saw on the episode, Aaryn won Head of Household and Amanda lost. Amanda is very upset.

7:06 PM BBT – Aaryn says she tried to throw the competition to Amanda, but Amanda didn't know the answer soon enough.

7:07 PM BBT – Amanda is upset that she still hasn't won anything and won't get to see photos of her family. She goes off to the storage room and cries behind a recycling bin.

7:12 PM BBT – Aaryn and GinaMarie are mad because Elissa didn't want to sit by them at the HOH competition.

7:20 PM BBT – Amanda is mad that McCrae asked her why she can't win anything.

7:25 PM BBT – McCrae is trying to comfort Amanda in the have-not room.

7:27 PM BBT – Amanda is getting mad because she's making all the plans and Aaryn is executing them. She says she feels like Aaryn will win by playing Amanda's game.

7:33 PM BBT – Amanda's plan is for Aaryn to nominate Elissa and Helen and tell Helen she's just the pawn and Elissa is the target. And then they'll evict Helen.

8:05 PM BBT – Andy talking about the tweet Julie read about them not making big moves. He's not happy about that.

9:00 PM BBT – Spencer says he hopes Jessie gets pregnant by Judd in the jury house.

9:34 PM BBT – Amanda says she told the Diary Room she threw the HOH and they said "no you didn't."

9:53 PM BBT – Helen tells McCrae she thinks Aaryn will put her up this week and tell her she's a pawn.

10:22 PM BBT – Aaryn gets her HOH room key. They houseguests all go up to see her room, yet again.

10:40 PM BBT – Helen is trying to defend Elissa to Aaryn and the others, hoping to get her off their radar.

11:28 PM BBT – Helen tells Elissa that Aaryn and GM are not happy with her because they kept her safe and she didn't want to sit next to them. Helen tells her they might be putting her up for eviction. Helen doesn't seem to have any idea that she's the target.

11:50 PM BBT – Elissa threatening to walk if she gets evicted instead of going to Jury.

12:20 AM BBT – Spencer and McCrae hoping Elissa does leave the game altogether so someone else has a chance at America's Favorite.

1:45 AM BBT – McCrae wants to mess with Elissa's head before the Veto comp to throw her off. In case it's a luxury comp, McCrae thinks they should designate one player to take those so others can focus on winning the Veto. Spencer says he'd do that. Amanda says no.

2:20 AM BBT – Aaryn working on her nomination speech. Amanda suggests she say's putting up Helen because she's racist.

3:00 AM BBT – Aaryn and GM discussing Spencer. They don't trust him and want to keep an eye on him.

4:00 AM BBT – HGs all asleep and getting ready for Friday's fun.
So right now, it looks like Helen is the target with Elissa as a pawn. But it a lot can happen and after Julie dropped the hint to the houseguests that fans think they're boring, maybe they'll do something.
You can watch all of these Big Brother 15 events using the archives flashback, the DVR-like feature of this year's Live Feeds which means it's always live, even when you missed it! Sign-up now to get the free trial to watch it all live & uncensored.
click images to see full-size