The Big Brother season 16 list of Houseguests was revealed yesterday and we're all getting to know them as we prepare for the 2-Night premiere event on Wednesday, June 25, 2014. So where are these new HGs calling home? Check out our map plotting out their locations below.
click map to see a full-size view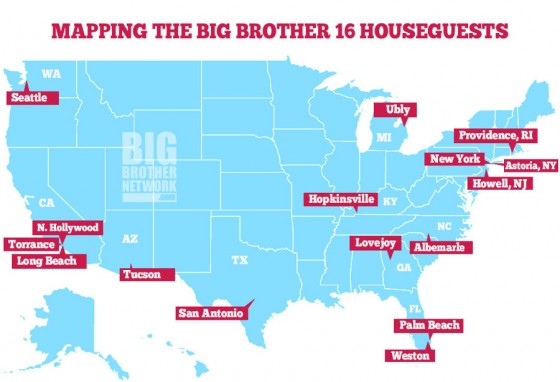 With more open-call casting events this year I was especially interested in seeing where the most cast members were pulled in to the show. Of course with so many recruits this year it makes it difficult to get a feel on that. But, if casting was in-town for an event then they were also trolling the bars looking for HGs as well. Keep that in mind, future Big Brother Hopefuls.
Last year there was a concentrated Southeast quadrant and really mostly Eastern pick of HGs while the Big Brother 16 cast list seems to run along the nation's perimeter. Three quarters of the picks were in or near coastal regions. Hmm. That doesn't mean anything, just interesting.
Another interesting pattern, last year there were four HGs from Texas. Then Kassting set up five, FIVE, casting events in Texas for open calls. How many ended up coming from there? One. Devin Shepherd currently lives in Texas. Though Caleb Reynolds was originally from Dallas.
CBS provided me with both a list of hometowns and "living in" locations for all sixteen of the new cast members. I thought we should go with where the HGs are living, and of course CBS went with hometowns in their released bios, so if there are any conflicts that's what's going on here.
As far as successful modes of being selected, it was good to hear there were a mix of applicants who used the open calls, online application, and even both. But another option seems to be applying for other CBS shows as at least three this year applied for The Amazing Race or Survivor before ultimately ending up on Big Brother. Of course you can't go wrong with hanging out in bars either.