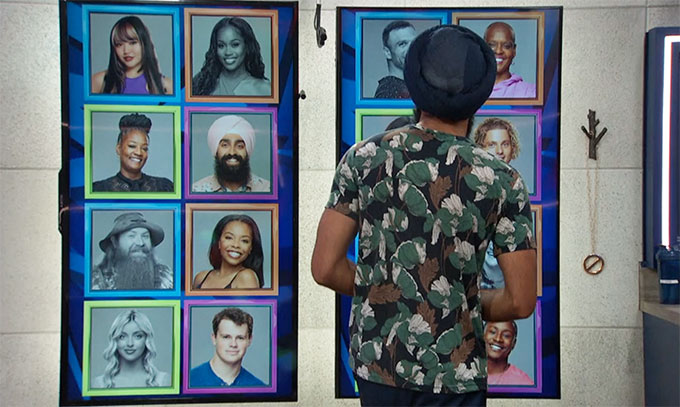 Another week of Big Brother 25 comes to a close tonight, and once again the house dynamics have changed, resulting in more changes in our player rankings for this week.
A reminder first: Every week this season I'll be grading each houseguest based on their gameplay, social skills and competition prowess. These scores will result in a final ranking of each houseguest. Now, let's get to it.
Big Brother 25 Houseguest Report Card: Week 6
Matt, 97/100 — It really hit me this week just how well positioned Matt is. Everyone in the house seems to trust him and have his back. Even after he basically betrayed Cirie and Jared, they are still OK with him. He has a really great social game, and for this season, that's what's really going to matter in the end. No one is going to care about those two or three people who won all the competitions. Last Week: 95
Jag, 93/100 — Jag jumps this week because of his veto win, but also his strategy. Jag is always thinking and talking game, and it's paying off for him. He's definitely still a target, but he is quietly learning that floater game as well, and no one is really picking up on it. And you have to remember that a few weeks ago he was unanimously voted out yet here he is! Last Week: 88
Jared, 85/100 — It pains me to rank Jared so high, but he did win that HOH which ultimately saved himself and his mom. I would score him higher had that competition actually been an actual challenge. But the way everyone dropped before the first hour was up was just massively weak. The real points for Jared this week come from actually being the one to get Cameron out the door. Last Week: 76
Cirie, 83/100 — Cirie might be in danger, but the real target is Jared. She's still got that social game going strong, even if people are starting to realize her threat level. She lost a few points for actually wanting to go home this week (on her son's watch, mind you), but we'll forgive that as something she was contemplating as a mother and not a reality TV show player. Last Week: 85
Cory, 82/100 — Cory has made himself a target in recent weeks, but he's still one of the better strategists in the house. And he's actually laying it on thick with Jared and Cirie this week to attempt to throw them off that he's targeting them. And Cory did come off the block this week, so that says a little bit about how he's playing also. Last Week: 80
America, 80/100 — No one really trusts America, but one thing you can say about her is she's playing Big Brother how she wants and not missing soaking in her superfan dreams. She needs to figure out a way to get people to trust her more, but she and Cory seem to be in the most solid alliance in the house at the moment with Matt and Jag. Last Week: 79
Felicia, 77/100 — Felicia is kind of a free agent at the moment, so if she could find a new group and stick to it, she has potential to reclaim a solid position in the house. She does seem to know she can't trust Cirie and Jared any longer, so she could be on her way. But as of now, I don't see much of a path for her in the game. Last Week: 69.
Mecole, 75/100 — I'd love to rank Mecole higher because she has a solid take on the game and what's going on, but she's not doing anything. She could slip by and start making moves later, and that would be an A+ game, but so many other people are louder and more out there, it's hard to really get a grasp on what her game is. It's time for her to do something. Last Week: 79
Blue, 70/100 — Blue takes one step forward and three steps back. I just don't even know what game she's playing. Sometimes she says things that make a lot of sense and makes me think "Oh, is she strategizing?" But then she goes and tells Jared everything and says things that don't make sense. So I just don't even know what to think half the time. Last Week: 68
Cameron, 65/100 — Cameron crashes hard this week, after his first-place spot last week. I told you that was a fluke, but I give credit where it's due. This week Cameron just couldn't hold onto that momentum last week, but at least he made the best of it, as last week was one of the most entertaining this season. Last Week: 98
Bowie, 59/100 — And then there's Bowie Jane. She gets no points again this week. She is finally starting to realize who might actually have power in the game, but she still won't really pick a side or show her cards. I just can't appreciate what she's doing because on paper its could look like she's laying low and playing a bit of a floater game, but I really think she just has no idea what she's doing or how she even ended up there this summer. Last Week: 59
Flunked (evicted)
Kirsten
Reilly
Hisam
Red
Izzy
Expelled
Luke
These scores and rankings are simply my own. There's no real science to it, so please don't take them so seriously. If you disagree, please share your thoughts in our comments below and on Twitter and Facebook! Let's discuss!
Also, keep in mind that a lot went down today on the Live Feeds, so these rankings were finalized before a lot of the drama kicked in.