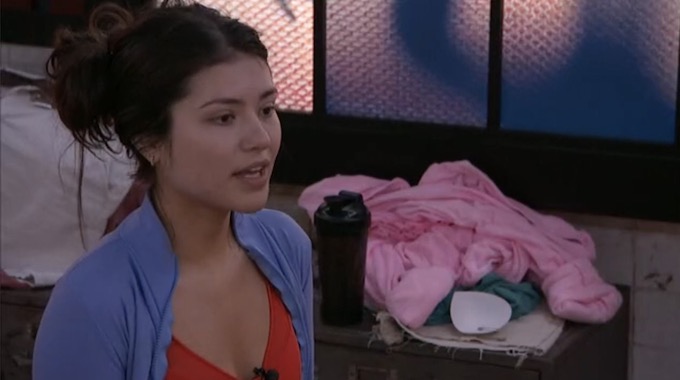 It is Double Eviction Day inside the Big Brother 25 house and since Wednesday afternoon, the houseguests have been getting clues to something big happening during Thursday night's show! The Big Brother houseguests have been worried all day about what this twist could look like and how it could impact their game. There is continued speculation about a Double Eviction taking place this week on Big Brother, but now they are worried about a possible battleback.
With all the clues the houseguests have gotten and the announcements being made at the end of the last couple of episodes of Big Brother, a battleback isn't a far-fetched idea. However, it won't be with any of the already evicted HGs which leaves only a couple of scenarios. Read on to find out what the houseguests think!
Try Live Feeds 1 Month Free! Code: BIGBROTHER25 Sign-up now!
Don't forget to sign up for the Big Brother Live Feeds right now so you don't miss anything else this season. Anything you want to watch from our Highlights report is always available using the rewind feature to pick any day, time, and camera to watch it again. Enjoy!
ALERT: Join our NEW Facebook Page for BBN after FB disabled our old one. We need to reconnect with you on Facebook! Please spread the word and share our content on FB so we can quickly rebuild. Thank you!
Big Brother 25 Live Feed Highlights – Thursday, September 21, 2023:
9:20 AM BBT – HGs are waking up.

9:45 AM BBT – Bowie and Cirie are going over days and events. They always seem to forget the name of the Buddy Ball comp.

10:02 AM BBT – The feeds keep cutting in and out. They come back up to America saying she is shaking to Jag and Cory. Jag says they have to win tonight.

10:04 AM BBT – Jag talks to Cory about throwing the HOH to one of them (America or Cory) if it comes down to the three of them. Cory says that if he wants to throw it to him, he's fine with that. Adds that he has told Cirie and Jared that he wouldn't put them up, but he will.

10:10 AM BBT – Cory tells America and Bowie that the transmission seems way too "battlebacky."

10:15 AM BBT – Feeds cut to adoptable animals.

12:34 PM BBT – Feeds return from HOH lockdown.

12:40 PM BBT – Jared is talking to Matt about how he had a conversation with Cory where Cory told him all the people that he trusts and he didn't name Matt. Matt tells him that he doesn't trust America, but everyone is talking about putting up floaters (Meme and Bowie). They both worry about whatever is going on tonight and hope that Cameron doesn't get saved.

12:42 PM BBT – Jared tells Matt that he feels good with Matt, Cirie, and Blue because he knows they can't be persuaded to put him up.

12:53 PM BBT – Jared is telling Matt that he thinks there is a battleback going on right now and they start talking about who they would like to see come back.

12:58 PM BBT – Cory tells Matt that Blue talked to America and told her she would nominate Cory and Bowie if she won HOH. Cory says that if she wins HOH they need to make sure she knows that if any of them hit the block, she will be targeted next week.

1:07 PM BBT – Cory tells Jag what Blue said about nominating him and Bowie if she wins. Says that she said she needed to put him up because Cirie and Jared expect her to. Cory says that she is unwilling to put Jared and Cirie up and Jag says that seems like a reason to put her up with Jared. Cory says that's his nominations right now.

1:20 PM BBT – America tells Jag that she told Blue that nominating Cory would not be a good idea. She says that she told her to stick with the guys as long as they can to get further in the game.

1:43 PM BBT – Jag tells Blue that he is worried about this twist and says he thinks it will be a battleback. He says that a split house won't work because of how many there are. Jag asks Blue what their best bet is with the HOH? Are they gunning for it? Blue says that they should because they can control their narrative. Says that unfortunately they are going to have to show their hands though.

2:07 PM BBT – Jag checks in with Cirie really quick and tells her that regardless of what happens, if one of them win, the other is good. Says that as long as there aren't two of them on the block this week then they have the votes to keep their group safe.

2:12 PM BBT – Cameron tells Cory that everyone wants to use his brain. Cory wonders what the chances are of America leaving before him and adds that the first half of the game he felt like he was good, now he isn't so sure. Cameron tells him that once he is gone, it's a downward slope for Cory. Says that the target will shift to Cory and Jared.

2:16 PM BBT – Felicia and Bowie are talking about the vote last week and how Jared and Cirie never planned voting to keep her.

2:23 PM BBT – Blue dropped her mic pack in the toilet. Mr. B tells her to go exchange her mic for one in the storage room.

2:25 PM BBT – Feeds cut to Adoptable Animals.
Some houseguests are worried about the possibility of a battleback, but have speculated that it could be someone who has already been evicted. We know that isn't the case since Julie shared too much information with them after their evictions and most of them are already back and home. Based on talks inside the house, Cameron is set to be the first of Thursday night's two evictions, and depending on who wins the HOH, Jared or Cirie could find themselves in trouble as well.
You can watch all of these Big Brother events using the archives Flashback, the DVR-like feature of this year's Live Feeds which means it's always live, even when you missed it! Sign-up now and get the free trial to watch it all live & uncensored.

Gallery: Live Feeds Highlights
Download our Big Brother App, join us on Facebook & Twitter, and get our Email Updates for more!