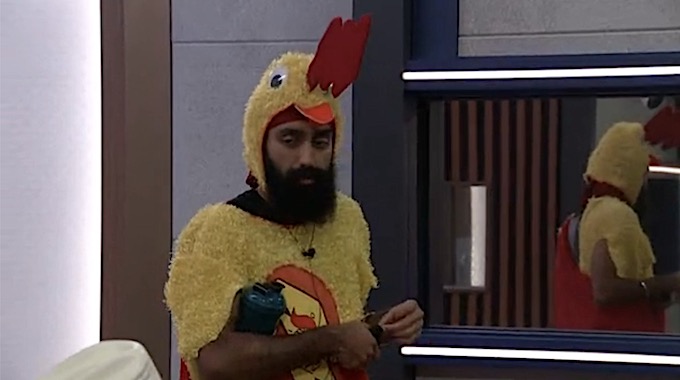 After competing in a nearly 14-hour Head of Household competition, a new HOH was finally crowned inside the Big Brother 25 house early Friday morning. The new HOH didn't waste any time revealing their Nomination Ceremony plans for Week 4 of Big Brother. After the majority of the Big Brother houseguests went to get some sleep after nearly beating the record for the longest comp in Big Brother history, the new HOH had a chat with an ally and filled them in on what the plan was going to be this week. Read on to get the details!
As we know by now, Cameron threw the whole house for a loop when he went on to win the Head of Household competition guaranteeing that he and Red won't be put on the block this week. Shortly after coming inside from the Pressure Cooker Head of Household competition, Red pointed out to Cameron that Izzy was not too thrilled about Cameron's win for Week 4 of Big Brother.
Red also mentioned by their reaction, Izzy and Felicia seemed to know something and suspected that something was going on. This made it obvious to both of them that one of them could have been in danger if they hadn't won this week's HOH. Cameron was a little surprised to hear this since they were supposed to be working together and told Red that he would make a mental note of this for later. Red told him that he doesn't think there was much effort in the HOH comp from their side, but he doesn't think they need to look inward just yet. Cameron then reminded him about what they did to Hisam.
A little later, Cameron camtalked to us while most of the house was sound asleep. He said that he had a new feather in his cowboy hat and that the person it came from would be revealed when he put him on the block. This implied to us that he was going to likely target Jag, but it wasn't until he and Bowie chatted a bit later that we knew what his plan was.
Bowie came into the kitchen and sat with Cameron who was staring at the pictures on the Memory Wall. He said that he is sticking to the plan this week. Bowie asked what the plan was, indicating that she wasn't sure if anything had changed. He told her that he was planning on putting two people up and no matter which one went home it would be a win-win situation for them.
Moments later he confirmed that Jag is his target this week, but getting rid of Blue would also be a benefit for their game. He told Bowie that he made a promise to America that she would not be a replacement nominee if one of his original nominees came off the block, but he didn't make any other promises to any other houseguests. He does tell Bowie that if one of them comes off the block, they would collectively decide on a renom that everyone in the house likes to guarantee that the other goes home.
Do you think that Jag and Blue are the right targets for Cameron this week? Or are there bigger fish to fry? Also, do you think that the Power of Invincibility will put a wrench in Cameron's plan to get rid of Jag or Blue?
Download our Big Brother App, join us on Facebook & Twitter, and get our Email Updates for more!