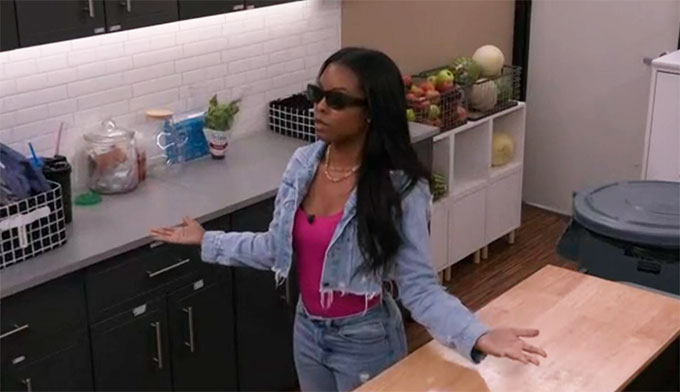 After a week without any nominees, the Big Brother 25 houseguests had to face the nomination ceremony once again Friday afternoon. The nominees were fully expecting to sit on the Block, so there were no shocks this time around, but whether or not there's some master plan up the HOH's sleeve is still unclear. As of now, talk is all about playing Veto and what will happen if one of the nominees win.
Read on to catch up on the fallout from the nomination ceremony and get a look at the early discussions on who could be likely targets next week. The BB25 houseguests are always jumping ahead.
Try Live Feeds 1 Month Free! Code: BIGBROTHER25 Sign-up now!
Don't forget to sign up for the Big Brother Live Feeds right now so you don't miss anything else this season. Anything you want to watch from our Highlights report is always available using the rewind feature to pick any day, time, and camera to watch it again. Enjoy!
Check out Friday's Daytime Report before moving on to overnight below.
Big Brother 25 Live Feed Highlights – Friday, September 29, 2023:
3:33 PM BBT – Feeds return from the nomination ceremony. But no one is talking about the nominations.

3:37 PM BBT – Mecole is in the storage room talking to the cameras. She says "Calm … you woke up this morning fully expecting this to happen. Relax … take a deep breath. You know if you don't win the veto, then you are in trouble. Focus on that."

3:38 PM BBT – Felicia goes in the storage room and asks Mecole if she's OK and gives her a hug. She says she's OK. She says she's going to focus on the veto and not get caught up in the drama. Cirie tells Mecole whether it matters or not, she doesn't think Mecole is the target. Mecole says that's what he told her. She says Cameron was at least really respectful when he was talking to her and at the nomination ceremony.

3:42 PM BBT – Mecole says she knew there wouldn't be a guy up this week. She said she knew it would be two women regardless of which one. Cirie says the men are scared because there are fewer of them left.

3:46 PM BBT – America and Blue ask Felicia how she's feeling. She says she's just tired of sitting on the block. She says she doesn't want to have to pack yet. They tell her if she wins veto she won't have to pack. America says the last two vetos were really physical so this one might be less physical. And since the back yard is open, it's probably going to be inside somewhere.

3:56 PM BBT – America and Felicia say everyone is acting like Cameron's friend now. Felicia says she told Cameron he knows what people are doing. America says he has to know that he only has friends when he's HOH.

3:58 PM BBT – Felicia says she's surprised Cameron didn't nominate her with Cirie. She says that would've made more sense than her and Mecole. Felicia says Cirie probably expected it too. America says maybe Cirie is going to be his replacement nominee.

4:28 PM BBT – Blue tells Matt about her and America talking to Felicia. She says she's already started asking for votes. Matt says they need to start talking about what they should do next week if the win HOH. Matt says he doesn't think Jag will take a shot at America and Cory. Blue says she noticed that Jag seems to be close to Cameron and doesn't want him out any longer. Blue says when she mentioned getting Cameron out, Jag got silent. She says when Jag doesn't agree with something he gets quiet.

4:30 PM BBT – Matt says he'd still be tempted to just get rid of the people who aren't playing the game.

4:34 PM BBT – Felicia is annoyed that Cameron keeps saying he's not vengeful but everything he does seems like revenge. She says he is the epitome of revenge. Felicia says Cameron doesn't take the blame for why people don't talk game with him or what to work with him. She says he has to ask himself why he doesn't connect with people. She says Cameron is still blaming stuff on Hisam. Felicia says Hisam has been gone since week 3 so he can't keep using that as an excuse.

4:36 PM BBT Felicia tells Cirie she asked Cameron what he sees when he looks at his path to the end. She asks who he trust because you can't get to the end of this game without trusting someone.

4:41 PM BBT – Felicia says Cameron is still bringing up being on the block with Red when she mentions being on the block with Mecole. She says that sounds vengeful to her.

4:42 PM BBT – Felicia tells Cirie that Cameron said he doesn't trust Felicia and doesn't want her in the jury house.

5:00 PM BBT – Cameron tells Bowie he's won three HOH's. But then says he was also evicted unanimously and says "Thanks Bowie." She says if she didn't vote him she would've been out next.

5:03 PM BBT – Cameron says to Bowie that Felicia asked him who he trusts the most in this game. He said he told her you don't ask people that question in this game. He says that's like asking someone who their Final 2 is.

5:05 PM BBT – Cory says Blue could win a competition easily come after him. Jag says he thinks Mecole would put him up with Matt. Cory asks how they can get Mecole off Jag's ass and Blue off Cory's.

5:13 PM BBT – Cory tells Jag his order is Blue and Mecole then Cameron. He says he won't be worried about Cirie as much after Blue is gone.

5:14 PM BBT – Jag says Mecole being on the block is going to finally force her to have some conversations.

5:23 PM BBT – Jag says to Matt that keeping Cameron as a shield as they were thinking is probably not a good idea because if they keep around he'll win the game. Jag then tells Matt he wants to take Bowie far. Matt says to Final 5 at least. The names of himself, Jag, Bowie, America and Cory as their Final 5.

5:25 PM BBT – Jag says he thinks Blue will take a shot at him and Matt before she does America and Cory.

5:44 PM BBT – Matt says that Blue now wants Cameron out, not Cory. Jag tells Matt they don't listen to outside pressure to target Blue and Cory. He says they put up Mecole or Cirie.

7:55 PM BBT – No one really wants to respond to Felicia when she asks if anyone would play veto for her.

8:15 PM BBT – Jag, Matt, and Bowie Jane have their Triangle of Trust among the three of them.

8:26 PM BBT – Jag tells Bowie Jane this is the first time he's felt good in the game. He says he's always been a target.

8:30 PM BBT – Cory tells Cirie that he's not dumb when it comes to Jag and Matt. He says he likes working with them, but he knows they're scary. He says he wouldn't put them up next week or anything, but he knows they're dangerous.

8:38 PM BBT – It's time for dinner.

8:43 PM BBT – Felicia says its so annoying to watch everyone suck up to Cameron.

9:10 PM BBT – Cory discussing with Cameron the twists in Big Brother and why he doesn't like how they usually give the already controlling group even more power. Cory longs for the days of BB10 without twists and just good game play.

9:20 PM BBT – America tells Matt and Blue that she'll be honest with Felicia on Monday after the Veto is settled. America plans to vote to keep Mecole over Felicia.

9:25 PM BBT – Blue talks with Felicia and says despite what Felicia overheard her say earlier, she would save Felicia with the Veto and that she had said she wouldn't to make Cameron happy.

10:00 PM BBT – Cameron talking with Matt and Jag upstairs. Jag mentions how close Blue was being to Cirie today. Cameron thought Blue had been honest with him earlier but maybe she hadn't.

10:04 PM BBT – Feeds cuts.

11:52 PM BBT – Feeds return.

11:55 PM BBT – Blue sharing with Matt and Jag that Felicia had overheard her telling Cameron to pick Matt for the Veto and then how she had to apologize to Felicia about saying that.

12:00 AM BBT – HGs discussing seeing something in the windows to spook them. (CBS ran a commercial for an Exorcist themed movie tie-in event coming up.)

12:20 AM BBT – Blue talks with Matt about how Cameron seems to be going after the pairs. She thinks he'll go after Cory and America once he splits up Mecole and Felicia.

1:00 AM BBT – HGs getting some late night snacks.

1:20 AM BBT – Matt tells Blue that he thinks Cameron wants Cory out next week, not this week. Matt expects the target would stick to Mecole if Felicia escapes the Block this week.

1:30 AM BBT – HGs are off to bed.
Cameron is continuing to keep the game shifting and Saturday's Veto comp will settle where the target goes for the week. We'll hear more on this Exorcist themed competition later in the retells and I'd guess the winner gets to pick a few HGs for an early screening in the HOH room.
You can watch all of these Big Brother events using the archives Flashback, the DVR-like feature of this year's Live Feeds which means it's always live, even when you missed it! Sign-up now and get the free trial to watch it all live & uncensored.

Gallery: Live Feeds Highlights
Download our Big Brother App, join us on Facebook & Twitter, and get our Email Updates for more!