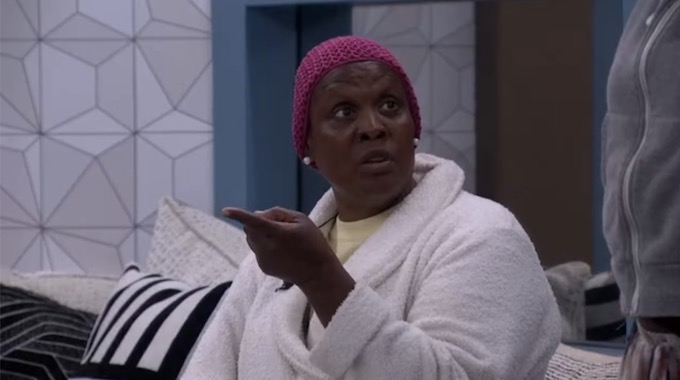 We have kicked off a brand new week of Big Brother 25 gameplay with a new Head of Household holding one-on-ones to lay out their plan for the week. This week of Big Brother should be a fairly simple week depending on what happens on Saturday with the Power of Veto competition. The Big Brother houseguests know who should be going up and who the likely target is this week but until the Veto plays out and the final noms are set, it's still anyone's game.
At the time of this posting, the Nomination Ceremony is taking place inside the house and this week's nominees shouldn't be a surprise to anyone, but it is a Cameron HOH and he has proven to be a little unpredictable. After what he told Felicia on Friday's live feeds, it is not likely that he is going to want to keep her in the house. Read on to get the details.
Try Live Feeds 1 Month Free! Code: BIGBROTHER25 Sign-up now!
Don't forget to sign up for the Big Brother Live Feeds right now so you don't miss anything else this season. Anything you want to watch from our Highlights report is always available using the rewind feature to pick any day, time, and camera to watch it again. Enjoy!
Big Brother 25 Live Feed Highlights – Friday, September 29, 2023:
7:26 AM BBT – Felicia tells Cirie that she plans to ask Cameron why he hasn't talked game with her at all since the start. Adds that he doesn't know if she is on his side or not because he has never talked to her.

7:41 AM BBT – Felicia tells Cirie that she wants to tell Cameron that he can trust her and Cirie and they could quietly work together with no one knowing. Cirie wonders how he would feel about that. Felicia adds that he keeps saying they aren't a threat, but keep coming after them when Matt, Jag, Cory and America are still in this house.

9:50 AM BBT – HGs are waking up.

9:54 AM BBT – Cirie has a very brief conversation with Cameron at the kitchen table. Tells him that she doesn't have much of a pitch for him and he tells her that she doesn't need one. She tells him that she is sure he will make the right decision and applauds how he has played so far.

10:18 AM BBT – Blue tells Meme how she told Cameron that she was praying for his downfall a few days ago. Meme tells Blue that she needs to chill and Blue says people keep telling her that.

10:38 AM BBT – America tells Blue that she feels really good with Cirie. Neither of them think of her as a threat and Blue adds that she feels really bad for her. America agrees and talks about how they have had conversations about how hard it is to be in the house.

10:49 AM BBT – Cameron tells Bowie that he talked to Felicia last night and doesn't understand why she needs to talk to him again.

10:52 AM BBT – Cameron confirms to Bowie that he is planning to nominate Felicia and Meme with Meme being a pawn. Bowie wonders who she can trust in this house and he tells her there are definitely three people she can trust and that's him, Jag, and Matt. She asks about Blue and he says that he trusts her, but doesn't have a lot of trust in her to play for the group and not just herself.

10:55 AM BBT – Meme and Cirie are laughing about how everyone in the house is kissing Cameron's ass. Says they need to get themselves together.

11:00 AM BBT – Cirie and Meme talk about how they haven't seen Matt yet and Blue walks in. They tell her that they don't think Matt is up yet and Blue goes to check on him. Blue comes back down to say that Matt isn't in his room so he's up and around somewhere.

11:02 AM BBT – Matt comes out of the Diary Room.

11:05 AM BBT – Cirie is sitting in the living room by herself hearing everyone saying hi to Cameron. Says they are all a bunch of weirdos.

11:09 AM BBT – Felicia asked Cameron why they never talked game before and he explains that he never felt that there was ever an invitation for him to do so. Says that every conversation he's had over the last month was him finding out that people thought he was a liar and manipulator who everyone chose not to talk to.

11:13 AM BBT – Cameron starts to imply to Felicia that she is going up. She asks if she is the biggest threat in this house and he says no. He adds that she is easily the greatest persuader inside the house. She said that's where he is wrong, it's actually Cirie.

11:20 AM BBT – Cameron asks Felicia if he is sitting in the F2, would he have her vote. She tells him if he is sitting in those two chairs and she isn't sitting next to him, she would give him her vote. She adds that she means that sincerely.

11:22 AM BBT – After giving Cameron a hug, Felicia asks him who he is putting on the block next to her. He asks "why would I tell you that?" and she turns to leave.

11:25 AM BBT – Felicia tells Cirie and Matt that Cameron confirmed it in his own way that she was going on the block but wouldn't tell her who he is putting next to her.

11:27 AM BBT – Cirie and Matt are talking after Felicia leaves the room. Matt says that he thinks the plan is Meme but he'll find out for sure.

11:33 AM BBT – Cory tells Cameron that he is kind of worried about Matt and Jag. Says that he doesn't want to take the first shot, but he also doesn't want the first shot to be taken at him. Cory says that if he wins HOH next week, he would probably put Cirie and Meme up.

11:40 AM BBT – Cameron tells Matt, Jag, and Bowie that he thinks he's talked to everyone he needs to talk to. Adds at this point, if someone wants to talk to him, he'll be around.

11:45 AM BBT – Cameron tells them that his conversation with Felicia was a lot of her telling him what he gut was telling her. He says one of those things was that she was going on the block. He says that during their conversation, he just told her that her gut has always been right. Tells them how he refused to answer her question about who was going to be sitting next to her.

11:52 AM BBT – Felicia tells Cirie that her gut is telling her that it will be Cirie, Meme, or Blue on the block next to her. Says that Cameron isn't going after Cory, America, Matt, Jag, or Bowie.

12:26 PM BBT – Felicia is telling Meme about her conversation with Cameron including everything Cameron told her about information he got from Izzy, Cirie, and Jared about Felicia.

12:30 PM BBT – Felicia is counting the votes she thinks she could have if she is sitting next to Cirie. When she mentions Blue's name, Meme says she doesn't think so.

12:37 PM BBT – Felicia tells Meme that she wouldn't be surprised if Cameron knows about them (F&M) working with Cory and America because she is sure they ran up there and told him. Meme says that Cory was the one who approached her about it and Felicia says that America approached her about it. Adding she never would have (she did).

12:38 PM BBT – America tells Cirie that she thinks that Cirie is good. She tells America that's what he told her and America says she thinks that Cameron is going to be more direct this time with his intentions.

12:42 PM BBT – Matt wonders to Cameron who Felicia would pick if she gets HG's Choice. Cameron says that Jared isn't there, she wants Cirie on the block, and Meme will be sitting next to her. Doesn't really leave many options.

12:48 PM BBT – The backyard opens. Cameron looks at Jag and says "really? that is confusing." (They have been speculating about OTEV being this week's Veto Comp.)

12:50 PM BBT – Jag asks Cameron who he will pick for HG's Choice and he says probably Matt since Jag would make things too obvious. Cameron adds that one of them (C&M) will probably pick them.

12:55 PM BBT – Meme asks Cameron what the vibe is this week and he tells her that he thinks she knows. He follows that up with the fact that everyone in this house loves her and he doesn't see a scenario where Meme might be in trouble, even if Felicia comes off the block.

1:05 PM BBT – Blue tells Cameron she is trying to figure out where she stands with Cory and America and then Matt and Jag. Says she trusts the guys more than Cory and America. He says that he knows how he feels about wanting to work with her and he feels like the two of them with Matt and Jag would be solid.

1:15 PM BBT – Blue tells Cameron that she needs Cory out of this house. He says that he thought her one would be Cirie. Blue explains that Cirie to her is on an island at this point and she isn't very impressive to her. However, she feels that she needs to break up Cory, Matt, and Jag and she feels like Cory is getting other people to do his dirty work for him.

1:17 PM BBT – Cameron asks if Cory leaves, does America go rushing to her (B)? Blue says that if Cory leaves, America got running to Cameron or Jag before she runs to her.

1:25 PM BBT – Felicia comes back up to the HOH for a followup conversation. She asks him what his plan is going forward and how does he see himself getting to the end. He jokingly says lying, cheating, and stealing. Then tells her that he is just planning to continue to do everything he can to continue establishing relationships and surviving.

1:31 PM BBT – Felicia asks Cameron if he trusts her enough to play a game with her? He says no. The only thing he can give her is the opportunity to play the game, but he doesn't see them working together down the road.

1:35 PM BBT – Cameron tells Felicia that he is putting her next to Meme because he feels that Meme has a chance of winning the Veto and he can't have her using it on Felicia.

1:35 PM BBT – Meme is talking to Blue about how she's nervous about being on the block on Thursday. Says she has seen the vote flip-flop up until the vote takes place.

1:40 PM BBT – Cameron tells Felicia that he doesn't want her in the Jury house and she says she thinks he is getting at is he is worried she would manipulate people into not voting for him. She would never had told him she would vote for him if she didn't mean it or if she had any plans of doing that.

1:48 PM BBT – Cameron tells America that Felicia made a pitch to go after Cory so he can get closer to America. He asks what that was all about and then tells her not to talk to anyone about him. She said she doesn't. Feeds cut away.

1:50 PM BBT – Felicia is telling Matt about her conversation with Cameron and Cirie joins the conversation.

1:55 PM BBT – Felicia tells Matt and Cirie that Cameron told her he didn't want her in the jury house. They are shocked he told her that.

2:11 PM BBT – Matt is talking to Meme about her conversation with Cameron. She says she knows it's her going up. Matt says but she isn't the target because Cameron told him he wanted Felicia out.

2:25 PM BBT – Meme is in the storage room talking to herself about how she needs to believe that she is the target, she will be the target, or could be the target and use that to motivate herself.

2:27 PM BBT – Felicia is telling Cirie all the reasons why she thinks Cameron targting her doesn't make sense. She says that there is no way Cameron is going after her and wonders who is his real target is.

2:31 PM BBT – Feeds cut to Adoptable Animals for the Nomination Ceremony.
Nominations are taking place right now and when the feeds return shortly, it should be Felicia and Meme on the block. However, many of the houseguests have thrown other names around and there are a few other houseguests that could be a potential threat to Cameron's game. This could leave things open for the potential for a new target to hit the block in the event that Felicia is taken down. Who are you hoping to see on the block come Thursday night's eviction?
You can watch all of these Big Brother events using the archives Flashback, the DVR-like feature of this year's Live Feeds which means it's always live, even when you missed it! Sign-up now and get the free trial to watch it all live & uncensored.

Gallery: Live Feeds Highlights
Download our Big Brother App, join us on Facebook & Twitter, and get our Email Updates for more!