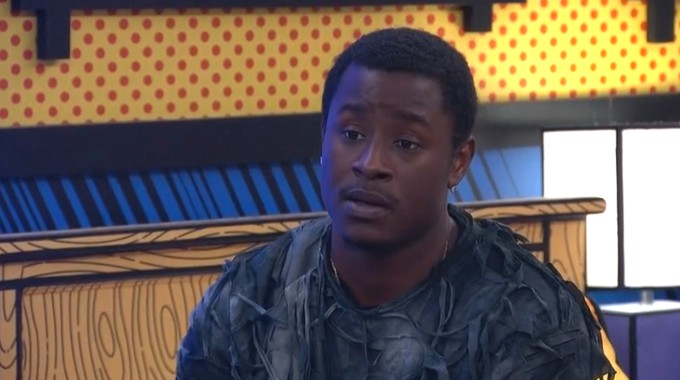 What a night of the undead and chaos on Big Brother 25 as the two HGs evicted during the Double Eviction have both returned as Big Brother Zombies for the week ahead in the Scaryverse. No HOH, no nominations, and no Veto. Well, this should be different.
Feeds were delayed as is unfortunately the norm now after eviction shows and when they returned so had Cameron and Jared each wearing ragged clothes but lacking silly zombie makeup like I had been expecting. They spent the evening trying to sort through what happened and really it was Jared who had his head spinning while Cameron had already had a week to prepare.
Try Live Feeds 1 Month Free! Code: BIGBROTHER25 Sign-up now!
Don't forget to sign up for the Big Brother Live Feeds right now so you don't miss anything else this season. Anything you want to watch from our Highlights report is always available using the rewind feature to pick any day, time, and camera to watch it again. Enjoy!
ALERT: Join our NEW Facebook Page for BBN after FB disabled our old one. We need to reconnect with you on Facebook! Please spread the word and share our content on FB so we can quickly rebuild. Thank you!
Be sure to read Thursday's Daytime Highlights before moving on to the overnight report.
Big Brother 25 Live Feed Highlights – Thursday, September 21, 2023:
10:29 PM BBT – Feeds return. Jared and Cameron are back in the house.

10:30 PM BBT – Matt is talking with Cirie and Jared. Matt says he was loyal to the Seven and believed Jared was going to put him and Jag on the Block. Jared says he had a BD plan instead.

10:45 PM BBT – Jag and Felicia checking in. Felicia says she already admitted that yes, she voted out Jared because of the mistrust after last week. Jag says he still feels good about Felicia and Mecole.

10:45 PM BBT – Jared, Cirie, and Matt continue their talk. Jared is upset and says he had multiple chances to go after Matt and never did but when Matt gets one he takes it.

10:50 PM BBT – Jared has left while Matt & Cirie continue to talk. Matt tells her he didn't use the Veto because that would have meant she'd go up on the Block tonight.

10:55 PM BBT – Blue is admitting to Jared that she is working with Jag and Matt over him. Jared wants to know why she told Matt about him, her, and Cirie which Blue denies doing.

11:05 PM BBT – Both Jared and Blue are upset at each other and accusing the other of having played them.

11:30 PM BBT – Matt meets with Felicia to rehash the night's events. Matt says he had so little time to decide what to do. He was having trust issues with Jared and wanted him gone. Both agree they don't know who to trust right now.

11:40 PM BBT – Matt talks with Cory and America who said they could overhear some of his talk with Cirie. America says that group is lying. Cory points out that Izzy had told him how Cirie was ready to vote out Jag but now Cirie is saying she didn't want to. America encourages Matt not to tell Jared anything.

11:45 PM BBT – Matt tells America and Cory that they need to draw in Felicia before Cirie does again. Cory says they can go for Blue, Felicia, and Mecole.

12:15 AM BBT – Jared and Blue in the Lounge. He blames her for not telling him what she knew. She's upset that he told others he didn't care if she left. Jared wants to know who was telling her that but Blue says she's over it. Jared says there's no reason to move forward together then.

12:20 AM BBT – Cory's HOH basket has arrived in Storage. Cory thinks they should keep the alcohol for them, but America knows others will ask about it.

12:30 AM BBT – Cameron and Jared talking alone in the Scary room. Cameron says they're not opponents this week and anything he learns he'll share it with Jared because only one of them gets back in next week and he wants that one of them to succeed.

12:40 AM BBT – Jared blames Cirie and Felicia for why he couldn't save Cameron. Jared claims once they decided Cameron was going it was too late to fight it. Cameron says that once he realized Felicia didn't know she was going to be voted out he decided to cause the chaos last week.

12:50 AM BBT – Cirie joined Jared and Cameron. Jared says he's going to get revenge.

12:50 AM BBT – Felicia talks with Meme and says she doesn't know how to trust now. Meme says this happened so fast the others haven't had time to come up with their agreed story yet.

1:00 AM BBT – Bowie, America, Jag, Matt, and Cory talking in the bathroom about the night's chaos. America thinks it's impossible to have a talk with Jared. HGs note the Veto medallion has changed to the "Scary Veto" for the week.

1:20 AM BBT – Cory and Jag discuss trying to make amends with Cameron this week in case he is coming back. Jag says Cameron wanted to work with them, America, and Blue. Matt and Blue join the discussion. Jag is hoping for Cameron to stay over Jared.

1:25 AM BBT – Jag and Blue talking in HN. She explains how Jared is upset at her for not telling him what she knew about him being targeted.

1:35 AM BBT – Now just Matt and Cory talking in the Lounge. Cory thinks they have a path to the end along with America, Jag, and Bowie. Cory worries about others learning that he and America knew Matt had the Power because then it seems like Matt is closer to them than others.

1:50 AM BBT – Blue tells Jag that Cory told her he wouldn't put her up and then suddenly he was nominating her. Jag says Cory was just trying to make sure Jared was the one to go. Jag assures Blue she's not expendable to them but Blue worries that Cory is starting to take a bigger role in their group.

2:00 AM BBT – Mecole asks Jared how Cory knew about Brown Sugar. She says Cory told her today that Jared told him in Week 3 about it. Jared claims Brown Sugar didn't even exist back then.

4:05 AM BBT – Jared talking again with Blue. He wants to know if she's going to be working with Cory's group now. She says yes. Jared says if he stays then he'd like her to let him know if there's a way they can work together.

4:20 AM BBT – Jared says he's just upset with Matt and Blue. He wishes Blue had warned him but she counters that she thought she'd have an entire week instead of a rushed one hour. Jared says he understands Jag taking the shot because he would have done the same and he will do it if he stays and wins.

4:30 AM BBT – Jared thanks Blue for talking with him and he respects her for making a big move but does wish she had talked with him.
Jared is going to be on the warpath and you know the rest of the House is hoping it's Cameron who sticks around at the end of the week. My how things change quickly in the Big Brother house!
You can watch all of these Big Brother events using the archives Flashback, the DVR-like feature of this year's Live Feeds which means it's always live, even when you missed it! Sign-up now and get the free trial to watch it all live & uncensored.

Gallery: Live Feeds Highlights
Download our Big Brother App and join us on Facebook & Twitter for more!