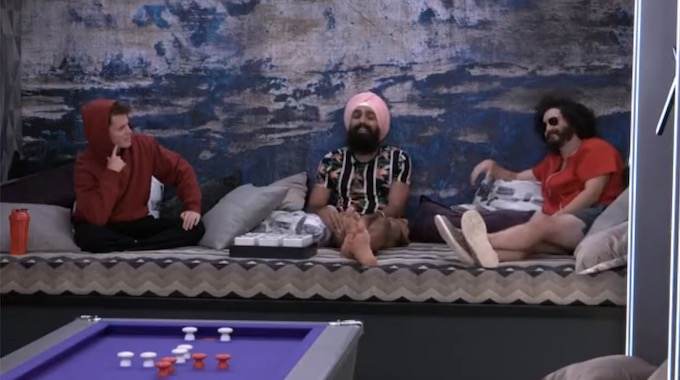 Friday inside the Big Brother 25 house brought a lot of one-on-one conversations between his week's Head of Household and the other houseguests with a Nomination Ceremony looming. If you missed it, the Head of Household Competition played out inside the Big Brother house on Thursday and the winner not only has safety for the week but also has the task of choosing two of the current nominees to save leaving the other two on the block.
The feeds went down for a two-hour-long Nomination Ceremony and we found out who this week's HOH chose to keep on the block. Read on to find out what her decision was and what the houseguests had to say throughout the day right here!
Try Live Feeds 1 Month Free! Code: BIGBROTHER25 Sign-up now!
Don't forget to sign up for the Big Brother Live Feeds right now so you don't miss anything else this season. Anything you want to watch from our Highlights report is always available using the rewind feature to pick any day, time, and camera to watch it again. Enjoy!
Big Brother 25 Live Feed Highlights – Friday, August 4, 2023:
8:30 AM BBT – HGs are waking up.

9:10 AM BBT – Kirsten is telling Mecole about all her suspicions about possible alliances forming and HGs that she sees getting closer.

9:18 AM BBT – Kirsten tells Mecole and Red that she feels like she is trying to get to know people and open up to people, but she feels like there is a wall there.

9:53 AM BBT – Luke, Matt and Reilly are talking in the SR and Luke asks Reilly if she knows who she is taking off the block yet and she says she has no idea.

10:25 AM BBT – Reilly tells Luke and Matt that she doesn't want to completely solidify any decision because there is a chance that a twist is going to come into play that messes up her plan.

10:35 AM BBT – Reilly tells Felicia that after talking to everyone in the house, it seems like they are all on the same page when it comes to Kirsten. She adds that she knows what she needs to happen this week and now she needs to come up with a plan to make it happen. She tells Felicia how much everyone in the house loves her and she isn't on anyone's radar (Reilly is setting this up to tell Felicia that she is going to be a pawn).

10:40 AM BBT – Felicia asks Reilly if she is sure she doesn't want keep someone else on the block as a pawn and Reilly tells her that Felicia is loved by everyone in the house and there is no way anyone would vote her out over someone who is shooting themselves in the foot.

10:45 AM BBT – America is telling Blue about the other night when Kirsten pulled her out of a room to talk to her one-on-one conversation about her speculations.

10:50 AM BBT – America asks Blue if she knows what Reilly is planning to do and Blue says that she seems Kirsten seems to be on her radar.

11:10 AM BBT – Reilly tells Hisam that out of the nominees, there is someone up there already that she doesn't see herself ever working with. Hisam tells her that there seems to be someone in the house that everyone is forming an opinion on (Kirsten). Reilly agrees.

11:25 AM BBT – Jag, Izzy, Blue, and Matt are all speculating reasons why they think their pictures aren't on the Memory Wall yet. One theory is that they will be broken up into four teams of four after the first eviction show.

11:28 AM BBT – Hisam thinks that leaving Kirsten on the block is a no-brainer and she adds that the person she puts up there as a pawn needs to be someone who completely trusts Reilly enough to know they won't be going anywhere.

11:35 AM BBT – Blue and Izzy are talking about people they feel good about in the house. Blue tells her that everyone in her room (the scaryroom) have a really good vibe together, but they aren't people she would be friends with off the bat outside the house and she isn't sure how much she can trust them right now.

11:55 AM BBT – Izzy is talking to Cirie and Felicia and telling them about her conversation with Blue.

12:00 PM BBT – Reilly and America are talking and comparing notes about the other HGs. They agree that Kirsten is stirring the pot and Reilly tells America that Kirsten is going around telling people that she (R) is hooking up with Matt (Hisam told her this in their one-on-one).

12:02 PM BBT – Felicia tells Cirie and Izzy that Reilly told her that she was going up as a pawn because everyone loves her and has the best shot at staying over the guys.

12:15 PM BBT – Cirie is talking to Bowie and filling her in on what Felicia told her about her talk with Reilly. Cirie tells Bowie that her, Izzy, and Felicia want to solidify a core four with the three of them and Bowie. Bowie is on board.

12:20 PM BBT – HGs notice the Nominations Today screen in the living room.

12:25 PM BBT – Reilly tells Jared that he is safe this week.

12:37 PM BBT – After an extended WBRB screen, cams turn to Adoptable Animals for the Nomination Ceremony.

2:40 PM BBT – Feeds return from the Nomination Ceremony to Reilly crying in the HOH room.

2:45 PM BBT – Cory and Jared congratulate each other for being taken off the block which means that Felicia and Kirsten are the nominees heading into this week's Power of Veto Competition.

2:48 PM BBT – Reilly and Blue are talking in the HOH room and Reilly is telling Blue about the conversation that she had in the SR with Luke and Matt. She says that Luke mentioned that there are talks that there are doctors and lawyers in the house. Reilly tells Blue that she is sure that Luke is a doctor and Blue says that there is no way he is an artist (he's an illustrator).

2:50 PM BBT – Blue is telling Reilly about her conversation with Izzy and how Izzy tried to tell Blue that she should definitely go talk to Reilly because she doesn't want to find herself in a situation where she might be put up. They both laugh, Reilly says that couldn't be further from the truth. Blue adds that she thinks her personal circle is pretty solid.

2:55 PM BBT – Blue tells Reilly that people are pairing Reilly with Matt. Reilly tells Blue that makes sense because Hisam told her Kirsten is going around telling people she's (R) hooking up with Matt.

3:00 PM BBT – Cameron and Jag join Reilly in the HOH. Reilly tells them she is afraid to go downstairs because she doesn't want to be approached by Kirsten. They talk about how emotional Kirsten was after being nominated and mention that she had to be alone to check her emotions.
As Reilly talked to some of the houseguests about what her plan was for this week's Nomination Ceremony, there were some chats between other houseguests about who they are feeling good with. Some groups have solidified their numbers, some are still working on figuring out who they can bring in. Meanwhile, Kirsten is feeling like she is sitting on an island and also the current target inside the Big Brother 25 house. She still has a shot to save herself in this week's Power of Veto, unless of course, there is another twist waiting in the wind. Make sure you check in tomorrow to find out what happens on the overnight feeds and get your Power of Veto spoilers!
You can watch all of these Big Brother events using the archives Flashback, the DVR-like feature of this year's Live Feeds which means it's always live, even when you missed it! Sign-up now and get the free trial to watch it all live & uncensored.

Gallery: Live Feeds Highlights
Download our Big Brother App and join us on Facebook & Twitter for more!