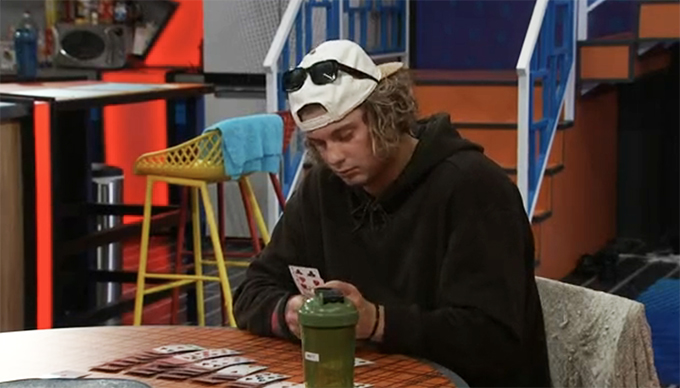 In typical Final 3 fashion, the Big Brother 25 Live Feeds were nearly a wash Monday as they were up and down for who knows what reason. And when they were up, the Final 3 is proving to be one of the more low-key trios to make it to this point in the game.
One thing to note, though, is that Jag has shifted back to Matt and is now all about "making history" with him and making sure he reminds Matt that cutting Bowie Jane is how they do that. Whether or not Jag would do the same is still unclear. But Jag's demeanor to Bowie has definitely changed. One thing about Jag is he's the easiest houseguest to read this season – and maybe ever.
Try Live Feeds 1 Month Free! Code: BIGBROTHER25 Sign-up now!
Don't forget to sign up for the Big Brother Live Feeds right now so you don't miss anything else this season. Anything you want to watch from our Highlights report is always available using the rewind feature to pick any day, time, and camera to watch it again. Enjoy!
Catch up on Sunday's Feed Highlights Report before moving on to Monday's events.
Big Brother 25 Live Feed Highlights – Monday, November 6, 2023:
9:23 AM BBT – Feeds cut to Adoptable Animals after an extended WBRB. All the houseguests were fast asleep when they switched.

9:30 AM BBT – Feeds are down.

2:05 PM BBT – Feeds finally return. There's no indication the second part of the Final HOH competition took place. Sounds like they might have filmed the memory lane/Final 3 dinner stuff.

2:07 PM BBT – Matt asks Jag if he thinks the second part will be today. Jag says probably not because then there would be nothing to do tomorrow.

2:10 PM BBT – Feeds have cut again.

2:16 PM BBT – Feeds are back again. Jag is talking to Matt like he's been talking to Bowie (because Matt won Part 1). Jag tells Matt tomorrow he just has to go out there and beat Bowie and they're golden. Jag says "we need to beat Bowie. We did it yesterday." Jag says and if he can't beat her for round 2, then Matt hast has to beat her in Round 3.

3:34 PM BBT – Jag asks Matt who he's most excited to see. He says his mom, dad and sister. And then obviously Reilly.

3:35 PM BBT – Jag says that he and Matt about to make history.

3:36 PM BBT – Matt says Jag wins Part 2 and then they can just have fun with Part 3 because they make it to Final 2 no matter what. Jag says he doesn't care who wins.

3:38 PM BBT – Jag and Matt confirm that they decided among the two of them to let Matt win Part 1. Bowie dropped first, so Jag let Matt have the win. They decided Jag would probably have a better shot at beating Bowie in Part 2.

4:58 PM BBT – Matt, Jag and Bowie are doing their favorite thing – rehashing every single thing about the season.

6:10 PM BBT – The Final 3 are quiet. Jag is napping, Bowie Jane is cleaning and Matt is playing cards with himself.

7:04 PM BBT – They're attempting to cook dinner without Felicia.

8:10 PM BBT Bowie Jane and Jag are playing bumper pool while Matt watches.

9:00 PM BBT – Trio hanging out upstairs in the Lounge and going back over the season.

9:30 PM BBT – Matt is going over all the quirks or the season's HGs.

10:00 PM BBT – HGs continue to lounge and now discussing food.

10:30 PM BBT – Bowie getting ready for bed. Matt says he's really tired too and heads to bed.

10:50 PM BBT – Bowie and Jag talking about what the next competition could be. Bowie says she will try hard to win R2. Jag says he thinks he could take Matt (trying to get her to not go for R2).

10:55 PM BBT – Jag says if he can't beat Matt tomorrow then it's game over.

11:00 PM BBT – Lights out for the HGs.
Surprisingly we did not get the Final HOH Round 2 competition on Monday. The Feeds were down for hours but nothing of notice took place. So now we continue to wait and I'd expect the competition to arrive on Tuesday but we shall see!
You can watch all of these Big Brother events using the archives Flashback, the DVR-like feature of this year's Live Feeds which means it's always live, even when you missed it! Sign-up now and get the free trial to watch it all live & uncensored.

Gallery: Live Feeds Highlights
Download our Big Brother App, join us on Facebook & Twitter, and get our Email Updates for more!