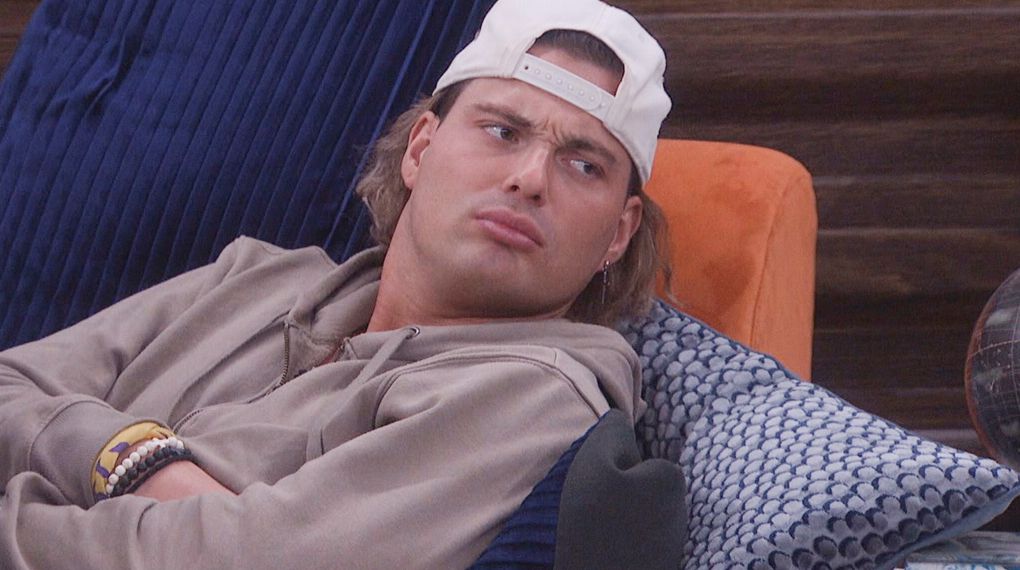 Update: From talks this afternoon on the Feeds it now sounds like Jag is preparing to evict Matt at F4 instead of waiting for F3 after all. Wow! I didn't think Jag had it in him from all his hesitations over the past two days. Wait, wait. Jag has changed his mind again…
One vote is all it will take tonight on Big Brother 25 as the remaining four Houseguests gather in the living room and send out another to join the Jury. The Head of Household has been set and the Veto competition has played out. That leaves us with just two options and one of them will soon be out the door.
Bowie Jane is safe as the HOH and Jag Bains won his seventh Veto this week. With those two options gone we'll see either Felicia Cannon or Matt Klotz become the sixth Juror on BB25. So who will it be?
Should Jag Keep Matt or Evict Him?:
Jag has been debating this for the past few days and I imagine he's really been thinking about this decision point for weeks now. The hours are running out though and tonight he'll have to get off the fence and make it official: keep or cut Matt?
The "smart" move may be to cut Matt because Jag knows, in theory, he should have an easier time beating Felicia than he would Matt in the three-round HOH comp coming up next. That matters because Jag says his goal is getting to F2 against Bowie Jane.
So this isn't a choice of going to the end with Matt or not for Jag to settle. It's about should Jag cut Matt now or a few days later. Right now it's a guaranteed decision while who knows if he'll for sure win two more comps to have this choice again.
But what about if he keeps Matt and Matt wins the Final HOH? I think Matt would keep Jag over Bowie Jane for F2. If that's correct, then Jag should keep Matt instead of Felicia because then everyone would likely bring Jag to the end.
Who Will Be Voted Out – Week 14 of Big Brother 25?
If Jag had more quickly settled on a decision to evict Matt then I'd believe he was ready to do it. Instead Jag was still up late Saturday night talking with BJ about whether or not he should do it. Too much waffling.
With that level of uncertainty I expect Jag will give in and evict Felicia, keeping Matt in their Final 3 as long planned.
Votes to evict Felicia: Jag
Votes to evict Matt: none
Update: As mentioned above, it now sounds like Jag is ready to evict Matt. He talked with Bowie and claimed it was time for him to make a move that looks after himself since he feels that's what Matt has been doing for too long. Wow!
Update 2: Now Jag is back to saying he'll keep Matt. Whew, that was close for Matt!
Vote For Your Eviction Prediction:
Who do you think will be evicted from Big Brother 25 tonight? Cast your vote in our poll below!
Join us back here tonight at 10PM ET for our live coverage and results of the next vote as we only a few days from the season finale! Download the Big Brother App and join us on Facebook & Twitter for more BB all season and off-season!