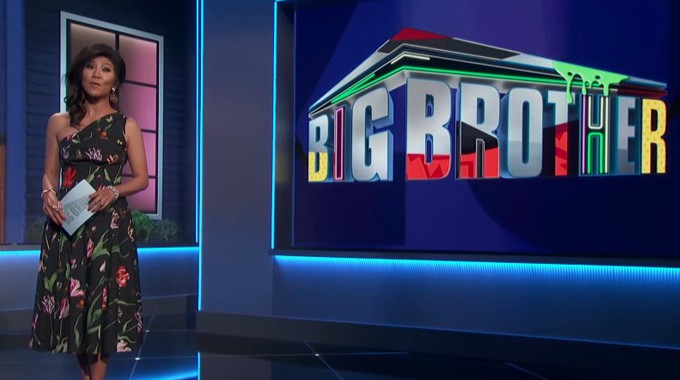 Settle in for the first night of 100 days of Big Brother when the Houseguests grab their bags, their key, and leave their dignity at the door. Welcome to Big Brother 25!
Sixteen new Houseguests are set to battle it out for $750,000 starting tonight at 8/7c and we'll be here live recapping the whole thing. Host Julie Chen Moonves returns to Studio 18 to guide us through the season and the Big Brother Multiverse with more details expected through the premiere along with hopefully answered questions on that whole Pink vs Blue potential twist to the sides of the house.
Alert! CBS just announced a surprise 17th Houseguest would be dropping into the house tonight thanks to the Big Brother Multiverse twist. Hmm…
Meet Your Houseguests >> Big Brother 25 Cast
Be sure to watch tonight's premiere! Stream Big Brother live online with Paramount+ and watch Live Feeds starting tonight after the west coast broadcast. Yes, we're getting first-night Feeds! Get the Free Trial now! Use Promo Code BIGBROTHER25 to get 1-Month FREE!
CBS is running a 90-minute special for the premiere so we'll be getting a lot of content along with the usual video clip introductions of all the HGs. I imagine we'll have the first Big Brother spoilers tonight too with the inaugural HOH competition to set us up for nomination planning ahead of the ceremony expected on Friday. Might as well get this game running at full speed from the start and we'll be here ready to see what happens next.
Gallery: Tour The BB25 House
We're meeting the HGs in two groups. First eight include Blue Kim, Red Utley, Jared Fields, Mecole Hayes, Matt Klotz, Izzy Gleicher, Jag Bains, and Reilly Smedley. Julie tells them to sit tight while the next eight are about to be brought out.
Second eight HGs revealed include Luke Valentine, Felicia Cannon, Hisam Goueli, Cory Wurtenberger, Bowie Jane, America Lopez, Cameron Hardin, and Kirsten Elwin.
Before they were allowed to enter the game, Julie reveals to the HGs the Multiverse twist with the former 3 HGs who snuck into the game and zapped it with the "Time Laser" which unleased the four new alternate worlds within the season: Scary-verse, Comic-verse, Scramble-verse, and Humili-verse.
Group 1: Felicia, Red, America, and Matt
Group 2: Cory, Blue, Jared, and Izzy
Group 3: Kirsten, Luke, Bowie Jane, Jag
Group 4: Hisam, Cameron, Mecole, Reilly
Julie explains each group member has to go to the backyard and pick one of the four separate competitions for tonight's first round of battles. "But first," the Scrambleverse is about to mix things up for the HGs.
Instead of this being an HOH comp, it's a nomination comp. Last HG in each comp to finish will be nominated for eviction. So they're setting the noms before even getting the first HOH!
"Puzzling Headlines" is the first comp. Bowie, Jared, America, and Mecole are battling in this one. They have to take a puzzle apart and put it back in the box. So everything is backwards. America finishes first, so she's safe. Bowie is second. Either Jared or Mecole will be nominated… Jared! Mecole gets third which sends Jared to the Block.
The second comp, "Kicking Butt", has the four HGs on a sort of rowing machine with a giant boot behind them. Row to make it kick you in the butt and the goal is 100 kicks. Mercy. Matt, then Hisam, then Blue. Kirsten is the last and automatically becomes nominated.
"Goo-Pocalypse" is the third comp and requires HGs to assemble their goo-bomb and trigger an explosion. Jag, then Izzy, then Cameron. Last person is Felicia and she becomes nominated as well.
Final comp is "Hold On Fright has Reilly, Luke, Cory, and Red holding on the grips while tethered "hands" try to drag them away into the darkness. First HG to be dragged away will become the 4th nominee and will vanish from the game for an unknown period of time. Ouch. It's Cory! He's gone, for now.
Oh wait! Is that our 17th HG? Someone is inside the House right now with her back to the camera. Hmmm… let's find out. Yes! Sure enough, Cirie Fields, the Survivor legend, is the 17th HG of Big Brother 25. She's also Jared's mom. Maybe she'll be able to help quietly save her son from being a first-week nomination?
Feeds start TONIGHT! Sign-up now for the Free Trial and be ready to watch. Sunday night will deliver the second episode of BB25 at 8/7c and then for awhile it'll be Sundays & Wednesdays at 8/7c and Thursdays at 9/8c Grab your Free Trial now and be ready! Use Promo Code BIGBROTHER25 to get 1-Month FREE!


Want even more Big Brother 25 spoilers, updates, and news? Download our Big Brother App, join us on Facebook & Twitter, and get our Email Updates for constant coverage all summer.