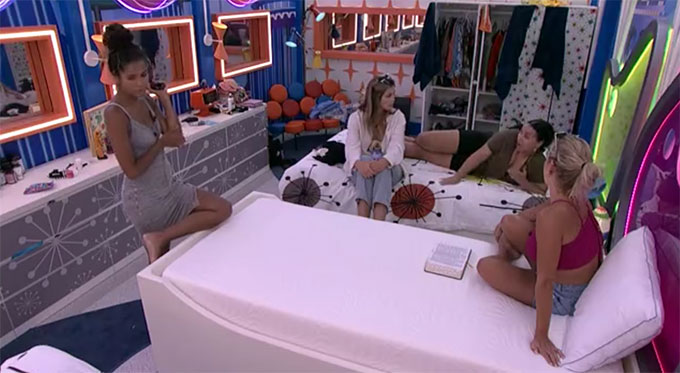 When Paloma unexpectedly left the Big Brother 24 house, all the alliances she formed started to shift. And then some more deals were made and other alliances faltered or formed. So now that we are well into BB24 Week 2, let's take a fresh look at the alliances and deals in the house.
The Girls Girls alliance alliance hasn't totally crumbled since Paloma's departure and Brittany's slip-up, but it has changed to "Six in the City" with Alyssa, Ameerah, Jasmine, Indy and Brittany remaining. But don't expect it to be as strong as it once was. Most of them are more into their larger alliance, and Alyssa has already started revealing all their secrets to Kyle.
The 6-person alliance post-Paloma stands and is now know as "P's Posse" as in Paloma's Posse. Ameerah replaced Paloma with Nicole so that group is now Alyssa, Ameerah, Nicole, Monte, Kyle and Michael. But Nicole right away told her ride-or-die Daniel about that alliance. But that doesn't seem to matter much because there's now a majority side of the house that includes Daniel and will likely overrule P's Posse. That unnamed group is Jasmine, Ameerah, Alyssa, Nicole, Daniel, Indy, Brittany and Michael.
The guys alliance is still a thing, but with Pooch as the target this week and several of the guys in other alliances, it might not be very powerful. Known as "The Oasis," it currently consists of Pooch, Turner, Kyle, Daniel, Monte and Joseph. And within that group is a threesome of Monte, Turner and Daniel, know as "Inception."
As far as duos and deals, Nicole and Daniel's Rogue Rats remains strong. Turner and Pooch still have their final 2, as does Pooch and Kyle with their "Blue Eyed Bash Boys." Kyle and Monte also have a deal, as do Kyle and Michael. Jasmine and Ameerha have their final 2 thing still going, and Michael and Brittany have expressed their desires to go far in the game together as well.
So as you can see, that leaves Taylor still on the outside with no alliances or deals. And Terrance only has one kind of unofficial thing going with Daniel and Nicole.
There are a lot of groups and deals inside the Big Brother 24 house, so don't expect many of these to last much longer as their possible targets start to dwindle.
As always, thanks goes out to @89razorskate20 on Twitter for helping keep all the alliances and deals in order for everyone.
twitter-tweet">
🚨7-17-22 #BB24 Alliances & Deals Update!🚨

🔸How The House Stands After Paloma's Exit
🔸Jasmine Creates An Alliance & A Majority Side Of The House Has Formed pic.twitter.com/uu3pPLL40X

— BigBrotherJunkie👁 #BB24 (@89razorskate20) July 17, 2022