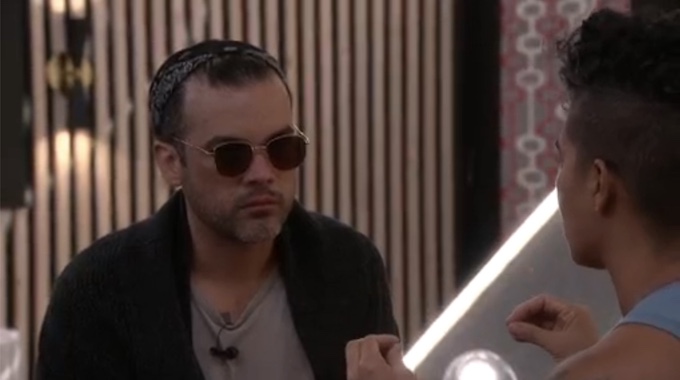 It is Veto Ceremony Day inside the Big Brother house! We found out who won the first Power of Veto Competition of Big Brother 24 on Saturday and a lot has taken place inside the house since then. There are a couple of ways that this week's Veto Ceremony could go so read on to find out what the likely scenario is.
As we know, Daniel nominated Terrance and Michael this week on Big Brother 24 and then Michael went on to win the Power of Veto Competition. Daniel didn't really have a plan prior to the Veto Comp taking place so he has been racking his brain the last couple of days trying to put one together.
Paloma has created enough drama in the Big Brother house and currently has the entire house targeting Taylor. However, Daniel has mentioned the possibility of putting Indy on the block instead. Daniel is mostly worried about how America is going to perceive him putting two Black houseguests on the block week one.
Monte has told Daniel that he doesn't see him renoming Taylor as racially motivated and has added that he thinks that there won't be any issues around it. He keeps reminding Daniel that everyone is going to see the lies that Taylor told. What Daniel and the rest of the houseguests don't realize is that Taylor hasn't lied about anything, but Paloma has been pouring gasoline on the fire.
Then you add in the fact that Paloma is going around telling HGs that if she wins, she will use the money to invest in all their futures outside of the house. This is definitely something that could be seen as a bribe, but will Big Brother say anything to her about it? There are people in the house that are feeling very uneasy about the whole Paloma and Taylor situation. Some are worried that they might have it all wrong and that it might be being blown out of proportion. Will that be enough to stop Daniel from putting Taylor on the block?
As of right now, Daniel thinks that his best course of action is to put Taylor on the block in Michael's place at today's Veto Ceremony. He is worried that if he doesn't put Taylor up that he will be the target next week. The only that might be able to save Taylor at this point in the game is if the Backstage Twist somehow sends one of the Backstage Crew Members home instead of Taylor.
What are you hoping to see happen as we move into this week's Eviction Night?
Download our Big Brother App, join us on Facebook & Twitter, and get our Email Updates for more!