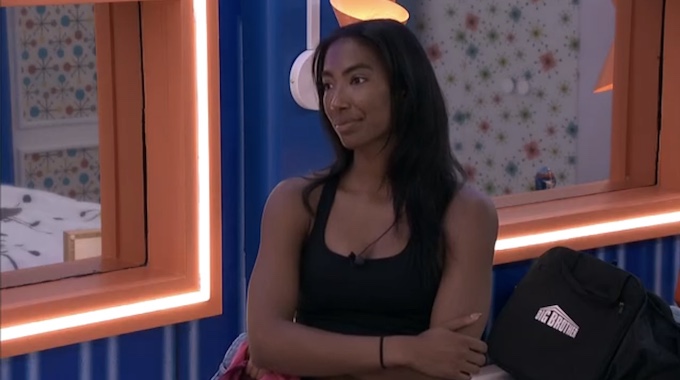 What a start to the Big Brother 24 season! The drama in the Big Brother house is already starting to form and we are only five days into the season. If you have missed any of the drama that has unfolded between Paloma and Taylor on Big Brother, read on to get all the details right here!
This all started last night when Monte went to Paloma to let her know that Taylor told him Paloma was looking to target him and some of the other strong guys in the house. Paloma instantly went into defensive mode and started to tell everyone in the house that Taylor was lying and that she never said anything like that.
However, that's not completely true because late Thursday night (timestamp is for Friday, 7/8 at 1:47 AM BBT on cams one and two) Paloma, Jasmine, Brittany, and Taylor were all talking about the guys and Paloma and Jasmine mentioned how they all seem to be really close. Taylor says that they all seem to be working together. When asked if Taylor knows anything specific, she denies knowing anything. Jasmine asks what kind of vibe she is getting from them and Taylor tells them that she thinks that Joseph isn't as close to the rest of them, but she does suspect that some of them are really close.
Fast forward to last night (11:24 PM BBT on cams one and two), we see Monte telling Paloma that Taylor told him earlier that day (a conversation that seems to have alluded the feeds) that Paloma was looking to target Monte and the other stronger guys in the house. Paloma denies saying this to Taylor and that she never said anything about going after him, Kyle, or anyone else. She then runs around the house telling everyone who will listen that Taylor is telling lies about her.
At 11:42 PM BBT on cams one and two, Paloma was telling Indy and Alyssa about the "lie" that Taylor made up about her and told Monte (she kept calling him Terrance though). She was able to get Alyssa and Indy both on board with voting her out this week if she is able to convince Daniel to put Taylor on the block at this week's Veto Ceremony. After they finished talking about Taylor, they cleared out the bathroom and headed out to the yard.
As the three girls were talking outside, Taylor was walking inside. A moment later, the feeds cut to Taylor in the bathroom crying by herself. There had been rumors that Taylor overheard the conversation between the three girls in the bathroom. However, the feeds flashed to Taylor outside on the hammock when Paloma and Alyssa were finishing the convo (11:45 PM BBT cam one).
As of right now, it seems that Daniel is planning to put Taylor on the block in Michael's place at the Veto Ceremony. However, this situation is still unfolding on the Big Brother Live Feeds. There are some people in the house that are feeling uneasy about the whole situation and wonder if this has been blown out of proportion. Stay tuned to find out what happens between now and tomorrow's Veto Ceremony when I fill you in on the updated plan tomorrow!
In the meantime, what do you hope to see happen at tomorrow's Veto Ceremony?
Download our Big Brother App, join us on Facebook & Twitter, and get our Email Updates for more!