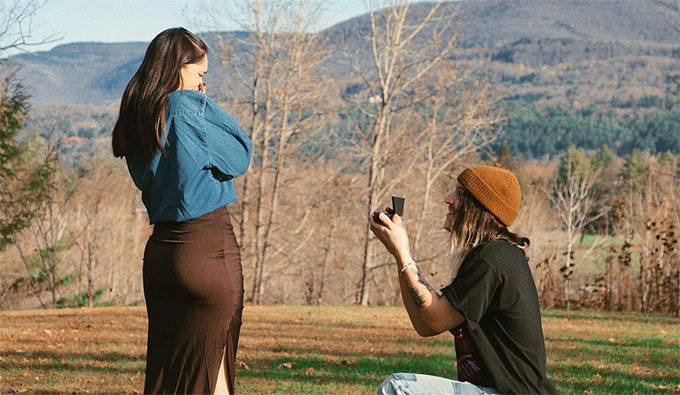 Big Brother 24.5 continues to give us near-daily updates on the lives of the houseguests outside of the house. This week we have a few updates to share with you. So let's get to it.
Turner Gets Engaged
BB24 third-place finisher Turner often talked about his girlfriend Megan on the Live Feeds. And her social media presence was pretty noticeable during the season as well, so a lot of fans felt like she was really a part of the season. Two days ago, Turner revealed on Instagram popped the question to Megan and "she said yes by the way," he wrote. Turner shared a photo of the big question, and some of his fellow houseguest and past BB alumni chimed in.
"F**K YES BROTHER I AM JUMPING THROUGH THE ROUGH RN!!" Joseph wrote. "MEGAN BELMONTE TURNER!"
Taylor followed up with a "WOOOO CONGRATULATIONS." Michael sent a congratulations reply also. "So happy for you two!!" he wrote.
BB23's Derek X and Tiffany, and several other alumni, also chimed in to offer their congratulations. Oh, and even Julie Chen Moonves offered up a few emojis in response.
No wedding date or other details have been shared, but we'll keep you posted when we find out. Congratulations to Turner and Megan!
Indy calls Terrance Sexist And 'Disgusting'
And in less celebratory news, Big Brother 24's Indy has spoken out against fellow houseguest Terrance, saying that the way he treated women inside the house was so disgusting that she had to go to production about it.
Indy went live on Instagram a few days ago and revealed that Terrance's alleged displays of sexism went beyond what might have been seen on the Live Feeds.
"He did not wear freaking underwear in the house," she said. "He is disgusting." She continued by saying that he makes her what to throw up and that she's blocked him on all of her social media accounts.
Indy then went to Twitter to explain that this behavior in not OK in any form.
"Whatever I shared on my IG, it's not about #BB24 , it's not about a reality show," she said. "It's about what every single woman has to go throw on this planet, and no one cares! It's about all the fights that we have that we shouldn't. When I said my cause is bigger that's what I mean."
Terrance allegedly responded to Indy in a series of since-delated Tweets, but based on alleged screenshots of the Tweets, Terrance has threatened to take legal action.
"I laughed off the situation but,[sic] after looking deeper at what was said.[sic] I do believe legal action is necessary," the alleged Tweet read. "I have a copy of both videos and both will be used in this matter. I'm glad that both production in the house was named along with production in jury."
Taylor and Joseph Are On a Cruise
When Taylor won America's Favorite Houseguest, she also won a cruise for her and another person. And that plus one is of course Joseph, and the pair have already set sail on the free cruise. We don't have the exact details of the cruise, because well, they deserve their privacy.