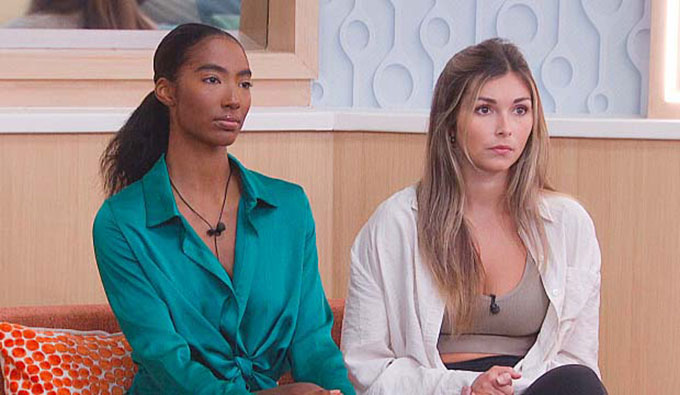 It seems Big Brother 24 winner and fan favorite Taylor Hale is ready to forgive and forget, but some of the Big Brother fanbase, not so much.
Taylor on Thursday posted a screenshot on her Instagram story of her FaceTiming with fellow houseguest Alyssa Snider with a caption reading "Surprise. All the love for @alyssasnida (her IG handle)."
Elsewhere, on Twitter, Taylor tweeted "Taylyssa forever" among the #Jaylor community. And then one fan asked "So she apologized??" Taylor replied with "A beautiful, honest, heartfelt apology that was worthy of acceptance."
That same fan replied to that with "idk sis. She was so nasty on feeds for no reason. Very two-faced." Taylor responded with "She called that out and owned it. She didn't hide the ugly and I appreciate her owning her shit."
Some fans aren't ready to give Alyssa the same grace.
"Bless Taylor, but Alyssa gets no country with me," one fan Tweeted. "I saw the glee she took in being mean spirited specifically to Taylor. MORE THAN ONCE. So, no, I won't support anything Alyssa does."
Other fans were less understanding. One said "unfollowing" and there are a string of several tweets since deleted calling out Taylor for forgiving Alyssa despite all the things she said about her in the Big Brother 24 house.
For the most part, though, fans seem to be supportive of Taylor's decision to forgive Alyssa, even if they have no plans to give Alyssa any sort of break themselves.
"You're not a true Taylor fan if you turned on her because she forgives Alyssa," one fan tweeted.
Others are actually very supportive of both Taylor and Alyssa.
"OK so now that Taylor and Alyssa have put the past behind them and reconciled, I hope the fans can as well!" one "Taylyssa fan tweented. "Let these women both thrive however they choose."
And now for some editorialization. This tends to happen every season. Big Brother houseguests butt heads during the game, but make up after the season. This happens for a lot of reasons. For some, forgiveness is a way to heal yourself. And sometimes, if you're going to be rolling in the same circles, like say the Big Brother family, it's probably best to try to get on good terms. Sure we all would love people who said and did horrible things to be held accountable, but it's never your place to decide how another person handles their own situation.
What do you think of Taylor and Alyssa patching things up?