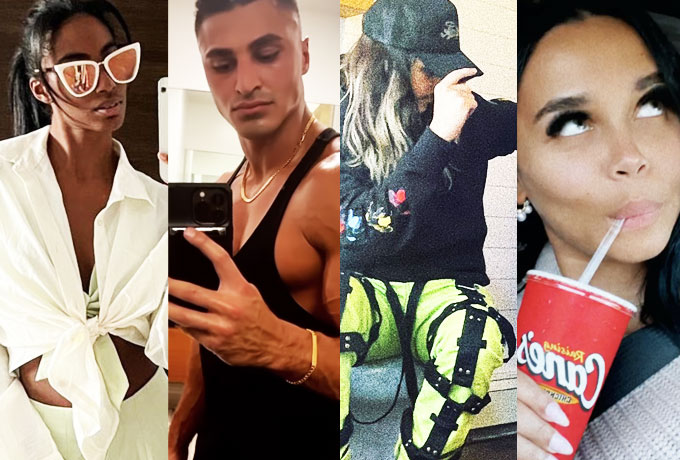 It looks like Big Brother 24.5 has finally concluded as Taylor and Joseph have parted ways (FOR NOW).
After the BB24 finale, a large number of the houseguests were hanging out in Los Angeles at Todrick Hall's house, but one by one, they started heading home. And Taylor and Joseph were the last two to leave Todrick's house and head home, Taylor to Michigan and Joseph to Florida. But Jaylor fans don't worry, the pair are only going to be apart for a week.
"24.5 ain't over – We're just taking a one week hiatus," Taylor tweeted to confirm. "Sleep now because what we've got planned will have y'all up and the least rested you've ever been for the rest of the month."
Interesting. We do know that Taylor and Joseph will be reunited, along with Turner, for their first Canada appearance a week from tomorrow. The Late Night Crew will be appearing at Midway Music Hall in Edmonton, AB, Saturday, Oct. 22 at 8 PM. Interesting fact about this: It was originally Taylor, Joseph and Monte, but for reasons unknown to us, Turner has replaced Monte at this appearance. Monte has seemingly gotten back to his real-world life and doesn't have any BB-related events planned as of now.
So now that Taylor and Joseph are back at their respective homes, they appear to be getting caught up on family, friends and some sleep. Taylor did meet up with BB23 fan favorite Tiffany, though, for dinner. Check out a photo of that from Taylor's Instagram below.
What is everyone else up to? Let's take a look at some of the ones keeping us updated on social media.
Jasmine 
Big Brother fans were disappointed in Jasmine when she became one of the main players in the Taylor hate earlier in the season, but she's since turned over a new leaf as far as BB fans are concerned. After coming to Twitter, Jasmine even tweeted the following: "Was far from perfect during my season, I've apologized and I'm healing BUT what I WON'T do is allow anyone to come for [Taylor] as if she didn't win fair and square and is not only the BEST representation of our season but also earned every bit of that 750K. #isaidwhatisaid"
Turner
As already mentioned, Turner will be heading to Canada along with Taylor and Joseph, but in the meantime, he's back at his store, The Rug Shack, and is getting ready to launch his own clothing brand Oct. 21. He says you'll be able to buy his rugs, custom clothing, tables, accessories and more. He's also staying busy on social media and being a pretty good sport on Twitter. He recently tweeted that "Not me JUST finding out from the BB24 Superlatives that ya'll COULDN'T STAND me pre-season." A BB fan tweeted back and explained how that all went down. "We only loved you in the middle," they explained. "We hated you in the beginning, and then loved you (a lot) during Muffingate and the Leftovers… But then when you turned on the Leftovers we hated you again." Yep, that's also how I remember it.
Michael 
Michael has been pretty low-key since the end of the season. He seems to be really trying to get back to his regular life. All of his social media posts have been about outings or game nights with his fiancé Hayden and their cats.
Brittany
After leaving the Big Brother 24 bubble, Brittany reunited with her husband and headed home right away. She's since spent time decompressing and has gotten back to work. She has one-on-one virtual hypnosis sessions available through her Instagram linktree.
Kyle
After all the controversy surrounding Kyle this season, it seemed like he was ready to jump back into the TikTok world full force. But since leaving the BB24 world, he's only posted a couple of TikToks, the last on Oct. 3. And that post was about everyone commenting "10 seconds" on his posts. That TikTok currently has 373.7K views.
Everyone else has been relatively quiet on social media, but we will keep up posted on any updates.
Big Brother 24 Post-Season Photos
Source: Instagram