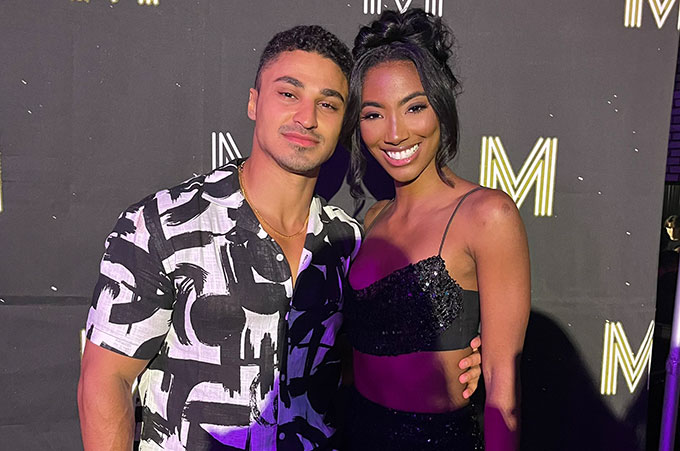 Big Brother 24 houseguests Taylor, Joseph and Turner headed to Canada this past week for a couple of fan appearances, rebooting that BB24.5 momentum that Taylor promised was coming.
The mini Canadian tour featuring "The Late Night Crew" consisted of two stops, one at the Midway Music Hall in Edmonton and another at The Back Alley in Calgary. And thanks to Big Brother superfan Carey (@thecareywo on Twitter) and another fan (@nicguy101) we have some exclusive photos from their parties, along with some others from Taylor, Joseph and Turner's Instagrams, to share with you.
Carey met up with the Big Brother 24 trio in Edmonton and had a blast meeting the BB24 winner/fan favorite Taylor along with season standouts Joseph and Turner. Carey even brought the HGs each a gift bag. Joseph was particularly grateful for the gesture and "then tied his gift to his belt loop and wore it all night," Carey said.
"Honestly they were more amazing in person than I can ever describe," Carey told us. "The energy in the room was joyful and electric at the same time. Each one of them were sincere, kind and humble. It was a top ten life moment I'll never be able to duplicate."
Sounds and looks like everyone had a blast meeting Taylor, Joseph and Turner in Canada.
Originally Monte was scheduled to make the trip north with Taylor and Joseph, but for reasons unknown, Turner replaced Monte. Fans on Twitter have speculated that Monte bailed on the trip after learning he wasn't exactly that popular with fans near the end of the season. But that's purely speculation.
Check out our exclusive photos below. And thanks once again goes out to Carey and @nicguy101 for sharing their memories with us.
Big Brother 24's Taylor, Joseph and Canada Visit Canada (Exclusive Photos)