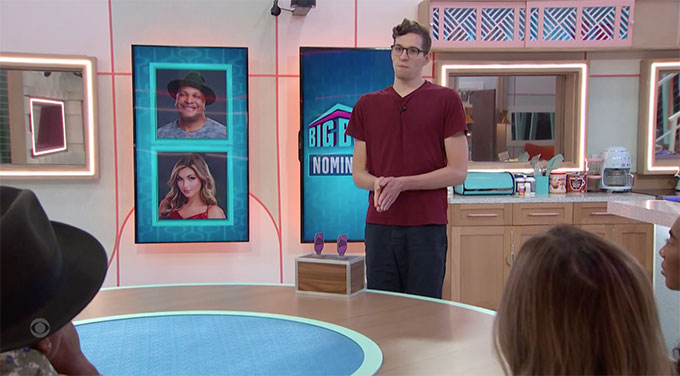 It's Week 9 in the Big Brother 24 house, and the popularity polls are still swaying with the wind. Fans are really holding players accountable this season when it comes to their approval ratings, so to speak. If they say or do something they don't like, the polls show  that. Here we take a look at the various polls around the Internet and social media for after Week 8.
So let's take a look at how our own poll fared this past week. And keep in mind our results are from a poll posted last Tuesday and closed this Monday.
Big Brother Network Popularity Poll Results After Week 8
1 Michael
2 Turner
3 Taylor
4 Kyle
5 Monte
6 Joseph
7 Terrance
8 Alyssa
9 Brittany
10 Indy
11 Pooch
12 Ameerah
13 Daniel
14 Nicole
15 Jasmine
16 Paloma
After one week in the top spot, Turner drops to second with Michael reclaiming that first spot. Michael had held onto that top spot for most of the season until after week 6 when Turner's popularity peaked. But then Dyre Fest happened and Turner went with the less popular side of The Leftovers… His drop wasn't drastic, but it was enough for Michael to sneak back into the top spot.
I still have no idea how Kyle is ranked 4th at this point. I guess there are a number of people feeling like he was unfairly targeted by Michael and Brittany. I'm also assuming those people don't watch the Live Feeds. (Note: Our poll is usually a mixture of Twitter, Facebook and non-Feeds watcher who seek out updates on the Internet).
On Twitter, one of the most popular Live Feeds updates accounts is Big Brother Daily (@bb_updates). They have a poll in their website, and here's what the latest results tell us (this is a heavy reflection of Twitter's opinion):
1 Joseph
2 Taylor
3 Michael
4 Monte
5 Alyssa
6 Turner
7 Indy
8 Brittany
9 Jasmine
10 Ameerah
11 Terrance
12 Pooch
13 Kyle
14 Nicole
15 Paloma
16 Daniel
Turner's popularity here hasn't been able to recover from that Dyre Fest week. I do find it extra interesting that Joseph is above Taylor now. Jospeh was very loved by Twitter, but that's still pretty rare for an evicted houseguest to take the top spot from someone as popular as Taylor. Daniel still seems to be the most hated HG this season overall.
On Twitter, the account Big Brother Junkie (@89Razorskate20) does weekly popularity polls by likes and retweets and this week their top spot remains as Taylor. Second place goes to Michael. Third is Alyssa, oddly enough. Monte drops to fourth after being in second place last week. Twitter seems to be annoyed with how Monte has been talking about Taylor this past week. Terrance and Brittany are fighting for the last-place spot this week.
Another well-know Big Brother 24 poll is the one over at JokersUpdates. Their poll has been all over the place this season as well. Currently in the No. 1 spot is Joseph. He's followed by Turner, Taylor and Monte.  Seems Jokers isn't as upset with Turner as other polls. At the very bottom are Daniel, Nicole and Jasmine (which hasn't changed much in weeks). Brittany is currently the lowest rank player still in the game.
Now it's time to let us know who you love or don't love in Week 9!
Which Big Brother 24 houseguest do you love the most? Let us know in our poll below!