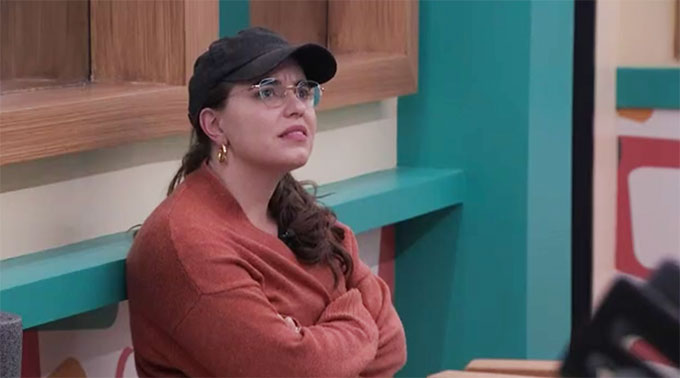 The Big Brother 24 houseguests had slow day in the house, but come evening things got more lively and messy as Brittany continued to blow up her own game and make herself a target. Meanwhile, Monte gave Terrance some false hope that he could actually stay in the game this week. But is that really possible? Read on to find out what the plan this week and next seem to be at this point.
If you've got the Live Feeds (Free Trial) then you can watch all of these moments with the Flashback feature to go back and watch those important conversations or funny scenes you may have missed.
Big Brother 24 Live Feed Highlights – Tuesday, September 6, 2022:
9:40 AM BBT – HGs are waking up.

10:45 AM BBT – Alyssa tells Brittany that they should make their F2 official with a name. Suggests the name Full Circle because they were supposed to go home Week 1, got separated in the game, but then found their way back to each other. Brittany says she loves it.

10:47 AM BBT – Brittany confirms with Alyssa that she is staying this week, but Monte and Turner had conversations about keeping Terrance. Brittany tells Alyssa to be careful about what she says to Turner because he slips up a lot.

10:50 AM BBT – Alyssa tells Brittany that she doesn't think that Turner would go after her, but Brittany tells her that she wouldn't be so sure he wouldn't based on conversations yesterday. Alyssa is surprised. Brittany says that they have to win but adds that she thinks they (Monte/Turner) would take a shot at Michael is they had a chance to.

11:30 AM BBT – Terrance tells Monte that the only person that is blocking him from staying is Taylor. He says that she is throwing a temper tantrum about him voting out Joseph. Monte says that when he talked to Taylor, it wasn't Joseph it was that Terrance tried to flip the house on her last week. Terrance says that he apologized to her for that.

12:35 PM BBT – Alyssa is making something to eat while Turner sits in the kitchen. Michael is upstairs napping.

1:35 PM BBT – Brittany and Terrance are chatting in the car room, while Turner, Michael, Alyssa, and Monte play Chinese Checkers in the kitchen.

2:35 PM BBT – Taylor, Monte, and Michael are talking about how they think they will feel about some of the pre-jury houseguests after watching the season back. Taylor says that she thinks she is going to be really hurt by the things Daniel said, but thinks that she and Paloma will be cool. Michael says that Jasmine isn't going to be his biggest fan because of all the ranting he did about her birthday.

3:00 PM BBT – Alyssa, Terrance, Micheael, and Brittany are still chatting in the car room. Monte is stretching in the gym room while thanking all his friends and family for everything they have done for him.

5:48 PM BBT – Terrance pitching to Taylor. He says that the two of them need to team up with Monte, and then they can go after Michael next week. So that would be the three of them against Turner and Brittany. He says they'd have an easy path to the end that way.

6:17 PM BBT – Terrance is spilling some stuff to Taylor. He tells her about the plan the Dyre Fest group made when they came back in the house. Terrance says Turner wins HOH and then he says they need to bring in Monte. So he lets her know that Monte was in on that "After Party" group.

6:20 PM BBT – Terrance says Monte wanted to keep their distance so he could still act like he was with the Big Brochella group.

6:21 PM BBT – Terrance says but then things went haywire with Kyle, everything was messed up. Taylor says the "After Party Featuring Monte" was over. Terrance says pretty much. Terrance says that Taylor and Brittany were just Turner's pawns and Michael was the backdoor target.

6:25 PM BBT – Terrance says to Taylor that they have a real opportunity to work together. He says they could team up with Monte and make the road to the end so much easier. Terrance says they put Michael and Turner up next week, and if Michael wins veto, but Brittany up. And they vote her out to weaken Michael. Taylor says that's definitely a path.

6:27 PM BBT – Terrance says he needs three votes to stay and hopes Taylor can be one of those. He says Brittany said she'd vote for him to stay, but she felt out-numbered. So if she knows the votes are adding up, Brittany could be another vote.

6:36 PM BBT – Alyssa tells Turner that Brittany is playing all sides and she's pissing her off. Alyssa says Brittany is telling everyone what they want to hear and she's over it.

6:37 PM BBT – Alyssa tells Turner that Brittany said he was pushing to send Alyssa home. Turner says that's not at all true. Turner says if he wins HOH he's going to nominate Brittany without hesitation.

6:43 PM BBT – Taylor tells Alyssa that Terrance trapped her for a while, but she confirms to Alyssa that she isn't voting to keep him. She tells Alyssa there is nothing Terrance could tell her to chance her mind.

6:44 PM BBT – Alyssa tells Taylor that she wants her to win this game and if Alyssa can win HOH they need to sit down and talk about what is best for the two of them.

7:02 PM BBT – Monte tells Alyssa that everyone wants her to stay. He says there's nothing Terrance could say to Taylor and Brittany to get them to keep him.

7:06 PM BBT – Turner and Monte tell Michael about Brittany's shenanigans. Turner tells Michael that Alyssa says Brittany made a Final 2 with her this morning. Michael says he doesn't understand what Brittany is doing. Turner says that Alyssa is pissed now and if she wins HOH she's going to put Brittany on the block.

7:08 PM BBT – Turner tells Michael that Terrance told him in their one-on-one that they have to go after Michael. Michael says and Terrance would probably tell him they need to go after Turner. And Monte says and then Terrance would put both Michael and Turner up. Monte says he doesn't think there's anything Terrance can say to anyone at this point to get them to keep him.

7:22 PM BBT – Alyssa tells Turner that Brittany came to her and asked how they can get to the end together. Then she said Brittany said Turner and Monte won't talk game to her at all. Turner says meanwhile she's talking to him all the time about stuff like making a Final 2.

7:23 PM BBT – Turner says he needs to make sure Taylor knows that Brittany was throwing her under the bus so that if Taylor wins HOH, she could target Brittany. Alyssa asks if he's going to tell Taylor if she wins HOH. Turner says he's going to tell her now.

7:32 PM BBT – Alyssa and Turner discuss their annoyances with Brittany. Turner says he thinks Brittany is now everyone's target.

7:42 PM BBT –  Terrance tells Monte that he never should have taken out Joseph and he thinks production was giving him little hints not to do it. He said he should have just listened and not gone after Joseph. He says that's one of the reasons why he's so mad at Michael and Brittany for withholding that information.

7:44 PM BBT – Monte has given Terrance hope that he can stay. Terrance says he's going to just keep acting like he knows he's going, and if Monte can confirm the votes are there to keep him then they're good to go. Monte tells Terrance he will see what he can do.

7:54 PM BBT – Turner pulls Taylor in a bedroom. He tells her that he's weary to even take this information to her because he doesn't want her to think he's lying. But he says it's true and if she wants to reveal it, it's fine because it's true. Taylor says this must be about Brittany. He says yes and tells Taylor that Brittany threw Taylor and Alyssa under the bus, and that they were trying to form a final 3 with the remaining girls.

7:56 PM BBT – Turner says that their plan would be to get out Michael, Turner than Monte. So that's when Brittany said they two of them (Brittany and Turner) should make a Final 2. Turner says Brittany said that Taylor and Alyssa think they can beat her in the end but she and Turner have an equal shot against each other. Turner laughs to Taylor and says he thinks he's played a better game than Brittany.

7:58 PM BBT – Turner says he's not trying to pin Taylor against anyone, but he just wanted to let her know this information and she can do with it whatever she wants.

7:59 PM BBT – Turner says he hopes Taylor believes what he's saying because if he was lying, he would be screwed. Taylor says she believes it, and she's picked up on a shift in Brittany's energy. She says there are some truths and some lies in what Brittany shared with Turner.

8:00 PM BBT – Taylor tells Turner that she was going to put him on the block next week, but he was not going to be her target. She asks him if she and Brittany were jus this pawns last week. He says he was indifferent last week, and was just happy that it worked out the way it did.

8:01 PM BBT – Turner says that Brittany told him that Taylor would nominate Turner and Michael next week. Taylor says that Brittany was pushing Turner and Alyssa next week.

8:02 PM BBT – Terrance is making his pitch to Brittany, but he knows it's just to make things look like he' campaign normally (as of now he thinks he could be staying).

8:06 PM BBT – Brittany tells Michael she just talked to Terrance, and it seems like he knows he's going, and he's not even trying anymore. Michael says that's not how he talked to Monte and Turner. Michael says he thinks Terrance is going to try to get everyone's votes except Brittany's. She says that's weird.

8:07 PM BBT – Turner tells Taylor that he will probably put up Brittany and Alyssa. He says Taylor will not touch the block. Taylor asks even as a backdoor and he says he says no, and swears to go. Turner asks Taylor if she thinks he would still be on the block if she's HOH. She says he might be on the block. She says she's trying to learn from her past HOH to not make too many promises.

8:08 PM BBT – Michael asks Brittany if she thinks Alyssa would still target Monte next week. Brittany says she thinks so.

8:09 PM BBT – Michael wonders what Alyssa's end-game plan is. He says she's got to come up with some kind of plan. Brittany says she thinks Alyssa might want to go to Final 2 with her. Brittany says "I just need to win next week." Michael says he would be so excited if she won.

8:10 PM BBT – Brittany says that Taylor will get screwed if she picks a Taylor, Monte, Brittany Final 3 over a Final 3 with Michael.

8:11 PM BBT – Brittany says that Taylor doesn't think that Monte and Turner are as close as they are. But Brittany says Monte and Turner have shown how close they are over and over.

8:12 PM BBT – Turner tells Taylor that Brittany would be his target next week and says that Taylor won't see the block on his HOH. He says he appreciates her telling him that he wouldn't be her target even if she puts him on the block.

8:15 PM BBT – Brittany tells Michael she doesn't want to overplay or overpromise. She tells him that Taylor pulled her aside yesterday and told Brittany that her whole game hinges on her. Brittany worries that someone said something to Taylor to make her worry. Michael fishes and asks Brittany if there was anything she said to Turner the other night that might have gotten back to Taylor. Brittany denies saying anything to him.

8:30 PM BBT – Terrance is making a pitch to Michael upstairs.

8:30 PM BBT – Turner reporting back to Monte on the latest. He says he was trying to convince Taylor that they (Turner & Monte) are not working together. Turner was also telling Taylor details that he said Brittany gave him about Taylor's targets and plans.

8:35 PM BBT – Turner goes to Michael next with details on Brittany. He tells Michael that Brittany is blowing up her game after previously being in the best spot.

9:05 PM BBT – HGs gather for a taco dinner.

9:50 PM BBT – HGs playing Chinese Checkers. Brittany in the bedroom camtalking that she's nervous she may have overplayed things and wonders if she said too much to Turner. She is concerned the guys could sway Taylor to their side, keep Terrance, and then all four would be against her and Michael where he'd win Veto and she'd go home next.

10:15 PM BBT – Taylor questions Brittany over what Terrance told her that Brittany was keeping him. Brittany says he didn't even campaign to her and just admitted defeat. Both promise each other they are voting out Terrance.

10:20 PM BBT – Brittany wonders how close Turner and Monte are but Taylor dismisses it and says they are not close. Brittany worries that they are working together. Taylor questions Brittany on why she was asking who she (Taylor) would nominate if she was HOH. Brittany says she wanted to make sure their plans were aligned.

10:25 PM BBT – Terrance talked with Turner and says Monte, Taylor, and him (Turner) will all be voting to keep Terrance. Terrance is playing to pretend like he's going.

10:45 PM BBT – Turner and Terrance are talking about life back home. Terrance explains to Turner the process of how to buy a home (fairly good explanation).

11:15 PM BBT – Monte and Terrance are already off to bed with the lights out.

11:25 PM BBT – The ladies are in the kitchen having dessert snacks and chatting about the earlier part of the season.

11:45 PM BBT – Turner and Michael have joined them as they enjoy general chatter.

12:55 AM BBT – Taylor checks in with Monte and shares that Terrance told her that Monte and Brittany are keeping him and she's the deciding vote. She also shares that Monte is still mad at her from things at the start of the season. Monte denies that. Monte says he's fine with Terrance going next.

1:05 AM BBT – Monte says that Terrance told him he had Turner and Taylor for his votes but told Taylor differently. They realize he's lying to both of them and are good with voting him out.

2:00 AM BBT – HGs are hanging out and chatting.

2:55 AM BBT – Michael is camtalking in the HOH room. He says he's still close to Brittany as his #1 but will not go down with that ship. Michael's plan is to win the Veto, which he admits isn't a very good plan.
Busy, busy night for the HGs as Brittany fanned the flames of her game while Terrance also managed to talk his way out of safety and back to being the main eviction target this week. Looks like Taylor and Monte are on to his game and ready to move along without that drama.
You can watch all of these Big Brother events using the archives Flashback, the DVR-like feature of this year's Live Feeds which means it's always live, even when you missed it! Sign-up now to get the free trial to watch it all live & uncensored.

Gallery: Live Feeds Highlights
Download our Big Brother App, join us on Facebook & Twitter, and get our Email Updates for more!