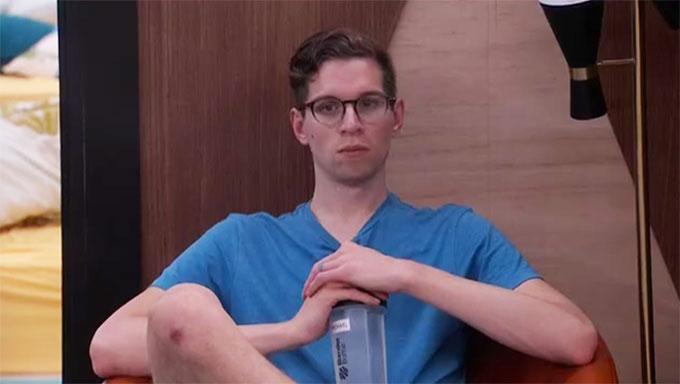 Despite a lengthy Live Feeds outage Monday night for a Labor Day celebration, the Big Brother 24 houseguests covered a lot of scenarios throughout the evening. Taylor and Monte talked about their Brittany concerns, Taylor and Brittany talked about their Michael concerns, and then the four people voting this week settled on a final decision on who need to go home Thursday night.
If you've got the Live Feeds (Free Trial) then you can watch all of these moments with the Flashback feature to go back and watch those important conversations or funny scenes you may have missed.
Big Brother 24 Live Feed Highlights – Monday, September 5, 2022:
3:02 PM BBT – Monte and Taylor discuss Brittany's Final 2 pitch to Turner. Taylor says she can read Brittany like a book. She says it makes sense why a couple days ago, Brittany was telling her that she wanted to keep Turner a little longer. Taylor says it wouldn't surprise her if Terrance is the one who had that conversation with Brittany because Terrance told Taylor that she would have a shot winning sitting next to Turner.

3:04 PM BBT – Taylor says that Terrance can get inside people's heads. She says Alyssa can't do that, so Terrance is more of a threat in that sense.

3:05 PM BBT – Monte asks if she thinks Brittany got that Turner idea from Terrance. Taylor says she wouldn't be surprised at all. Monte says it's strange that Brittany acted on it. Taylor says Brittany is still saying Turner needs to go next week and adds that Alyssa also says Turner needs to go next week. Brittany comes out to interrupt their conversation.

3:15 PM BBT – Brittany and Taylor talk about how people change attitudes and personalities when they're around certain people. They said Jasmine was chaotic when she was with her original crew, but was calm with them during the Big Brochella week.

3:30 PM BBT – Taylor says to Brittany why would she listen to Terrance about how people in the jury are going to vote. Brittany says Terrance might be right about everyone being able to win if they sit next to him at the week. But Brittany says who wants to keep Terrance this week and then take him all the way to the end. They say they would have to betray a lot of people to take Terrance that far, and that could cost jury votes.

3:32 PM BBT – Brittany says let's not give anybody any ideas and says if anyone is going to be dragging anybody, they're going to be dragging them to the end (Brittany and Taylor). Taylor says they have to be careful about entertaining the idea of working with Alyssa. She says they have to not have so many plans because they could all blow up.

3:33 PM BBT – Taylor says she hasn't talked game with Turner for a long time. Brittany says she thinks he's been shying away from the two of them. Taylor says understandable so and she has regrets (about letting it be know she wanted him gone by final four).

3:34 PM BBT – Taylor asks Brittany if she's talked to Turner lately. She says a little bit. But doesn't mention the final 2 conversation. She says he told her that she was only his pawn last week and that he told her he never wanted her to go.

3:35 PM BBT – Brittany says when Terrance goes this week she will be the oldest houseguest left and that's so weird to her. Michael will be the second oldest at 29.

3:42 PM BBT – Brittany goes inside and Taylor starts talking to herself: "Is there a world where I can take Terrance and Brittany to the end of this game? Alyssa [goes] this week. Michael next week. Turner the week after. Then Monte."

3:50 PM BBT – Monte, Terrance and Turner talk about Ameerah and how many people were overplaying so early.

4:12 PM BBT – HGs are laying around and getting a "no napping" call out.

4:17 PM BBT – Taylor tells Brittany she's trying not to lose it. She says the numbers are getting lower and the game is getting harder. "My entire game is with you. You know that, right?" Brittany says yes. Taylor says the four of them are seeing each other talk to other people, and paranoia is hitting. She says she knows that they have to talk to other people. Taylor again says that she's all in with Brittany and her game is all her. Brittany says her too and they need to figure out who to cut first. Taylor says she's never been in the position where she has so many options and they see what happens to people who have so many options.

4:18 PM BBT – Brittany tells Taylor they just have to be sure they don't overplay, and they have to keep talking to people. Brittany says Brittany reminds Taylor that they are still Michael's top priority. Taylor says she just doesn't want anyone getting inside anyone's head and now is the time when it would be easy for that to happen.

4:19 PM BBT – Brittany asks Taylor if there's anything that has her freaking out. Taylor says she's worried that Terrance is trying to talk to people and hatch some kind of plan. Brittany says she doesn't think Terrance is doing that, but Turner might be plotting some things. She says she's trying to figure out how close Turner and Alyssa are.

4:20 PM BBT – Taylor says it is kind of suspicious that Alyssa keeps saying that Turner has to go next week. Brittany says Turner did flip flop a bit between who should go this week between Terrance and Alyssa, so maybe they don't have something going on.

4:21 PM BBT – Brittany says it does scare her how close Monte and Turner are. She says Turner seems to think that he and Monte are very close. She says she'd be really upset if Monte picked Turner over either of them. She says they'd really be screwed if that happened.

4:22 PM BBT – Taylor says Turner has to go next week then, so that they won't have to worry about Monte going with Turner over them.

4:23 PM BBT – Brittany tells Taylor they know what they have to do eventually (cut Michael) but next week isn't the right time. She says it's all about timing and if they take out Michael, then they're the next target. She says what good is getting Michael out if you're the next one to go. She says that the two of them are the ones who benefit from Michael being around, so they can't help the others by helping take him out.

4:25 PM BBT – Brittany says they have to make sure they don't let anyone get in their heads. Brittany says now if someone else is in power, and they go after Michael, they might be able to save him. She says it might be a situation where they are against Michael and the goal will to be save them over Michael.

4:26 PM BBT – Brittany says that Michael knew that leaving Turner in this week is a bad idea but he had to stick to it. Brittany says there's no way Turner won't go after Michael if he wins HOH next week. Taylor says any shot they (Turner and Monte) get at Michael they're going to take it.

4:27 PM BBT – Brittany says she thinks they'll be OK so they don't need to freak out. Taylor says the two of them have been together since Week 1, and again says she has put her entire game in Brittany's hands and it scares her to think of people trying to come between them (Taylor is really trying to make sure Brittany isn't being influenced by Terrance and doesn't want to really do that Final 2 deal with Turner).

4:28 PM BBT – Taylor says she's less worried about beating Alyssa now after her zings and comics. Her and Brittany agree that Alyssa hasn't done anything in the game and they can't imagine people rewarding that.

4:29 PM BBT – Turner walks in on Brittany and Taylor talking. He asks if he shouldn't be in there. They tell him he's fine and it's his room. Alyssa comes in next. Talks are broken up.

4:36 PM BBT – Alyssa has gone and Monte comes in. They talk about who should go this week. Turner says he doesn't care one way or the other. Taylor says right, one goes this week, the other goes next week. Turner says after this week, it's a 100 percent fact that at least one Leftover will be in the Final 2.

4:37 PM BBT – Monte says it doesn't really matter who goes, but maybe Alyssa should go this week because if she doesn't go this week and someone lasts next week, then they could be in trouble.

4:38 PM BBT – Brittany says they could just vote how they want and the votes can fall as they fall. And if there's a tie, Michael decides. Turner says that Terrance has done a really bad job of being on the block this week.

4:39 PM BBT – Monte laughs about Terrance thinking he has that much pull in jury. They all think that Michael prefers Terrance to go this week.

4:40 PM BBT – Monte says he's just worried because Alyssa just keeps sliding by week after week, and if she doesn't go soon, then there's something weird going on. Taylor says, what if they flip Alyssa first. Monte says they've seen Terrance get closer to winning comps than Alyssa. He says he feels pretty good about the odds, regardless of who stays.

4:41 PM BBT – Turner says it could be easy enough to just get rid of Alyssa since she's already on the block. Taylor says they might have to explore that. Monte says the good question is, do they all feel good about putting Alyssa up next week. He says it's 100 percent a yes for him. They all agree they would easily put her up next week. But they also say they'd easily put up Terrance too.

4:42 PM BBT – Turner says it's safe to say that Dyre Fest has fallen.

4:43 PM BBT – Turner says the bottom line needs to be who is most likely to win HOH next. They all agree that Terrance would be more likely to so they say, OK then Terrance goes this week. It's a done deal. Turner says that's fine and it lines up with what Michael wants, too. So they don't need to discuss it any longer.

5:04 PM BBT – Everyone is just hanging out now, talking about still being sore from the BB Comics competition.

5:59 PM BBT – Feeds cut to adoptable animals.

8:07 PM BBT – Feeds finally return from their Labor Day party. Everyone is in the backyard.

9:15 PM BBT – HGs chatting about life back home and early childhood memories.

10:20 PM BBT – Michael camtalks that he needs Brittany to win the next HOH so he'll be safe then he can win the F5 Veto to keep moving.

10:25 PM BBT – Taylor tells Monte she doesn't believe Brittany pitched a F2 to Turner. Monte says Turner felt it was thought out though. Monte worries about putting up Turner if he doesn't go home. He's more comfortable with Alyssa going up.

10:30 PM BBT – HGs outside hanging out and playing some of their new yard games they got with the party.

11:45 PM BBT – Monte updates Michael. Monte is glad Taylor told him about the girls proposing an alliance. He says she isn't taking it seriously if she told him. Monte thinks Brittany was awkward when they discussed a F4 earlier. He suspects Brittany is just trying to cover all her bases. Michael says this current Brittany is reminding him of Week 1 Brittany when she was very anxious.

12:15 AM BBT – Taylor asks Brittany who should be their next target. Brittany wonders if Turner and Monte would vote out Alyssa next week.

1:10 AM BBT – Monte checks in with Taylor about Brittany. Taylor says Brittany wants Turner up.

1:15 AM BBT – Monte reports back to Turner. Turner thinks Brittany is destructing.

1:30 AM BBT – Terrance is camtalking that he's going to get to work tomorrow and make his case.

1:45 AM BBT – Taylor asks Monte if he'd want to do a F3 with Brittany but Monte thinks she's acting too weird.

2:00 AM BBT – Turner meets with Michael upstairs. Turner suspects the girls want Monte to target Turner for them. Michael thinks he'll be safer if Alyssa stays over Terrance. They discuss Brittany's behavior and Michael says it surprises him. He thinks she must be trying to play all sides.

2:10 AM BBT – Michael notes they were told HGs would lose the backyard at noon on Tuesday for the next competition prep.

2:15 AM BBT – Monte, Turner, and Michael discuss the potential girls alliance and how Taylor is nervous about Brittany. Turner says Brittany's pitch was based on them both being mid-tier players which the guys think is a weird way to approach things. Michael wonders what set Brittany off.

2:20 AM BBT – Guys discussing who to target next. Monte wants Alyssa out next. He would nominate her along with Brittany.

2:25 AM BBT – Taylor joins the guys outside.

3:30 AM BBT – The four HGs are playing Chinese Checkers outside.
We're seeing interesting alignments with this new batch of alliances. Will the guys stick together? Could the ladies pull that off? Everyone seems to be trying to keep one hand in each pot to cover all their options as we get closer to the finale. Who do you think will pull it off?
You can watch all of these Big Brother events using the archives Flashback, the DVR-like feature of this year's Live Feeds which means it's always live, even when you missed it! Sign-up now to get the free trial to watch it all live & uncensored.


Gallery: Live Feeds Highlights
Download our Big Brother App, join us on Facebook & Twitter, and get our Email Updates for more!