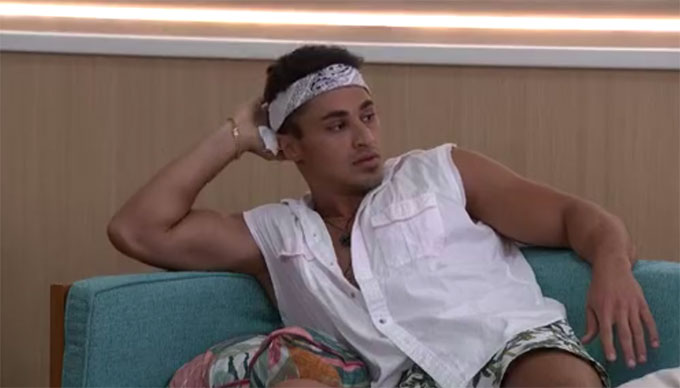 One of the most fascinating things about Big Brother 24 has been the popularity shifts. I've never seen anything like it. People who were hated Week 1 are now loved. And some people who were hated, then loved, are hated again. It's really always changing, which is just so unusual for Big Brother.
So who is loved and not so loved in Week 5? Let's take a look, starting with our own poll results from this past week.
Big Brother Network Poll after Week 4
1. Michael
2. Taylor
3. Turner
4. Kyle
5. Joseph
6. Monte
7. Alyssa
8. Paloma
9. Nicole
10. Terrance
11. Brittany
12. Daniel
13. Indy
14. Jasmine
15. Ameerah
16. Pooch
Michael and Taylor continue to hold our top two spots here, but Turner has jumped to the third spot, pushing Kyle down. Joseph holds onto that 5th stop, but we expect him to overtake Kyle this week as Kyle's popularity has dropped across the board after him pitching to Michael that they split up the Leftovers alliance.
On Twitter, one of the most popular Live Feeds updates accounts is Big Brother Daily (@bb_updates). They have a poll in their website, and here's what the latest results tell us:
1. Taylor
2. Joseph
3. Turner
4. Michael
5. Brittany
6. Monte
7. Alyssa
8. Kyle
9. Ameerah
10. Indy
11. Terrance
12. Pooch
13. Jasmine
14. Paloma
15. Nicole
16. Daniel
On Twitter, the account Big Brother Junkie (@89Razorskate20) does weekly popularity polls by likes and retweets and this week their top spot remains as Taylor. In the past two weeks, Joseph's popularity on Twitter has skyrocketed, as has Turner's. And actually this week, Turner has taken the second spot from Joseph who is now in third. Brittany comes in fourth there this week. On the other end, it's Daniel in dead last once again, just under Terrance.
Another well-know Big Brother 24 poll is the one over at JokersUpdates. Their poll reflects the recent shifts as well. Turner is now at the top of the Jokers poll, followed by Michael, Joseph and Taylor, respectively. As for the bottom of the heap, those honors go to Jasmine, Daniel and Nicole.