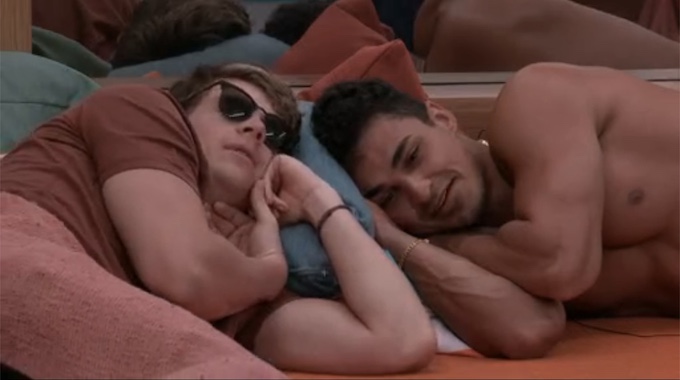 It was a quiet day inside the Big Brother 24 house as the houseguests spent most of the morning and early afternoon lounging around. There was a little bit of game talk throughout the day between some of the Big Brother houseguests. One interesting conversation took place between Terrance and Daniel where Daniel told Terrance he thought he could get Alyssa to vote for him to stay. He thinks this because he "saved" her from the block at last week's Veto Ceremony on BB24.
If you've got the Live Feeds (Free Trial) then you can watch all of these moments with the Flashback feature to go back and watch those important conversations or funny scenes you may have missed.
Big Brother 24 Live Feed Highlights – Tuesday, August 9, 2022:
10:15 AM BBT – HGs are waking up.

10:25 AM BBT – Terrance and Daniel are talking in the kitchen while making coffee. Everyone else is still in bed. Terrance and Daniel think that they can talk Alyssa into voting for Daniel to stay because he used the Veto on her last week and he plans on telling her that everyone else wanted her gone (didn't want Daniel to use the Veto). He doesn't see the flaw in this plan.

10:40 AM BBT – Daniel is telling Terrance about how Turner had a hard time holding back his laughter when Daniel was put on the block.

11:30 AM BBT – The houseguests are all finally out of bed and getting ready for the day. General chit chat going on.

11:45 AM BBT – Taylor is talking to Kyle, Joseph, and Turner about Terrance and how he won't even look at her anymore. She says that he is convinced that she has some pull with Michael and is mad that she didn't talk him into keeping noms the same.

11:50 AM BBT – Taylor is upstairs in the lounge camtalking about her game so far. She says that her fauxmance with Joseph is perfect because it allows them to sneak away and talk game.

12:20 PM BBT – Taylor is still camtalking. She is wondering what's going on outside the house in the news, politics, etc.

1:00 PM BBT – Joseph tells Jasmine that Monte hasn't been talking to him much lately and Jasmine says that she noticed. They both agree that they need to talk to Kyle.

1:05 PM BBT – Monte and Turner are teaching Taylor how to play chess. Otherwise, just general conversation going on everywhere else.

1:20 PM BBT – Alyssa tells Kyle that she hopes that Taylor and Joseph end up in a showmance because that would take the attention off of them and it would piss off Indy.

1:30 PM BBT – Alyssa asks Brittany how her cut is doing and Brittany takes the bandage off to check to see how it looks. Says the stitches look good and the cut looks like it's healing pretty good.

1:38 PM BBT – Terrance is telling Daniel, Jasmine, and Joseph that there is definitely a big alliance in the house. He doesn't care how they try to dress it up, there is a large group of people working together. Daniel says that there is a pecking order too.

2:00 PM BBT – Terrance and Daniel are making lunch. Monte, Michael, and Turner are in the lounge playing an intense game of chess.

2:30 PM BBT – Monte is in the HOH room listening to Michael's music while the other HGs are in the kitchen and middle bedroom chatting.

2:40 PM BBT – Jasmine finished putting fake nails on Indy and has moved to painting her toes.

3:00 PM BBT – Alyssa is helping Indy cook while Kyle and Michael are playing bumper pool upstairs.
Regardless of Alyssa and Kyle being in a pretty obvious showmance, Daniel still thinks that he can get her to vote for him to stay by holding the fact that he used the Veto on her and Indy last week when Monte told him not to. What he doesn't seem to remember is that he is sitting next to Kyle on the block. The likelihood of her voting Kyle out is about the same as Jasmine hitting the top 5 in our Popularity Poll.
You can watch all of these Big Brother events using the archives Flashback, the DVR-like feature of this year's Live Feeds which means it's always live, even when you missed it! Sign-up now to get the free trial to watch it all live & uncensored.

Gallery: Live Feeds Highlights
Download our Big Brother App, join us on Facebook & Twitter, and get our Email Updates for more!