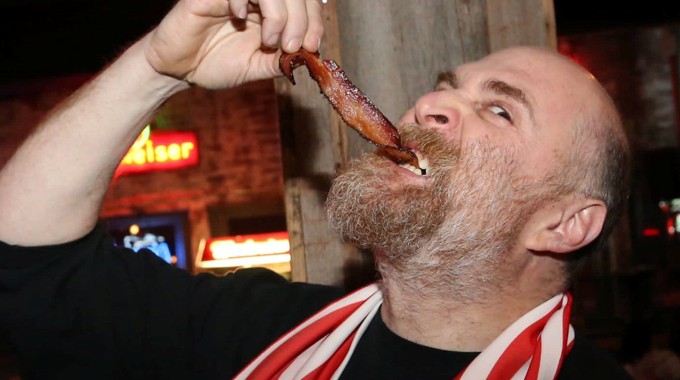 2 weeks ago we had the first Double Eviction of the Big Brother season, but that was much different than any double we have ever seen due to the (amazing) split house twist. Tonight – we have a more traditional double and the best chance to get out the entire house's target. However – this is Big Brother 24, and nothing has gone smoothly.
Meanwhile, the safest person in the house has now become the 2nd biggest target. Sadly though – America's Favorite Player is sitting in the jury house not worried about anyone eating their muffins, and we are robbed of any comedy on the feeds or on the CBS show. Hopefully, we get a jury segment soon.
But first, let's take a look back at the week that was – and where everyone ranks.
Monte – 5 strips of Bacon – once again, Monte sits on top of the rankings. He was the fake target several weeks ago – and since then has not really been on anyone's radar. Monte gracefully shared the block with Jasmine during BroChella – but was not in any danger. As soon as that twist ended – everyone seemed to want to pull him into their alliance. This week – all he has done is listen to everyone's plans – and strengthened his bonds. He has not shot himself in the foot like some others – and will for sure try to take a shot at the big dog in the house. However – once they leave, will Monte become the next threat?
Michael – 4 strips of Bacon – 3rd HoH & 6th Veto win this week – tying him with his idol Janelle with the most wins in any Big Brother season. I could easily have given him Tofu for once again, wasting his HoH on getting out a lesser player. At this point, even he knows he needs to win out – so who goes home doesn't really matter anymore as long as it's not him. Since everyone else is scrambling around trying to figure out a path to the end, Michael knows what he has to do – and has the skillset to do it. If he makes it through tonight – just hand him the check so we can all move on to something else the next 2+ weeks.
Turner – 3 strips of Bacon – let's face it – Turner is going into survival mode. He is fully aware that with the numbers dwindling, he is really going to have to fight for his life. He's the only one to have won more than 1 HoH – so he poses the biggest threat to Michael from a competition standpoint. Turner is very lucky Michael is a stand up guy and kept to his word – or he would have been an easy renom had Micheal chose to shake up the week. As we have seen, he has no problem selling anyone out to get himself further.
Taylor – 2 strips of Bacon – I caught A LOT of flak this week on Twitter for saying Taylor has not done enough to win this game – and I stand behind that statement completely. Her stock did rise this week because of this quote to Terrance: " I have struggled with the choice in front of me. Is it the white girl who cries all the time or the black man who tried to get me evicted next to somebody who did something racist? " If she wants to win this game – she has to make something happen on her own instead of going along with whatever other people are pitching.
Alyssa – 2 strips of Tofu – Alyssa is lucky that Terrance is on the block next to her – but that's about all I got for her this week. Zingbot was 1000% correct – she's "dead weight and completely useless." Unless she wins HoH and successfully gets rid of Michael – she will be reunited with Kyle soon.
Terrance – 4 strips of Tofu – we saw signs throughout the season that maybe Terrance was more game savvy than he originally appeared. Then this week happened and he is just as clueless as we previously thought. The fact that he even tried to get Taylor to work with him this week was laughable. This is why you need to be careful what you say and who you say it to – because everything comes back around. He was almost the Tofurkey of the Week by threatening to sour the jury on Michael if he goes home this week. Even if he tries to – I am not sure he has any ammunition that they will all change their thoughts.
So who is the Tofurkey of the Week – by process of elimination – it is Brittany. Oh Brittany – you were in such a good spot (in Michael's shadow) – and then you let your mouth run wild. The entire week – she acted like this was her HoH. She tried to form and breakup alliances all over the house – and even has her #1 ally Michael questioning her. The only thing she still has going for her – is Micheal knows he needs to be sitting next to her to guarantee the win. The damage has been done with just about everyone else – and if people are taking a shot at Michael – they may miss and get her instead.
Ok – there ya go, another week in the books! Fingers crossed tonight's Double Eviction lives up to the hype and drama we used to see in season's past – but as I said in the opener – this is Big Brother 24. It is not the worst season ever – but definitely one of the messiest!
Let me know in the comments section below what you think of my rankings and who do you want to see go home during the 2nd eviction?
From outside the Big Brother house – I am Adam Poch – thank you for reading!
Catch me here every week during the BB season for my rankings. If you want more of my thoughts during the season. follow me on Twitter @HeavyMetalTeddy – and listen to my Podcast – @BigBrothersPod.